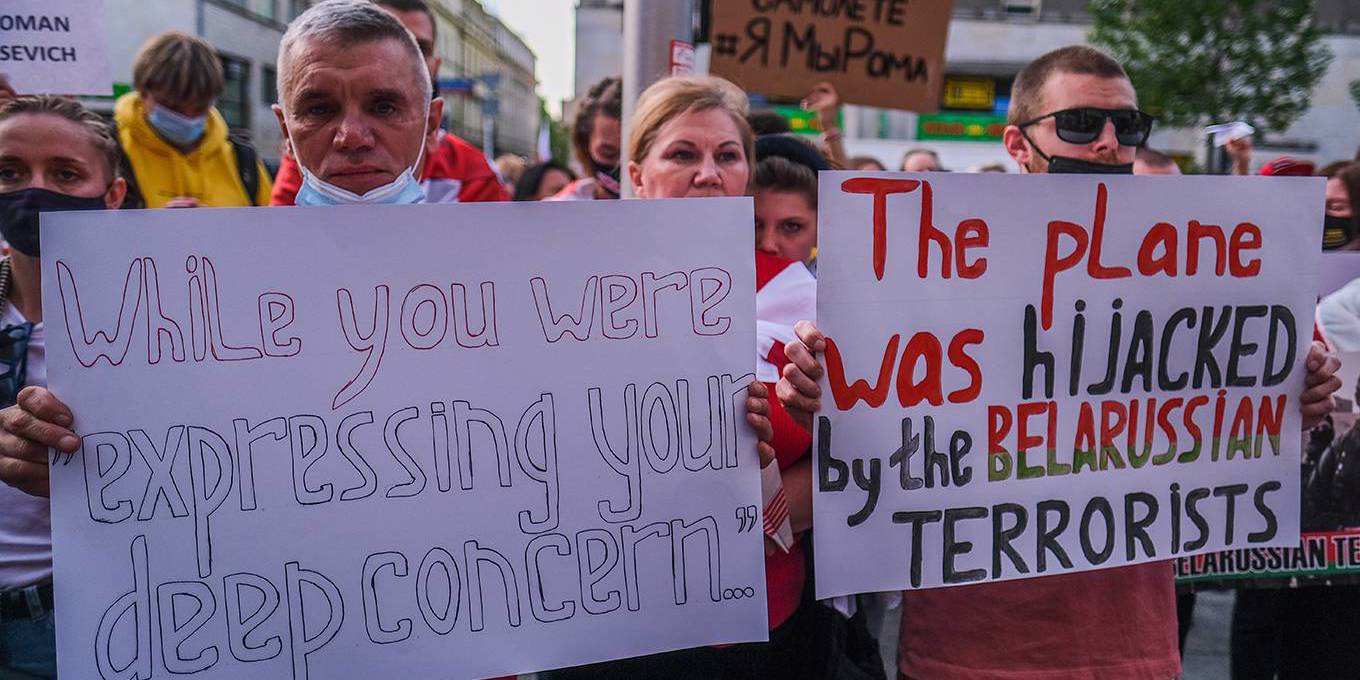 Putin and Lukashenko have sent a message: "You powerless to do anything, you are weak."
Belarussian President Alexander Lukashenko yet again demonstrated the extent of his willingness to suppress his enemies. On May 23, he deployed a MiG-29 fighter jet to force down a commercial flight from Athens, Greece, to Vilnius, Lithuania, right before the plane left Belarussian airspace. He did this to facilitate the arrest of Roman Protasevich, former executive editor of the Belarussian media channel Nexta, an arrest which occurred immediately after the plane landed in Minsk.
Why a regime that is already under U.S. and European Union sanctions would go so far as to hijack a plane traveling from one EU-member country to another is difficult to understand. Nexta is Lukashenko's biggest public enemy. More than just a news channel with millions of followers across several social media platforms (especially Telegram), Nexta is the most important channel on domestic developments following Belarus' manipulated August presidential election.
In addition to showing the brutality that the Belarussian security apparatus wages against peaceful protesters, Nexta shared everyday information on when, where and how Belarussian citizens could organize mass protests against Lukashenko's fraudulent election victory. The Sunday calls for a National March for Freedom were answered by 200,000 people who gathered in the streets of Minsk. All of them knew what to do because they followed Protosevich's instructions and those of his colleague, Nexta's founder, Stepan Putilo.
After such an unprecedented uprising, the Lukashenko regime panicked, and for good reason. Nexta collected and shared news, information and pictures with all of Belarus. Every message, every picture, every call to action had the potential to go viral and reach the entire country, and potentially the entire world.
Nexta's key to survival is its base of operation in Warsaw, Poland, a location outside Belarus. Lukashenko's regime could neither disrupt Nexta's internet connection, nor jail it or shoot it down. It used the standard responses it had against Belarussian protesters. Lukashenko was undoubtedly furious that the protests were led not by Sviatlana Tsikhanouskaya, the likely winner of the August election, but by a slippery operator of a 21st-century media channel located outside Belarus. Thus, Lukashenko was willing to move heaven and earth in order to destroy the platform that supported the different outlets for the opposition.
Protasevich is a priceless capture for Lukashenko because the dictator believes the dissident has contact information for nearly all Belarussian opposition activists. The day after Protosevich's arrest, the regime aired a video in which Protasevich admitted to participating in the protests. The same tactic was used with Tsikhanouskaya, whose husband was already imprisoned. After her kidnapping following the first Minsk protests, she was also forced to record a speech calling for the end of the uprising, a result of the likely threats to torture her husband. Since then, she has been expelled from Belarus; as everybody understands the regime's methods, nobody blames her for remaining on the sidelines.
The purpose of the hijacking is to send a message. Lukashenko wants to tell his opposition: "Your days are numbered. You are traitors. We kill traitors." There is a message for the European Union as well: "You cannot touch us because you are weak."
Such conclusions are not unfounded. After all, the Kremlin, whose supporters rejoiced at the hijacking and arrest of Protasevich, poisoned Alexei Navalny with a nerve agent and paid almost no price for it. The United States, Great Britain and the EU were "concerned" and imposed symbolic sanctions. Russia responded by sending Navalny to a penal colony. And Joe Biden's administration just recently gave up on imposing sanctions against companies building the Nord Stream 2 oil pipeline between Russia and Germany.
It is obvious: money rules, principles do not matter. Lukashenko is following Russia's lead. The Kremlin has long mocked the Western intelligence apparatus by attacking Russian dissidents in exile. See the 2018 attempted murder of Sergei Skripal in Salisbury, England.
It is obvious that Russia and Belarus will follow those who betray them, even when in exile. Now it is clear how far they will go.
About this publication
---