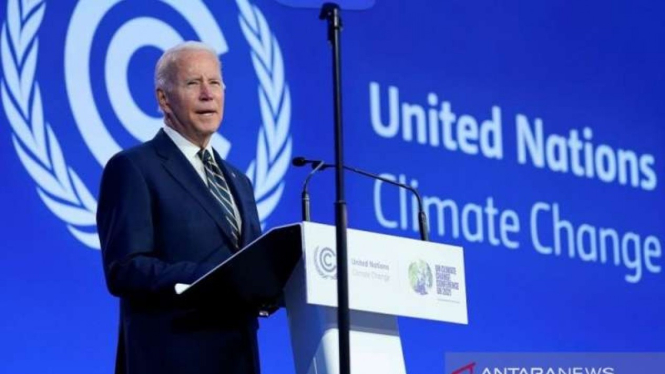 The US President Has Announced the Rejection of Trump's Climate Policy
During his European tour, U.S. President Joe Biden presented the keynote speech at the 26th U.N. Climate Change Conference of the Parties in Glasgow, Scotland. He announced the United States' path toward the diversification of energy sources and asked forgiveness from the international community for the decision of his Republican predecessor, Donald Trump, to withdraw the country from the Paris Agreement on climate. This view is by no means shared by all Americans. Rep. Byron Donalds gave remarks that went viral there by saying, "we're cutting our neck," placing American companies in harsh climate frameworks while China systematically moves toward its own goal of becoming "the dominant economic player across the globe."
"There's No More Time To Hang Back or Sit on the Fence"
Biden's schedule during the European tour — which started Oct. 29 and finished today, Nov. 2 — was extremely busy. In the run-up to the Group of 20 summit, the American president visited the Vatican, where he met with Pope Francis. Later he took part in the summit while also conducting a range of bilateral meetings, notably, with the leaders of France, Germany, Great Britain and Turkey.
Yet his participation in COP26 in Glasgow was still the main event. This was immediately apparent in the speech Biden gave from the podium. "There's no more time to hang back or sit on the fence or argue amongst ourselves. This [climate change] is the challenge of our collective lifetimes. The existential … threat to human existence as we know it. And every day we delay, the cost of inaction increases. So let this be the moment that we answer history's call here in Glasgow. Let this be the start of [a] decade of transformative action that preserves our planet and raises the quality of life for people everywhere. We can do this. We just have to make a choice to do it. So, let's get to work," Biden appealed to listeners.
Among other things, he noted, "High energy prices only reinforce the urgent need to diversify sources, double down on clean energy deployment, and adapt promising new clean-energy technologies where you don't remain overly reliant on one source of power."
The head of the White House also reported the publication of a "U.S. long-term strategy" for the climate which "presents a vision of achieving the United States' goal of net-zero emissions" of greenhouse gases by 2050.
Commenting on the conference's significance, Kyle Inan, an American geopolitical expert and senior analyst at Turkish media's A News international, told Kommersant, "COP26 isn't about politics, it's about the need to sustain meaningful progress and reach scheduled goals." Nevertheless, these very climate goals have been central for Biden from the very beginning of his electoral campaign and have attracted many Americans to his side.
For Biden, COP26 was meant to be a sort of revenge against Trump, who effectively erased all work regarding the climate done by Barack Obama's administration, where the current head of state occupied the post of vice president. Trump left the Paris Agreement in 2017, explaining that American business only loses on the agreement, and conversely, developing countries such as China receive an advantage.
From the podium in Glasgow, Biden triumphantly announced a return to the Obama-era climate agenda. He also offered his apologies to the international community for the U.S. withdrawal from the Paris Agreement.
The arrival at the conference of Obama, the treaty's proponent, lent weight to this announcement. For the former president, "the Paris Agreement remains one of the accomplishments President Obama is most proud of," says an announcement on the Obama Foundation's site, which was published during the run-up to the former president's trip to Scotland.
Let's remember the key goal of the Paris Agreement was to ensure the planet's average temperature did not increase in excess of 2°С (a target of 1.5°C was also documented). Meanwhile, according to data from the U.N. Environment Program's Emissions Gap Report, the world is on a trajectory toward a global rise in temperatures of 2.7°C.
"They Are Burning More Coal, They Are Burning More Oil, and They're Not Showing Up in Scotland"
In his speech, Biden also spoke of U.S. ambitions to once more become a leader in the climate conservation struggle. Nevertheless, he has considerable obstacles in his way. This is no longer a question of his predecessor, but of Americans' sentiments and the domestic political struggles associated with them.
Controversies within the U.S. are making it all the more difficult for the government to implement any changes, including those related to climate conservation.
For example, infrastructure legislation, which contains numerous climate initiatives, has effectively become hostage to intra-party struggle as a result of conflict between "progressive" (i.e., socially liberal) Democrats and centrists, per Sen. Joe Manchin's remarks.
Conflict in the Democrats' camp is strengthening Republicans, who are receiving more and more support from voters, partly by hammering the climate question. Many Republicans point out Trump's de facto position had merit.
The sharpening domestic political struggle and inability to carry critical legislation through Congress, as noted in an interview with Kommersant by Justin Russell, the head of the New York Center for Foreign Policy Affairs, does not promote the goal of returning the U.S. to global leadership. In this situation, as Kommersant's interviewee believes, it's very difficult to speak with one's peers face to face from a position of strength — and this relates to any issue, "be that climate change, economic problems, or, for example, issues of strategy and security."
The other day, a video of a statement from Donalds, a Republican member of the House of Representatives from Florida, became viral in the U.S. During congressional hearings with representatives of the energy sector, Donalds said that "while we're cutting our neck" placing American companies in harsh climate frameworks, China is "burning more coal, they are burning more oil … and they're not showing up in Scotland. You know why they're not showing up in Scotland? Because they're interested in building their economy. They're interested in becoming the dominant economic player across the globe," said the congressman.
Donalds' speech garnered millions of views, and a multitude of positive comments from Americans who aren't rushing to switch to electric cars at Washington's behest and aren't happy with the sharp spike of prices at gas stations. Previously, commenting on the growth of fuel prices, Biden noted this should accelerate the transition to renewable resources and the move toward a zero carbon footprint.
However, the Biden administration's ambitious climate agenda alone cannot be blamed for the sharp spike in U.S. fuel prices. In an interview with Kommersant, Charles McConnell, former assistant secretary for fossil energy in the Obama administration, gave assurances these were global processes. "This is a test of developed countries' will regarding advancement of the climate agenda and of the growth in developing countries' awareness for the need for sustainability regarding energy supply."*
*Editor's Note: This quotation, accurately translated, could not be verified.
About this publication
---