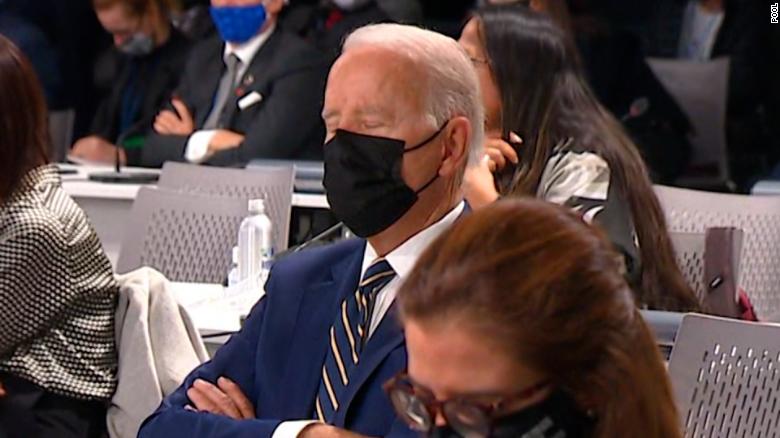 Irina Kezik, an Izvestia journalist, speaks about how Biden was seen on camera appearing to fall asleep at the COP26 climate conference. She also addresses some burning issues of the U.S. economy.
For several days now, world leaders have been discussing the most important climate issues of our time at the 26th U.N. Climate Change Conference of the Parties in Glasgow, Scotland. They introduce initiatives, analyze them and make predictions, but they also appear to be dozing off. Boris Johnson, the British prime minister, fell asleep at the conference. However, social media users thought that it happened because he was trying to reenergize due to his large family. Prince Charles wasn't far behind. He also appeared to be sleeping during the event, but users blamed his sleepiness on his age. Yet the one who surprised them most was U.S. President Joe Biden, who has been one of the most ardent supporters of global green politics.
During his election campaign, he was making rather grand statements: He promised to invest $2 trillion in clean energy by 2025 and to completely transition the U.S. energy sector to green energy by 2035. Then, as president, he announced America's return to the Paris Agreement on climate as one of his first executive orders. That is why the fact that the American president was caught dozing off, at the very least, makes us wonder where his energy and activism had disappeared to.
Perhaps they never disappeared: When he woke up, he immediately joined in the debate. Biden said that Russia and China did not show up at COP26. He also noted that Russian President Vladimir Putin didn't provide any details concerning his actions on climate change.
The New York Times quoted Biden's accusations about Putin's lack of action: "His tundra is burning. He has serious climate problems. And he has been mum on his willingness to do anything." In addition, the U.S. president said that Beijing and Moscow failed "to show up" at the summit, thereby making "a big mistake." Biden stressed that China has "lost their ability to influence people around the world" by not accepting the invitation to participate in the climate conference. Moreover, Russia and China did not attend the recent summit of the Group of 20 industrial and emerging-market nations in Rome, even though their leaders participated in it by video conference.
Biden didn't account for the fact that some world leaders refused to be physically present in Scotland because of the COVID-19 pandemic. For example, Fumio Kishida, the new prime minister of Japan, and Jair Bolsonaro, the president of Brazil, had to miss the climate conference due to their domestic political situations.
While talking about the "burning tundra," Biden forgets about California wildfires. Meanwhile, Putin, in his video address to the participants of the climate summit, stressed that Russia is now taking active measures to preserve its forests, which make up about 20% of the world's forestland.
"We are taking the most serious and vigorous measures to preserve our forests, improving forest management, fighting illegal logging and wildfires, as well as expanding reforestation areas. We are steadily increasing funding for these purposes," Putin said.
At the same time, it has been repeatedly emphasized that Moscow calls on the international community for coordinated action to combat climate change, assuming that nuclear power and reforestation projects can be effective tools to achieve this goal.
It is also worth noting that forests occupy about 30% of the total U.S. territory, whereas they account for up to 50% in Russia. Perhaps Biden should be reminded that coal accounts for 13% of Russia's energy sector, while it makes up about 20-25% of the U.S. energy sector. Moreover, the U.S. is by far the largest producer of CO2 emissions. According to BP PLC, America emitted three times as much CO2 as Russia in 2020. It's safe to say that the U.S. has nothing to be proud of here.
As Kremlin press secretary Dmitry Peskov accurately noted, Moscow has clearly outlined its priorities, and "in addition, Russia is ahead of many countries, including those in Western Europe, when it comes to the transition to less carbon-intensive ways to generate and produce power. These efforts should be acknowledged and they cannot be ignored by the international community."
Meanwhile, Biden, as if unaware of the energy crisis, continues to come up with catchy slogans. "High energy prices only reinforce the urgent need to diversify sources, double down on clean energy development and adopt promising new clean energy technologies so we […] don't remain overly reliant on one source of power to power our economies and our communities," Biden said at the COP26 climate conference. As the U.S. president emphasized, this approach is in the interests of all countries.
According to him, the current market volatility in terms of global energy prices is not a reason to abandon green energy goals. "We must view it as a call to action," Biden pointed out.
Even American experts disagree with this rhetoric. Ryan Sitton, a former member of the Texas Railroad Commission (the oil regulator in America's top oil-producing state), said in an interview with RIA Novosti that the policies of the current U.S. president's administration, which included the green energy agenda, were among the factors causing oil prices to rise.
According to him, one of the biggest challenges the oil industry faces today is the decline in capital investment, which has plummeted during Biden's presidency, contrary to how it has been for the past 10 years. He believes this is largely due to the fact that investors are listening to politicians who say they are going to stop using oil.
Furthermore, large-scale U.S. economic stimulus programs during the COVID-19 pandemic have led to a sharp increase in the U.S. national debt and budget deficit. That is why Washington is already seriously considering a default as a real possibility. This is apparently becoming the real "burning" issue for the U.S., while its president appears to be falling asleep during the opening speeches at the COP26 summit.
The author is an expert at the Intersectoral Expert and Analytical Center of Russia's Union of Oil & Gas Producers, and Tekface Project manager.
About this publication
---