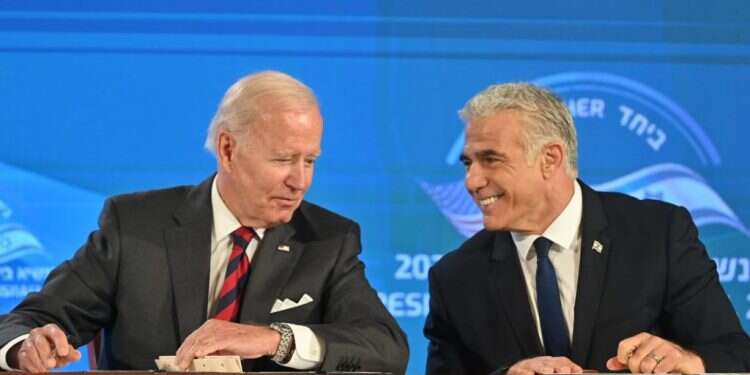 Yariv Levin did not make a mistake and was not swept away by emotion. The Biden administration is cooperating with opposition demonstrators in Israel, but not as much with Israel itself.
It is not nice to leak recordings from closed meetings, but in the recent case of Minister Yariv Levin, there was no disaster. Levin's remarks to ultra-orthodox journalists that the United States is cooperating with demonstrators opposed to judicial reform faithfully reflects reality as conveyed by the protesters' words themselves. The media that reported on it with a forced sense of excitement by saying that Yariv Levin is embroiled in difficulty and conducted the United States' deception. The United States is, in fact, cooperating with the demonstrators in Israel and has not made any effort to conceal this for some time. President Joe Biden withdrew support for the protesters at the beginning of February when he publicly intervened in Israel's internal affairs. At the time, Biden told New York Times senior writer Thomas Friedman, a long-time supporter of Israel's left, that the planned reform went too far. Biden further told the press that Benjamin Netanyahu would not be invited to the White House anytime soon because of the reforms. Demonstrators on Kaplan Street and those blocking the Ayalon highway do not need this kind of American cooperation. The flags and posters are funded by local philanthropists. The Neve Ilan moshav channels, not the CIA, are carefully cultivating the protest. The United States expresses its support primarily by leveraging external pressure on Netanyahu against reform. The Biden administration is applying greater pressure than Barack Obama did and is thus cooperating with protesters. There is no other way to frame this. The two sides of the protest are corresponding with each other from both sides of the Atlantic. Under the huge banner of Netanyahu portrayed as a pharaoh on Kaplan Street the night before, one could read in English, "Let my people go." Beside it was a sign reading, "crime minister." Last Saturday night, the Spanish prime minister also gave a speech there in English. Foreign photographers highlighted two signs that explicitly referred to American involvement in Israeli affairs. One of them read, "United States, save Israel from hell," and a second one read, "United States, will Israel become a second Afghanistan?" This is not about preaching cooperation.
A senior American official recently told Israeli media he was amazed to see how much senior opposition leaders here wanted aggressive outside involvement in the reform issue. As you can see, these opposition figures did not particularly mourn Netanyahu's delayed visit to Washington or the prime minister's humiliation at the hands of such an important leader as Biden, because after all, he is also their prime minister.
Tehran, of course, is happy to see this malicious humiliation. Our No. 1 enemy is finding cracks in the Israeli-American alliance; these are the two forces that have made it difficult until now for Tehran to carry out most its actions against Israel. In the past, they were one hand working together to impose sanctions on Iran; however, now, the United States is imposing sanctions on Israel. At the moment, there is no evidence of any connection between this incident and Iran's accelerated race toward nuclear weapons, but as Washington conspires against Netanyahu with such accelerated sanctions, it is clear that it is exposing Israel to Tehran's mischief.
A week ago, Biden warmly congratulated Israel on its Independence Day. Among other things, he said that "we are proud to be counted among the first of Israel's friends and allies" and he praised "our robust and strong friendship." However, at the same time, he has still demonstrably refrained from scheduling a date to meet with Netanyahu in Washington. The U.S. Defense Department is now depleting U.S. ammunition depots in Israel for Ukraine's benefit, depots meant to provide Israel a weapons insurance policy in a difficult hour, among other things. In fact, two months ago, there was a joint military exercise between the air forces of the two countries, but Biden's dour approach to Israel is many times more impressive. This is not an alliance, exactly; this is turning one's back in difficult circumstances. The Biden administration is cooperating with protestors in Israel, but much less with Israel itself.
About this publication
---