Triangular Entanglements in North Korea
Beijing wants to profit from the power balance that Pyongyang has established with Washington.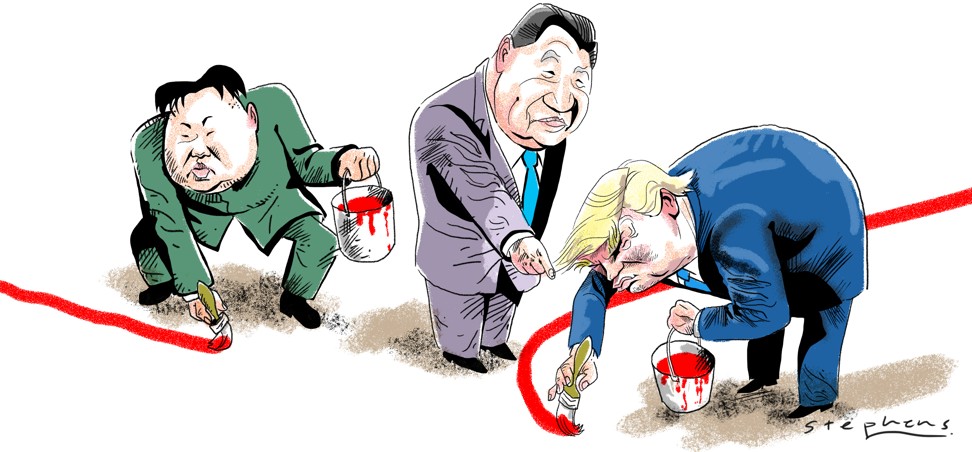 It was only halfway surprising that on Thursday, Donald Trump announced the cancellation of his June 12 summit with Kim Jong Un in Singapore. It was no more surprising that on Friday, he reopened the door to holding the meeting. The man has, in a manner of speaking, stopped surprising us. As expressed beyond the beaten paths of traditional diplomacy, the relationship that Trump and Kim have developed is characterized by singular improvisation. We can only hope that their pirouettes will end up laying the foundation for concrete prospects of peace.
As master of the game, this week the North Korean regime had an angry fit over the "Libyan model" evoked by National Security Advisor John Bolton, then by Vice President Mike Pence. It was a solution that eventually overthrew Moammar Gadhafi after he gave up his nuclear program in 2003 in hopes that Western sanctions against Libya would be lifted. Pyongyang's outbursts will serve to warn Trump to keep his hawks on a leash. Although, it's not prohibited to think that Kim's impenetrable dictatorship is no longer thinking uniformly, and that he, too, is feeling pressure coming from the regime's firmest wing.
For the past few weeks, Pyongyang has at least made a series of tangible good will gestures. It stopped it nuclear and ballistics tests, liberated three American nationals, and a few days ago, closed the nuclear test site at Punggye-ri – without garnering the least bit of response from America, except for some flattery from Trump and a tenuous opening to the idea of a gradual approach to North Korea's denuclearization.
We must not lose sight of the fact that China is an unavoidable player in this affair. It's a triangular game of poker. Chinese President Xi Jinping has met with Kim twice in less than a month and a half after having completely ignored him since assuming power in 2011. Beijing wants to profit from the power balance that Pyongyang has established with Washington. If China wants to see tensions in the Korean peninsula calm down, it also doesn't want the fact that an eventual cool-down will diminish its influence in the region. North Korea knows all too well that its development goes through China.
As for South Korean President Moon Jae-in, he will not give up playing the middleman and will continue extending a hand to Kim. It's a hand that Pyongyang was quick to take in declaring that it was prepared to talk with Washington despite the summit's cancellation. Neither Kim nor Trump want to break the rapprochement currently taking shape.