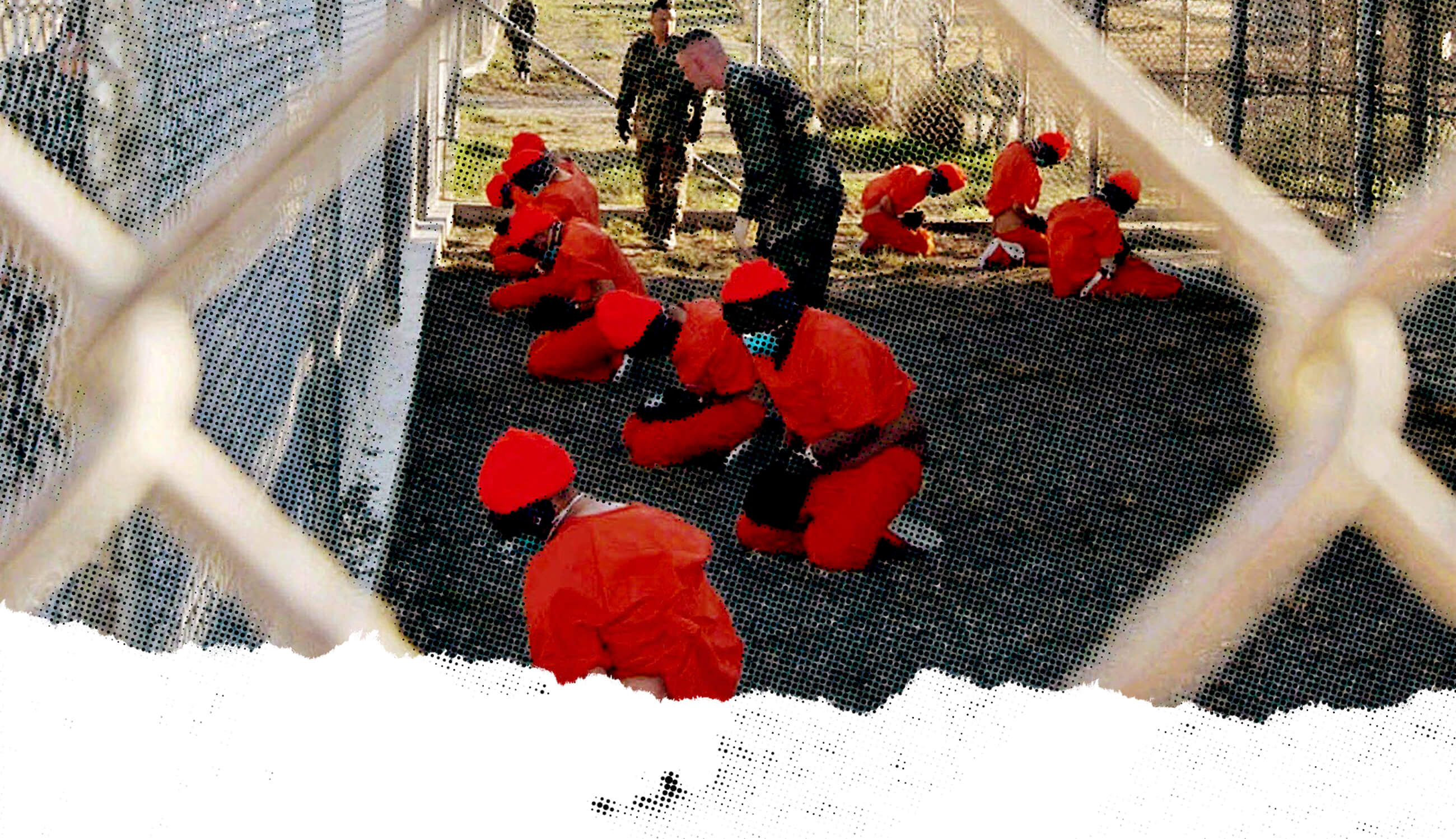 Biden is trying to find a way to close Guantanamo Bay, but is running into political obstacles.
"I think we're going to resume the hearing in October and I hope we're done with that. Your life can go on from then on, okay Mr. Khan?" said Military Commission Judge Col. Douglas K. Watkins, an airman.** On the afternoon of July 27, Majid Khan of Pakistan participated in yet another of several sessions to decide his future. In a black suit and shirt, gray tie and freshly cut hair, he then crossed the room to the right side, where the prosecutors sat. He reached out to his chief accuser, Col. Walter Foster, and chatted amicably for six minutes with the military representing the government who had tortured him for years. If President Joe Biden fulfills Barack Obama's frustrated promise to close Guantanamo Bay, Khan may soon bid farewell to the American base remembered for the open-air cages and prisoners in orange overalls, where he has been confined since 2006.
The United States reaches its 20th anniversary of the 9/11 attacks with Guantanamo Bay still open, inmates imprisoned without formal charges and endless trials outside of the U.S. legal system. Without offering legal answers to those accused of planning the attack on the twin towers, and no accountability for the acts of torture committed by the government itself, the prison created by George W. Bush to lock up terrorists is an uneasy legacy of the war on terror that Biden has promised to confront.
Our reporter spent four days at the Guantanamo Bay Naval Base in July, following the military commission sessions reviewing Khan's case. It is rare to find prisoners there who have been formally charged with a crime. It is even harder to see a trial through to the end.
About 780 detainees have passed through the detention center. Most were transferred to other countries under the Bush and Obama administrations. Donald Trump authorized the release of only one detainee.
The first sign that Biden intends to make good on his proposal to close Guantanamo came in July, when his administration resumed transfers and sent Abdul Latif Nasir to Morocco. The case had already been concluded during the Obama administration. "Here we are at the end of the seventh month of the Biden administration, and there is no substantial progress toward closure," Khan's defense attorney, Wells Dixon, told reporters that sheltered from the blazing sun under a shed.
The U.S. exit from Afghanistan puts pressure on the American president to resolve the Guantanamo situation. Under the Geneva Conventions — which Americans opposed during part of the Bush administration — prisoners of war must be released when fighting ends, unless they are criminally liable for their actions.
Of the 39 prisoners still held at the U.S. base, only two were convicted. Khan is one of them. Most have never even been charged. The American press calls them "forever prisoners." Ten can now be transferred to other countries, a process which requires diplomatic negotiation; 17 have cases that must be reviewed and another 10 are awaiting judgments by the military tribunals.
"Guantanamo began as an effort to create an outlaw prison and that's essentially what continues after 20 years. The U.S. has held people without charges for two decades in a war that the president now says is over, adding to the aberration," says Jonathan Hafetz, a specialist in international criminal law at Seton Hall Law School and an author and editor of books on Guantanamo.**
On the other hand, Biden could pay an expensive political price if prisoners released under his watch join the Taliban. Photos of former Guantanamo detainees who were part of the Taliban's offensive to regain control of Kabul two weeks ago circulate online, especially on conservative websites. According to U.S. intelligence, 17% of former Guantanamo detainees have resumed terrorist activity, a number which critics believe has been inflated.
As of Sept. 7, the five men accused of being involved in the 9/11 attacks must undergo administrative procedures before the military tribunals. Khalid Shaik Mohammed, known as KSM, is well known among the group. He was the mastermind behind the attacks 20 years ago that killed 2,977 people in New York, Washington and Pennsylvania. This process will not be ending anytime soon.
To close Guantanamo, Biden would need to negotiate the diplomatic transfer of some prisoners to other countries and put the few who are responsible for war crimes on trial in American courts, something Obama tried to do without success.
Obama himself admits in his 2020 memoir that he did not apply all his political capital to this effort.
"Without a doubt, it was a fight worth fighting for. But at the time none of us in the White House thought we could win it," Obama wrote of the idea of bringing those accused of 9/11 to trial in a court of New York.**
The military commissions are described by Obama as an alternative system in which lower standards of evidence and weaker procedural safeguards prevail. Created under Bush, the commissions were deemed illegitimate by the Supreme Court but revived by Congress. Obama suspended the juries, and then sent them home.
Khan's situation points out that even a Democratic administration is unwilling to address up human rights violations. To guarantee a sentence by October that would possibly end by February, Khan cooperated with the Americans and waived the right to witnesses who would have testified on his behalf to the torture he suffered.
Khan attended high school in Baltimore, near the American capital. He was arrested in Pakistan in 2003 after traveling there in the wake of 9/11. He confessed that he and KSM hatched the idea of blowing up gas tanks in the U.S., that he agreed to act as a suicide bomber to assassinate the president of Pakistan, which he failed to do, and that he effectively served as an al-Qaida messenger, carrying $50,000 to a jihadist group. The money was used to finance a 2003 bombing in Jakarta, Indonesia, which killed 11 people and injured 150 others. As a result, he was accused of conspiracy, murder and attempted murder, providing material support for terrorism and espionage under military law. The jury sealed a modification to his 2012 plea agreement, and he spent nine years supplying the U.S. with information. In exchange, he asked for a reduction of his sentence as compensation for the torture he suffered. In July, Khan agreed to waive calling witnesses on his behalf.
"It seems very clear that the U.S. government does not want to allow evidence of torture to be presented at a trial session at Guantanamo," Dixon said. Dixon questions whether in cases where the prosecution calls for the death penalty, such as in the cases involving 9/11, there would be any benefit to the judge knowing he could reduce a sentence because of mistreatment.
The word torture is not mentioned in the hearings. The parties speak of credit for pre-trial time served. A glass wall separates the gallery where journalists, the public and family members are seated. Sound is transmitted with a 40-second delay, so sensitive information is censored if necessary. In this case, the audience hears a kind of a whistle.
There are signs reminding you of cameras in every corner of the room. The site cannot even be sketched or described in detail, according to court procedure. Cell phones and electronics must remain outside as must food and drink, all of which are barred at the first security checkpoint that is set up in a canvas tent — but as with almost every waiting spot in Guantanamo, there are snack machines where you can buy Pepsi, Cheetos and M&Ms.
Khan was taken to the CIA's black sites, secret U.S.-run prisons in other countries like Afghanistan. He arrived in Guantanamo in 2006 and only received permission to meet with his lawyer in 2007. He talked nonstop for two weeks and was in terrible physical and mental shape.
A U.S. Senate report records that he was subjected to several of the torture techniques adopted by the CIA at the time: forced deprivation of clothing, sleep deprivation, water boarding and forced rectal feeding using a puree of hummus, pasta with sauce, nuts and raisins. He also had his body and head immersed in a bathtub filled with water and ice. Khan tried slitting his own wrists twice at the time. The Obama administration officially ended the torture practices.
"The torture show wasn't what it looks like on TV, right? It wasn't a few rogue CIA people who came up with this terrible idea. This was a whole government effort. It was a government effort to, frankly, abandon American principles and extract information through torture," says James Connell, a lawyer for Ammar al Baluchi, one of five men accused of helping to plan the 9/11 attacks. Al Baluchi had his head smashed against a wall repeatedly and suffered brain trauma.
The Visit to Guantanamo Bay
The Guantanamo Bay Naval Base is divided into sections: the prison area, the justice field where the trials are held, the hospital that serves the military, the barracks, a small market, a radio station and a few restaurants, including a McDonald's. Hardly anyone walks on the street.
The justice field was set up to be temporary, with portable toilets and khaki canvas tents to house visitors. As the trials continue indefinitely, the structure remains and seems out of place.
The U.S. government has not allowed journalists to enter the prison since 2019, despite allowing it for many years as a matter of public relations. The pandemic served as an excuse to block travel, but the military tribunal hearings, which journalists can watch, resumed in July. Khan's was the second case heard since early 2020.
Seven out of the 17 journalists who asked to attend the hearings at Guantanamo were allowed to go: one from our agency, three reporters from European news agencies and three members of the American press. Reporters, especially members of the foreign press, must submit an extensive list of documents, including personal and family information, to the Department of Defense for authorization to travel to Guantanamo. Service dogs sniff luggage upon arrival at Andrews Air Force Base, used by the president. Travel protocols take longer than the three-hour flight.
A commercial Boeing 767 leased by the U.S. government carried approximately 80 passengers who traveled specifically to attend Khan's military hearing. Journalists are the first to enter and seated in the back to restrict access to others. Next comes the public and private organizations, lawyers, prosecutors, relatives of the victims and, eventually, the judge and the prosecutors. All are tested for COVID-19 and must show proof of vaccination to board, a process which nonetheless did not prevent at least two journalists in the group from being infected by the virus.
A veteran drives reporters round the base to the sound of country music. On one side there is Cuba. On the other, 116 square kilometers (about 45 square miles) occupied by the U.S. in 1868 and ceded by Cuba in 1903. The current Cuban government rejects U.S. rent payments for Guantanamo as it does not recognize the legitimacy of the base, despite the fact that Americans and Cubans cordially meet on a monthly basis on the line that separates the two countries.
Guantanamo Air Base's general commander, Capt. Samuel White, is one of those trying to convince the public that Guantanamo is more than a prison. "People see what they want to see. Sometimes that doesn't correspond to reality," he said defiantly in a 20-minute conversation with journalists. "You've been around here for a while. You look around. Do you see a detention center? No, you don't. What you see is a naval station, a proud naval station, fulfilling its mission every day, every day."** Mind you, the press was prevented from entering the prison area.
The commander's spokeswoman enthusiastically points out that life is good there. In addition to the beaches, she says, there are leisure activities, such as a bowling to the background music of "What a Wonderful World." A souvenir shop has items that one might find for sale on any Caribbean beach: a T-shirt from "The Lion King" with the words "Hakuna Matata" written above "Guantanamo Bay"; another with "beach vibes" and "on bad days" displayed across the front. Any purchase appears on your credit card statement as if it were made in Fort Lauderdale, Florida.
Reporters cannot photograph security facilities, such as fences or towers used to supervise prisoners, nor infrastructure such as power generators, water stations or fuel storage. Cell phones and cameras are checked at the end of the trip, and photos with material considered sensitive by base security are deleted. With a double escort, the reporting teams were able to take photos of the debris of the former X-Ray Camp, a temporary detention facility where detainees were held before the current facility was created. The site is now disabled.
Seen every day at the flag-raising ceremony or while smoking a cigar outside his office, Capt. White has earned the nickname "Smokey." White mumbles to himself a few times before speaking out loud: he denies there is anything peculiar about taking a post like the one at Guantanamo and says he doesn't think about what has already happened there.
Unlike Obama, Biden did not order the prison to be closed by executive order, engage in a public debate or create positions specifically tasked with closing the base. Biden's advisers guarantee that he will work quietly as not to arouse any political reaction. "The Biden administration will use all the diplomatic resources necessary to facilitate the transfer of eligible detainees," a U.S. government source said in a July 19 teleconference with journalists.**
According to The New York Times, the Guantanamo prison cost Americans $540 million in 2019 or $13 million per prisoner, an argument used by the government to call the matter to attention to Republicans.
"Particularly, there aren't many solutions for Guantanamo. How many people know that Guantanamo is still open? Let alone how to solve its problems. There is very little political advantage to be gained in trying to solve Guantanamo," says Connell.
"I was not going to extend this forever war, and I was not extending a forever exit," Biden said last Tuesday in justifying his departure from Afghanistan.
Now Biden will need to decide whether the U.S. is ready to close this forever prison.
*Editor's note: The original content of this article is available with a paid subscription.
**Editor's note: Although accurately translated, the quoted remarks could not be independently verified.
About this publication
---