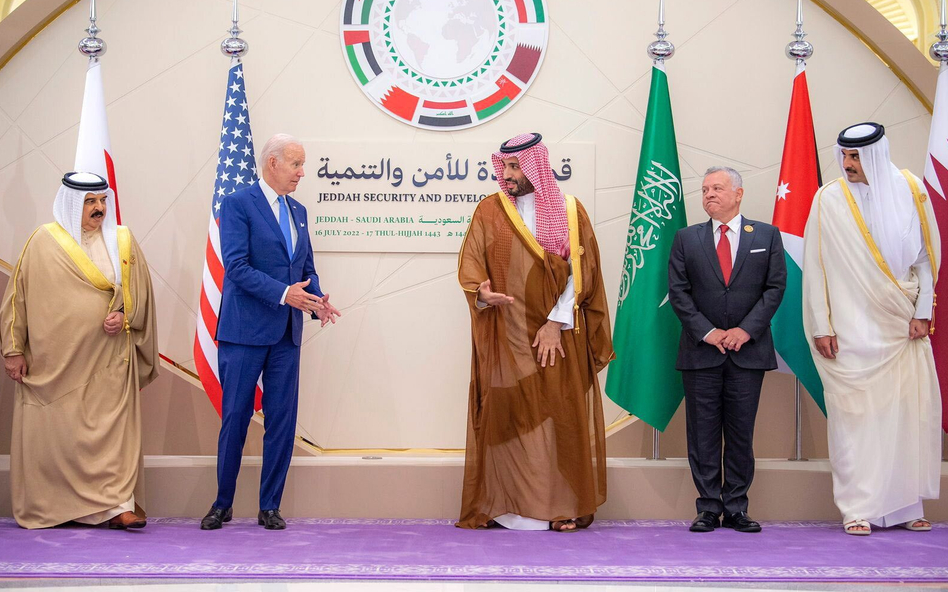 In a few weeks it will become clear whether the visit of the U.S. president to Israel and Saudi Arabia has brought the desired effect of lowering world oil prices.
Joe Biden's trip to the Middle East had essentially one primary purpose: getting Saudi Arabia and other oil-producing countries in the region to increase their oil production and supply to global markets. It cannot be ruled out, given the technical possibilities of not only Saudi Arabia, but also other Gulf States, whose leaders met with Biden in Jeddah. OPEC+ countries will hold a meeting in early August, and then it remains to be seen whether Biden's efforts have yielded any results. Saudi Arabia is the informal leader of a group of the 13 major oil producers that are members of the cartel. Russia, in turn, leads a dozen other producers working closely with OPEC in the form of OPEC+.
In Saudi Arabia, Biden heard that there is a possibility to increase production from 12 to 13 million barrels of oil per day, but this was not a formal promise. It would, however, be difficult to expect quick formalities, in light of the deep crisis in the country's relations with Washington.
An important goal of Biden's trip was to ensure that the U.S. will remain a "committed partner" of Middle Eastern countries.
The reason was outrage following the gruesome murder of Saudi-American Washington Post journalist Jamal Khashoggi at the Saudi consulate in Istanbul four years ago. U.S. intelligence has no doubt that this was done on the orders of Crown Prince Mohammed bin Salman, known as MBS, the de facto ruler of the kingdom of Saudi Arabia.
"For an American president to be silent on an issue of human rights, is this consistent with — inconsistent with who we are and who I am," Biden told reporters in Jeddah. He assured that he was not silent about the issue during his meeting with the crown prince, who said "he was not personally responsible for it. I indicated that he probably [I thought he]* was," Biden added.
The very greeting with the crown prince was symbolic in nature and was limited to a bump with a clenched fist. One of the president's advisers explained that this was due to caution during the pandemic. It was the bare minimum he had to do to save face because as a presidential candidate, he referred to Saudi Arabia as a "global pariah." He also made it clear that he would seek to isolate the prince.
All this took place before the Russian aggression in Ukraine, and the sharp rise in oil and therefore gasoline prices in the U.S., one of the key components of record inflation, which is of great importance before the midterm elections in November. "The reason I'm going to Saudi Arabia, though, is much broader. It's to promote U.S. interests," he explained on Thursday after a meeting in Israel with the incumbent Prime Minister Yair Lapid.
An important goal of Biden's trip was to assure both Israel and the heads of Arab states in the region, with whom he met in Jeddah, that the U.S. will remain a "committed partner" of the Middle Eastern countries and will oppose the actions of Russia and China. And, naturally, Iran, which is the greatest threat to the stability of the entire region. "We will not allow Iran to acquire a nuclear weapon," assured the president.
"I doubt whether the president has succeeded in convincing his interlocutors that his decision to return the U.S. to Donald Trump's international nuclear agreement with Iran is reconciled with Washington's tough course on nuclear weapons," Icchak Klein, from the conservative think tank Kohelet Policy Forum, told Rzeczpospolita. He points out that the president has not condemned Iran's nuclear program, but only the regime's pursuit of nuclear weapons. This certainly did not satisfy Lapid, who suggested that the U.S. declare its readiness to use force against Iran.
Negotiations on a nuclear agreement with Iran in Vienna are still underway; if successful, the embargo on Iranian oil could be lifted. According to experts, this would unlock 80 million barrels of reserves that could reach global markets.
Vladimir Putin is expected in Tehran on Tuesday. The issue of the OPEC+ meeting will probably be one of the topics on the agenda. Washington claims Russia is also interested in acquiring several hundred Iranian drones. Kremlin envoys have already reportedly viewed them twice on the spot. There is every indication that Moscow has so far failed to convince Beijing to make up for the shortcomings of the Russian army.
About this publication
---