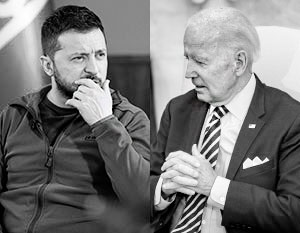 *Editor's Note: On March 4, Russia enacted a law that criminalizes public opposition to, or independent news reporting about, the war in Ukraine. The law makes it a crime to call the war a "war" rather than a "special military operation" on social media or in a news article or broadcast. The law is understood to penalize any language that "discredits" Russia's use of its military in Ukraine, calls for sanctions or protests Russia's invasion of Ukraine. It punishes anyone found to spread "false information" about the invasion with up to 15 years in prison.
The world's press erupted with messages about the Ukrainian president's visit to the United States in the middle of the night in Moscow, which appeared to surprise nearly everyone. The trip looked more like a special operation involving the White House, given President Joe Biden's personal interest in his visitor.
Ukraine President Volodymyr Zelenskyy's visit to the U.S. was his first trip overseas since the beginning of the special military operation, with the exception of his appearances in territories that Russia claims as its own (including Kherson and Artemovsk in the Donetsk People's Republic).
This visit was not announced, which is normal with military actions. More surprisingly, there were no leaks to the press: Not a single source spilled the beans, despite the fact that the largest Western media outlets are ready to pay for exclusive information from Kyiv.
On Tuesday night these "sources" started talking at the same time. Several publications at once claimed that Zelenskyy departed to the U.S. from NATO's Ramstein Air Base in Germany on board a U.S. military plane.
That contributes to the theory that only a very narrow circle of people knew about the visit, and the final decision on proceeding was made relatively recently -– according to the principle that posits yesterday was too early, tomorrow's too late; the reference to "late" meaning that the House of Representatives will have a Republican majority in January.
Some GOP elephants (this massive animal being the symbol of the Republican Party) are already sharpening their knives for Ukrainian aid programs saying they are ineffective and excessive.
Unfortunately, that doesn't mean subsidizing the Ukrainian regime has come to an end, although it's the House of Representatives that is responsible for federal budget matters in the U.S. However, its new management is unlikely to be very lenient when it comes to Biden's policy of diplomacy and spending, no matter what form it takes.
Departing Democratic House Speaker Nancy Pelosi asked members of Congress to appear in the House chamber on Wednesday. It's expected that Zelenskyy will deliver a speech before both houses of Congress.** His meeting with Biden was also announced, but his speech to Congress is a much more important event. Interestingly, it's more important for both Zelenskyy and Biden.
Zelenskyy's goals are obvious: more money, more weapons, more anti-Russian sanctions. He has to convince skeptics on Capitol Hill to refrain from being greedy. The media have thrown around a sum of $45 billion the Ukraine's president will allegedly ask for.
Biden needs Zelenskyy not as a politician in this situation, but as an actor whose task is to soften, inspire and in some way justify the Washington and Kyiv's policy on Russia.
Bankova Street and the White House are united in the view that this is no time for peace talks. UK Prime Minister Rishi Sunak recently confirmed that he holds the same position, as do many in the countries of Eastern Europe.
But the Western European Union, especially Berlin and Paris, is encouraging the parties to give diplomacy a chance. A riot is brewing. The Germans and the French are quite tired of spending money on Ukraine and of the costs of opposing Russia — and most of all, of the complete uncertainty about how long this will continue.
The U.S. has parried that it will continue as long as necessary. Despite generous tranches of funds in absolute terms, the U.S. has not spent as much on Ukraine's struggle against the special military operation when compared to Europe; moreover, it even gained something, including European industry, which it is openly trying to lure with lower gas prices. The U.S. has also gained European funding allocated to gas purchases; the U.S. is now the main supplier of natural gas to the European Union.
But there are costs to the U.S., whose people are suffering from inflation and who are regularly provoked by increased spending on Kyiv. One of the most prominent U.S. critics of this approach is Kentucky Sen. Rand Paul who published a very eloquent photo: a pile of 4,000 budget pages that members of Congress must review three days before voting on it.
A sign nearby warns, "Danger, $1.7 trillion of hazardous debt!
This psychological pressure has an electoral response. It is no longer possible to appeal to Donald Trump, whom it is time to write off, but the younger and more successful Trumpist is able to respond. For the Democratic Party, it's important that American skepticism doesn't empower the opposition and that policy on the Russian-Ukrainian conflict stays as bipartisan as it is now.
That's what is important to understand here in Russia: It's not Biden or Trump who opposes us, not the Democrats or the Republicans separately, but it's the U.S. as a whole. However, the White House "dove of peace" approach, with peace talks and restraining the Ukrainian armed forces that would have to acknowledge both its foreign policy defeat and Russia's unexpected strength.
The Republicans will blame all the misfortunes of the Ukrainian armed forces on the front lines, as well as any effect on the American economy, on the Democrats. But it isn't that Republican members of Congress want to leave Zelenskyy to face off with Russia or to abandon Ukraine; it is more that they want to make the U.S. mechanisms for allocating financial aid more controlled and transparent.
We are most likely to soon see special commissions being formed on Capitol Hill –- similar to the one that existed during World War II, which managed to eliminate fraud during the lend-lease program for the Soviet Union. The aid didn't stop. On the contrary, It became more effective.
But for the most part, the U.S. State Department of State is taking a two-party approach, something Zelenskyy's speech to Congress aims to emphasize, rather than hide. It's expected that he'll dispel discouragement, praise Biden and threaten the West one more time with Russia (which he claims the Ukrainian armed forces will certainly deter and defeat if they receive adequate help).
Different propaganda surprises are possible. There's no doubt Zelenskyy knows how to engage in public relations and is well-versed in comedy. According to the Associated Press, for his performance and for lending Biden a media hand, he'll receive Patriot missile defense systems worth $2 billion, as well as aircraft bombs (Joint Direct Attack Munition). The decision has allegedly been made, it's only a matter of deciding when they will be delivered. Pentagon advisers still have to train the Ukrainians on how to use these systems.
If these and other forms of American aid won't turn the tide on the front lines in favor of the Ukrainian armed forces, it will spell defeat not only for Ukraine, Zelenskyy and Biden, personally, but also for the U.S. as the world's hegemon.
It would be very nice if the visitor from Kyiv were to be precisely the cause of such a future outcome. Not many in this world crave a Ukrainian defeat, but a defeat for the U.S., whose claims of being the world's policeman exasperate everyone, would please many.
For the most part, It depends on the Russian armed forces. No matter what they say about it in the U.S. and Europe, we should remember that victory always has many allies, even if it's an alleged victory. However, in contrast, if Zelenskyy should lose, he will not be alone; the entire U.S. will have to share his cup of poison.
**Editor's note: Volodymyr Zelenskyy addressed a joint session of Congress on Wednesday, Dec. 21 after this article was published.
About this publication
---