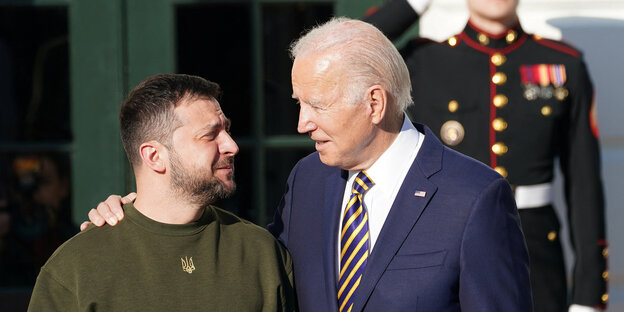 Ukrainian President Zelenskyy's appearance in Washington was a successful production. His soldierlike pathos even enthused Trump fans.
Ukrainian President Volodymyr Zelenskyy's visit to Washington was of course about creating images and evoking emotions. Zelenskyy had not traveled abroad since the beginning of the Russian invasion of Ukraine 10 months ago. His message, which was nevertheless heard in many parliaments of the Western world, had always been transmitted by video link.
His brief visit to Washington — while deliberately not wearing a suit of course, but instead wearing the same olive green outfit for which the entire world has come to know him — should produce other new images. With the whole force of the trained actor and embattled wartime president's personal charisma, moments should be created that ensure the financial and military aid vital for Ukraine does not subside, despite the impending shift in the leadership of the House of Representatives.
In his video speeches to Western parliaments in recent months, Zelenskyy had already been trying to find language that captured the corresponding national characteristics and would link them to the Ukrainian narrative of solidarity. He has mostly been successful at this — especially during this visit to Washington.
Unlike in Germany for example, which despite changing times is still as skeptical of the military as ever, in the U.S. Zelenskyy was able to muster up all the pathos of a soldier bravely defending his country — with medals directly from the front. It would be a no-go for almost every kind of American politician to not celebrate him. The Russian-friendly Republicans of the radical wing were very quiet for once.
To some extent the visit was clearly a production from the first to the last minute, but one with political goals. At least in the short term, these goals have been reached. Admittedly, it remains to be seen how long American support will last. The result of the budget negotiations, which must come to an end this Friday if the U.S. doesn't want to slide back into a short-term government shutdown, is possibly an indicator of this — even if the almost $50 billion Ukraine aid package it contains isn't at the center of the partisan negotiations.
Zelenskyy has outdone himself this year, as this visit has proven once again. As a wartime president he is a godsend for Ukraine. And it is feared that this will continue to be his role for the foreseeable future.
About this publication
---