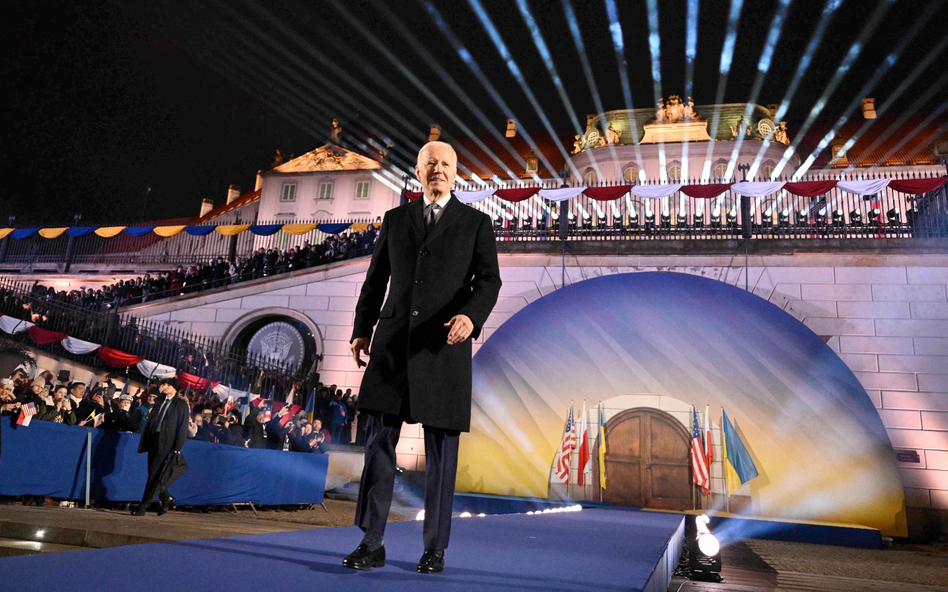 For the first time since the beginning of the Russian invasion, on the same day, Joe Biden and Vladimir Putin presented their visions of the future. The visions are so different that there is no chance that the war in Ukraine will end in the near future.
The speeches by the two leaders on Tuesday were hours — and 1,300 kilometers (approximately 807 miles) apart — the distance between Warsaw and Moscow. But in fact, they were two different worlds. Vladimir Putin faced an audience made up of a strictly select group of the regime's minions. Anyone who wanted to come was welcome to hear Joe Biden's speech at the foot of the Royal Castle in Warsaw. The Russian leader recounted an endless series of lies for two hours, about how the West started the war and that Russia now "controls" Ukraine. It took Biden 30 minutes to pour hope into the hearts of the free world and unite it around common values.
A Decisive 5 Years
"One year ago, the world was bracing for the fall of Kyiv. Well, I have just come from a visit to Kyiv, and I can report: Kyiv stands strong! Kyiv stands proud. It stands tall," said Biden. "[Putin] thought NATO would fracture and divide. Instead, NATO is more united and more unified than ever … He thought autocrats like himself were tough and leaders of democracies were soft."
"But we remain united, stronger than ever," he said.* And Biden promised that America and its allies will stand by Ukraine for as long as it takes.
In an evening address in Warsaw, the world heard that Democratic states will not abandon Ukraine and will be with it for as long as it takes. In Moscow, Putin could not make a similar declaration about the solidarity of his allies.
But it was also the foretaste of a difficult future: "As we gather tonight, the world, in my view, is at an — at an inflection point," Biden said. "The decisions we make over the next five years or so are going to determine and shape our lives for decades to come. Biden spoke of a "choice between hope and fear… between democracy … and the brutal hand of a dictator."
Still, Putin and Biden had something in common that day: determination to stand their ground. "Russia will resist all challenges … It is a united, great nation … we believe in ourselves, in our strength … and the truth is with us," the Russian president said in Moscow.
Yet, it is hard to see how peace could emerge from two such different visions. On the contrary: tightening his course toward the West even more, Putin announced that he was withdrawing from New START, the last binding nuclear disarmament agreement between Russia and the U.S.
The war in Ukraine has united the West. However, a large part of humanity beyond the West seeks peace at the expense of Ukrainians.
And Biden himself did not outline any scenario in Warsaw that could end this war. "Nothing about Ukraine without Ukraine," said National Security Advisor Jake Sullivan dismissing suggestions that the U.S. may be considering a compromise or that Kyiv might concede some of the Russian-occupied territories.
A year of fighting has already cost the lives and health of at least 300,000 Ukrainians and Russian soldiers. Millions of Ukrainians have lost everything they had. The value of destroyed infrastructure has reached hundreds of billions of dollars.
But this may be just the beginning of the tragedy because Ukraine's future will still be decided by how events develop at the front. According to Western intelligence, Putin has mobilized up to a half million troops for a new offensive. He also hopes to receive weapons from China. The U.S. and its allies are rushing to hand over tanks and armored vehicles so that the Ukrainians have a way to defend themselves. The next few days will determine who wins this race.
The Crimea Issue
However, it's still not an all-out battle yet. Putin did not mention the use of tactical nuclear weapons. Perhaps that is because he does not believe that Crimea, which is crucial for Russia, is threatened. In turn, Biden has not agreed to transfer F-16 fighters and medium-range missile launchers to Ukraine, weapons that could reach the peninsula.
On Tuesday, Secretary of State Antony Blinken disclosed that the U.S. advised Russia about Biden's trip to Kyiv and Russia agreed to avoid any risk to the U.S. president. The war, while extremely dangerous, is not yet completely out of control.
*Editor's note: Although accurately translated, the precise wording of this quoted remark could not be independently verified.
About this publication
---