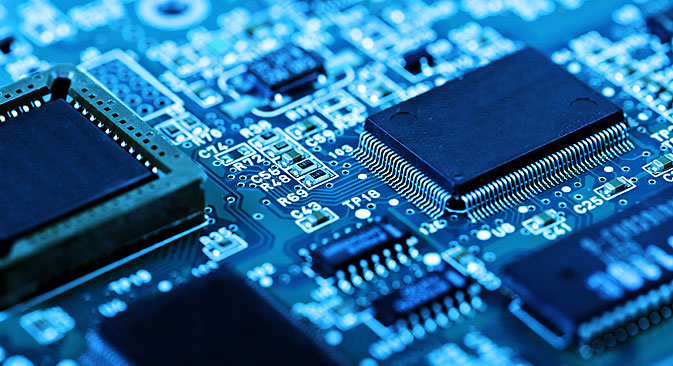 The belligerence in the reconfiguration of the world order that is currently underway has taken on a variety of forms, some of them related to science and technology. One of the major areas of conflict is over the microprocessors that function as the basic circuits for the devices that we use every day: cellphones and computers, but also cars and planes.
These small devices are central to the strategic battle over the production and distribution of goods and services, with the U.S. and China at the center of worldwide competition. These microprocessor chips, along with artificial intelligence and the protocols for cellphone transmission (5G and 6G), are the core issues in the geoeconomic battle.
In August of last year, the Joe Biden administration enacted the CHIPS and Science Act of 2022, which awards almost $60 billion in tax credits, incentives and subsidies to companies that set up in the U.S. One year before, in June 2021, the U.S. president signed an executive order which bans all investment in 59 Chinese companies, including Huawei and SMIC, which are believed to be collaborating with Beijing's armed forces.
In addition, in the past two years, the State Department has been promoting the Chip 4 Alliance with Japan, South Korea and Taiwan, to boost research and innovation in microprocessor technology, at the expense of the People's Republic of China. One of the latest initiatives that Washington is advancing has been to impose sanctions on companies that export to Beijing wafers printed using extreme ultraviolet lithography, the technology required to produce the latest generation of microprocessors, with sizes less than 5 nanometers. The Dutch company ASML — which has restricted exports to mainland China — is the only company capable of utilizing EUV technology in the design of these small wafers, for which demand has been consistently increasing at a rate of 8% a year.
Chinese President Xi Jinping has responded emphatically to the hybrid war being waged by Washington. In the plan for Xi's current six-year term as Chinese president, a $1.4 billion investment is programmed for innovation in nanotechnology. Vice Premier Liu He, a Harvard University graduate, was designated as the person responsible for executing that program, considered a priority in strategic planning. Of the new generation of microprocessors –- smaller than 6 nanometers –- 75% are produced in southeast Asia, in China, Taiwan and South Korea. Thirty years ago, the U.S. controlled a third of all global production; today, it is only involved in 12% of that manufacturing. Japan shows a similar decline: In the 1990s, it exported half of all these chips, but today, its share is only a tenth of the market.
It was Japan's strength in the last third of the 20th century that gave rise to the first strategic dispute over semiconductors and microprocessors. Tokyo's strong competitive position was the basis of the first geoeconomic war, initiated by Washington against Japan's development of microprocessors. The State Department promoted development in South Korea and Taiwan, to curb Japanese dominance. Now that Beijing is looking like an increasingly dynamic and innovative producer, U.S. administrations have been trying to recreate those policies that were successful in restricting the rise of Japanese technology.
The current belligerent atmosphere is focused on limiting, slashing and frustrating Chinese development. According to U.S. authorities, it is based on the need to forge a "democratic supply chain for semiconductors,"* a euphemism for the attempt to block Beijing, which is presumed to be an autocratic regime controlled by the Chinese Communist Party. In that context, Biden has put in place controls and restrictions designed to convince Japan, South Korea and Taiwan to discontinue their exports to China. This is giving rise to bitter debates within the companies, whose most important clients are in China.
The Japanese semiconductor companies sell almost a third of their production to Chinese companies, and during 2022, around 40% of Korean chip exports were destined for China. But the most relevant case is that of Taiwan, which Washington is utilizing as a geopolitical tool to weaken Beijing and dismantle its area of influence. The central offices of the Taiwan Semiconductor Manufacturing Company are in the Taiwanese cities of Hsinchu and Taipei. TSMC, which is the world's most advanced chip fabrication company, was founded in the 1980s by mechanical engineer Morris Chang, who graduated from Harvard and the Massachusetts Institute of Technology in the 1950s.
TSMC is one of the world's 10 most powerful companies; it exports almost two-thirds of all the high-end chips in the three to seven nanometer-size range. Its market capitalization is $600 billion, twice that of Intel, the most valuable U.S. company. The U.S. government is trying to control and manipulate TSMC as an instrument in its offensive against Beijing. For this purpose, it has been promoting construction of a plant in Phoenix, Arizona, with an investment of almost $53 billion. This plant is already operating, but it has been leaked by the Taiwanese authorities that they are having repeated difficulties hiring a qualified workforce.
For their part, U.S. workers have denounced TSMC's organizational requirements and its plans to move 500 Taiwanese technicians to Phoenix because production costs at the beginning of 2023 are expected to be 500% higher than in its home base in Taiwan. At the beginning of this year, TSMC President Morris Chang announced the construction of a plant in southern Taiwan with an investment of $60.7 billion, 50% more than was invested in Arizona, because TSMC's most important clients are still in southeast Asia. Chang also announced that he has no plans to limit the production of basic microprocessors in Nanjing, the capital of Jiangsu province, on mainland China.
The hostility of the U.S. toward China is one of the battlegrounds where the development of a hybrid war is unfolding, a war intended to prevent the formation of a multipolar world with distributed power and greater autonomy for all countries.
*Editor's Note: Although accurately translated, this quote could not be sourced.
About this publication
---