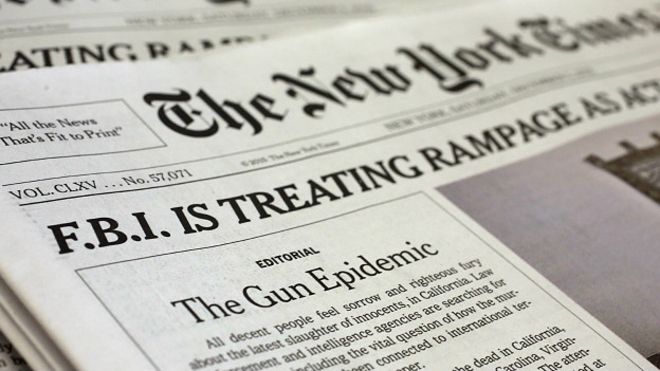 Where else but the U.S. could a teleshopping channel come up with the idea of bringing a gun shop right into everyone's living room? Convenient gun buying on TV – that's just one of the excesses the gun nuts in America have produced.
Atrocities like the one in San Bernardino also bring out the worst and the best in U.S. journalism these days. Reporters and camera teams tore through the California shooters' apartment with breathless reporting: yellow journalism style. They began twisting everything, from the stuffed animals to the bedtime stories to the Koran they put in front of the camera. It confirmed the worst of the worst clichés about the media – and not just the American media.
But, like the voice of reason in the midst of all the insanity, The New York Times pleaded, "End the Gun Epidemic in America." For the first time since 1920, the newspaper published an editorial on the front page to highlight a dramatic but heretofore fruitless debate. That might get the Times a Pulitzer, but unfortunately it's not likely to change the status quo anytime soon.
About this publication
---