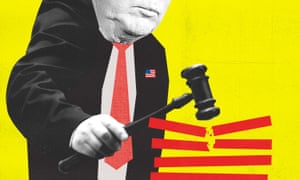 What kind of legacy will Donald Trump leave behind as a U.S president, regardless of whether he serves one or two terms? This topic has been covered in an extensive review by the U.S. publication WhoWhatWhy. The focus of the analysis is quite interesting: the billionaire president's intervention with regard to the U.S. judicial system. According to Sean Steinberg, who wrote the article, it is exactly Trump's judicial reform that will leave the biggest imprint on the future development of the United States. Trump's judicial reform is impressive even for his ambitions; he proposed 12 new judges for the federal courts of appeal, one justice for the Supreme Court and 10 for the U.S. district courts, all of whom receive lifetime appointments. In the last 60 years, only John Kennedy named more judges during his presidency.
Steinberg's opinion is that Trump widely appoints younger judges with more conservative views; however, they may prove to be very dangerous in relation to matters concerning the election process in the United States and its manipulation. Steinberg believes it is entirely possible that the new judges would negatively influence the direction of the election process, in particular for people of color and immigrants, and his viewpoint is shared by Luis Fuentes-Rohwer, a professor of law at Indiana University. In order to support his point of view, Rohwer provides examples describing the professional careers of some of Trump's judicial nominees.
First on the list is Thomas Alvin Farr, who is Trump's nominee for the U.S. District Court for the Eastern District of North Carolina. Farr tried cases involving election law in North Carolina, the most striking of them all from 1990, when he supported Sen. Jesse Helms, who was seeking to get re-elected using quite unconventional methods. Most notably, Helms sent special postcards to more than 100,000 African-Americans who were voters in the state. Each postcard stated that the recipient did not have the right to vote, and that he would go to prison if he tried to vote —something which was completely untrue. Helms won the election against Harvey Gantt, his opponent at the time, and who was Charlotte's mayor, seeking to become the first black senator in the United States. Farr was confirmed as a Federal District Court judge by an 11 to 10 vote of Senate Judiciary Committee. It is Farr's third attempt to win appointment to the bench. Farr's nomination still faces a confirmation vote before the full Senate.
Another example is Kyle Duncan, nominated by Trump for the 5th U.S. Circuit Court of Appeals. Most recently, this court, which has a reputation as one of the most conservative appellate courts, struck down text in Texas election law for discriminating against black and Latino citizens. In particular, the law had provided that one could vote regardless of whether one could present valid photo identification as long as one presented "an alternative form of identity card." Duncan, however, was against repealing the voter ID law.
Another scary example is Mark Norris, who is the Republican leader of the Tennessee Senate. He fiercely defends more stringent election laws, and his views are especially harmful to African-Americans, young voters between the ages of 18 and 23, and voters who have been registered for less than a year. Norris demands that any such voter should prove that they are a U.S. citizen when they register to vote in the upcoming elections. This can only be done with an official document, according to Norris, and it would not be up to the authorities to search birth certificate records. Norris' amendment was nearly included in Tennessee's election law. Together with Farr, Norris was also confirmed 11-9 by the Senate Judiciary Commission and is awaiting a full vote by the Senate.
An impressive example is Colorado Supreme Court Justice Allison Eid, who was the only justice on that court to vote against remapping the state's voting districts in order to fully represent the population and provide better access to voter registration. Eid declined to comment on Trump's statement that during the 2016 presidential election, there were 3 million illegal votes, during her confirmation hearing before she was confirmed as a judge on the 10th U.S. Circuit Court Appeals. Don Willett is in a very similar situation, and as associate justice of the Supreme Court of Texas, he twice blocked plans to remap the districts in the state.
But Trump's most controversial nomination was Neil Gorsuch. He was confirmed as associate justice to the U.S. Supreme Court and is already openly questioning whether the federal government has the constitutional power to intervene in the election laws of individual states, even though they may be incomplete or discriminatory. Gorsuch's questioning occurred during argument before the court in a case that was ultimately not decided the way Gorsuch expected.
About this publication
---