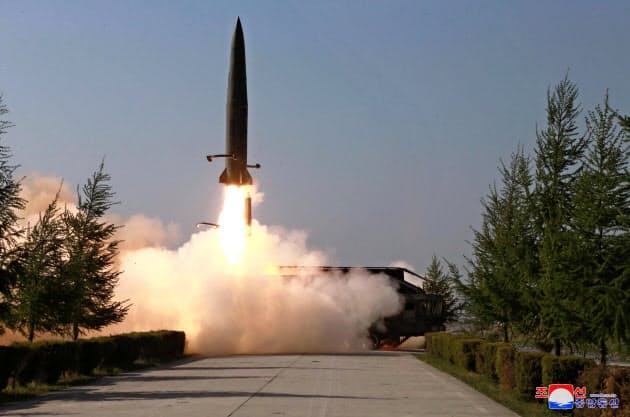 North Korea has fired two missiles toward the Sea of Japan. It has not even been one month since the third North Korean-American summit at Panmunjom. While vaunting his national strategy of emphasizing the economy, the Kim Jong Un regime's dependence on the military is unchanged, and Japan, America and South Korea must not let their guards down.
If the recent firings were of short-range ballistic missiles, they violate U.N. Security Council resolutions. President Donald Trump did not seem to view the previous launches in May as a problem since they were not long-range missiles that could reach America. However, short and medium-range missiles that target Japan and South Korea are a threat to America's alliances with those countries.
The North Korean media have recently shown Kim inspecting newly built submarines, and have emphasized the importance of North Korea's strategic capability and weapons systems. They appeared to be large submarines, difficult to detect, and capable of carrying submarine-launched ballistic missiles that can themselves convey nuclear weapons.
All of this runs counter to the "efforts toward complete denuclearization" that Kim promised. It appears to be intended to rattle America ahead of August's joint South Korean-American exercises, but a situation in which nuclear strength is increased is unacceptable. Japan must cooperate internationally in maintaining sanctions against North Korea.
At the same time, it goes without saying that denuclearization negotiations meant to reach a solution through dialogue are important. We are eagerly awaiting the speedy resumption of practical discussions between America and North Korea. If this happens, we hope that America will forsake easy compromises and instead insist that a clear outcome of the talks be that North Korea demonstrates a clear path toward discarding its nuclear weapons.
Incidents that upset regional security are occurring one after the other. Chinese and Russian warplanes have entered the airspace over Takeshima, Shimane Prefecture.* One point of view is that this tests the reactions of Japan and South Korea, between whom there are deepening cracks over the court decision on labor conscription and import restrictions against South Korea and its ally, America.
U.S. National Security Advisor John Bolton has toured both Japan and South Korea to confirm trilateral cooperation and to express a desire for a diplomatic resolution to disputes between the two. With growing tension on the security scene, Japan, America and South Korea cannot show daylight between them.
*Translator's note: Takeshima is also claimed by South Korea, which calls it Dokdo.
About this publication
---