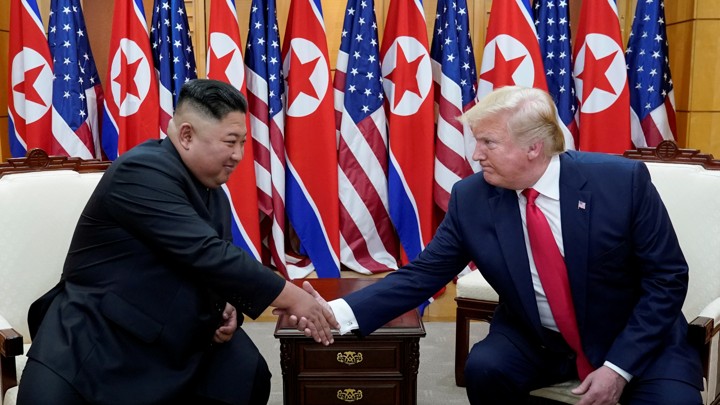 The Americans have de facto recognized North Korea's right to possess missiles.
While the world continues to debate how best to dismantle North Korea's nuclear and missile programs, Washington and Pyongyang may have already stumbled upon a compromise for what Americans see as one of the most disturbing issues: how to remove American cities from the threat of a North Korean nuclear attack. Donald Trump, having secured a promise from Kim Jong Un to stop testing intercontinental ballistic missiles that could reach mainland America, has effectively given his tacit consent for North Korea to possess medium and short-range missiles.
This is the only way to interpret the president's feigned indifference to the series of missile launches by North Korea, which took place at the end of July and the beginning of August. Almost all of the launches were led by Kim himself. Trump's reaction to the launches, which caused a fair amount of panic in Tokyo and Seoul, turned out to be surprisingly calm. The president of the United States announced that there was nothing unusual in these launches and that he did not enter into any agreement with the leader of North Korea prohibiting the testing of such missiles.
If you recall, it was the very emergence of North Korea's intercontinental ballistic missiles that caused an acute crisis in its relations with the U.S. in 2017. Back then, the president of the United States promised that he would not allow American cities to be caught in the crosshairs of North Korean missiles, and threatened North Korea with "fire and fury" and even "total destruction." Soon after, it was announced in Pyongyang that the aims of its nuclear missile program had mostly been met and that there was no need for new ICBM launches. North Korea's one-sided moratorium on such launches, as well as on nuclear testing, lasted for more than 20 months.
But now, both leaders have been complimenting each other in an exchange of letters, which the press quickly dubbed "love letters," for over a year. In the most recent exchange, according to Trump, Kim said that he would cease the launches once the joint U.S.-South Korean military exercises to the south of the peninsula were also stopped. These exercises have caused quite a negative reaction in Pyongyang, which considers their undertaking to be a violation of the letter and spirit of the agreements reached in 2018 at the U.S.-North Korea summit in Singapore and the inter-Korean summits.
If we take this mutual understanding between the U.S. and North Korea regarding the missiles to be the first, albeit quite modest, step (it is certainly not fixed in writing) on the long path toward relieving the Korean Peninsula of nuclear weapons and the means of obtaining them, then it may well be welcome.
At the same time, the current situation raises, in my opinion, a series of very difficult questions.
The main question is how we are supposed to react to the fact that America is once again giving itself the right to decide which provisions of well-known U.N. Security Council resolutions regarding North Korea it will follow and which ones it prefers to forget.
After the introduction of the provision prohibiting North Korea from carrying out these launches "using ballistic missile technology" in the 2009 U.N. Security Council resolution, I wrote frequently about how irrational and unfair such measures were, as they effectively removed North Korea's entire right to own missiles and therefore left the country unprotected. This ban was implemented and still exists with respect to only one state in the world – North Korea.
It is unsurprising, then, that in Pyongyang it was categorically rejected as the "apogee of double standards," which were "imposed" on the U.N. Security Council by the Americans. North Korea did not stop, but instead advanced the launches. The Republic's representative of the foreign ministry underlined in a recent announcement that his country has never and will never recognize such limitations.
Moreover, in the last few days, the U.S. has resumed work on the construction of a Terminal High Altitude Area Defense base in South Korea, which is supposedly intended to protect the country from North Korean missiles. This is yet another sign that Washington does not expect that North Korea will give up its medium and short-range missiles. In addition to this, the Pentagon has clearly calculated that North Korea's possession of such missiles will serve as a good pretext for the distribution of American medium-range missiles in Japan and South Korea.
Meanwhile, since 2009, the provision regarding the ban on launches using ballistic technology has been included in all U.N. Security Council resolutions for North Korea at the insistence of the U.S. and its allies – in fact, Russia and China also voted in favor of a good 10 of these. It goes without saying that we did this, not under pressure from the U.S., but based on our fundamental position regarding the issue of the proliferation of nuclear weapons and the means of obtaining them, and guided by our mantra about the need to ensure the unity of U.N. Security Council members.
But if this is the case, then where are our calls for parties to observe U.N. Security Council resolutions without fail, or at least an inquiry from us to the U.S., which continues to persistently demand such unfailing observation from all other members of the international community, while the U.S. itself, depending on the situation and unceremoniously alters, reinterprets or disregards those provisions of international law with which it is not satisfied? How can we forget their exit from the Intermediate-Range Nuclear Forces Treaty and the recent testing of a ground-based cruise missile?
Perhaps we are continuing to step on the very same rake in Korea, voting in the U.N. Security Council for resolutions or allowing those decisions which turn out to be, at the very least, unfeasible, and which, with time, will put us, to put it mildly, in an uncomfortable position. Was it worth it for us to approve these sanctions, which are unparalleled in the entire history of the U.N. in their harshness, in relation to a country with which we have a treaty of friendship, neighborliness and cooperation? Is it not because of this "fundamental position" that we receive hardly more than a dozen or so votes at U.N. General Assembly meetings on the issues that are important to us (e.g., Crimea)?
About this publication
---