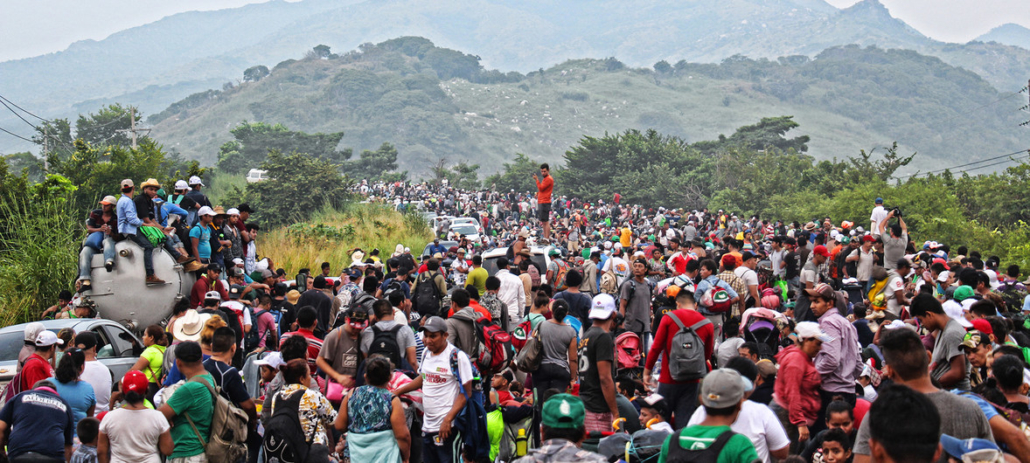 Why migrants from Honduras are once again intent on taking America by storm.
While lawmakers are preparing for the decisive battle over the dismissal of U.S. President Donald Trump, another fight has started just a few thousand miles from the Mexico-United States border. However this battle ends this time around, it is not only the proceedings of the political trial against the occupant of the White House that might depend on it, but also the fates of those intent on reaching the highest public office in America in November.
If you remember, at the beginning of last year, large-scale caravans of migrants, mainly from Central America, were the center of attention for international media outlets. Back then, more than 30,000 migrants had reached the border between Mexico and the U.S. and were trying not just to get onto American soil, but also to create a situation in which only one person would be blamed for their allegedly inescapable position – Trump. After that, for various reasons, the "caravan wave" ebbed away. Some of the migrants who had made it through to the U.S. had to return to their homes, while others settled in Mexico.
Now, there is a new "migration crisis." A lot will depend upon its outcome: first and foremost, the fate of the future, and indeed the current, U.S. president. Here, it is worth pointing out two very significant coincidences, which, based on what happened to the last migrant caravans, are far from random. It is completely possible that by the summer, these events will have played out yet again, with even more persistence and force from the members of these "caravans of the poor and persecuted."
On the very same day as the official request to impeach Trump was handed to the Senate by the United States House of Representatives for further investigation, a migrant caravan made up of around 3,000 people set off from the city of San Pedro Sula in Honduras, which, over the next few days, should be making its way through the territory of Guatemala to the Mexican border. The Guatemalan police let their migrant neighbors through, and hundreds of Guatemalans, Cubans and Haitians, who are wanting to cross into the U.S., have now joined the caravan en route.
Now it's a matter for the Mexican authorities. Mexican President Andrés Manuel López Obrador promised his American colleague last year that he would not allow more migrants from Central America to pass through his territory; he would either send them back where they came from or allow them into Mexico and grant them jobs and asylum. Seeing the crowds of new migrants making their way into America, the Mexican president has promised them residence permits and 4,000 jobs in his country, as long as they don't continue to push their way through to the American border.
It is telling that once again journalists from American TV stations, who "just happen" to have got caught up in the caravans, are showing crying children; hundreds of Honduran and Guatemalans (the oldest caravan member is 72 years old and the youngest was born just 10 days ago), who are trudging out of hopelessness and "a lack of conditions for a normal human life;" and determined young people, who vow that they will make it into America for "a better life for them and their children."
But suddenly, on the day that impeachment proceedings for removing Trump from power began, a "Washington landing" of 18 Democratic congressmen descended on the small city of Matamoros to familiarize themselves with the situation of more than 3,000 migrants who have been on the Mexican side of the border for months, awaiting the court's decisions regarding their applications for U.S. political asylum.
The congressmen are, naturally, outraged by the migrants' poor living conditions, who are huddled together in tents without water and electricity, cleaning and preparing food in a nearby river with no clue as to when their applications will be looked at by the Americans, or if they will even be looked at all. It goes without saying that all reports from Matamoros are accompanied by harsh criticism of the U.S. president by everyone, including the Democratic congressmen and the migrants themselves.
The Central American migrant caravan situation is deteriorating again; and there are at least two more lined up with a total number of 5-6,000 people. Their desire to cross the Mexico-United States border by mid-February — i.e., by the time the impeachment procedure might have been completed, regardless of its result — is evidence that the migration problem remains one of the most important pre-election struggles for the highest public post in America. Its resurgence during the crucial battles between the Democrats and Republicans in the presidential campaign right now is far from accidental.
Trump has just managed to "extract" another $10 million from the Pentagon's budget to construct the wall along the border with Mexico. He has been unable to erect the entire wall during his time in power, one of his promises to the electorate. Nevertheless, he has started the process despite severe resistance from the Democrats. Closer to election time, Trump will be able to demonstrate that, if he isn't fully solving the migration problem, he is still tackling it in many ways. But if, by mid-February, migrants once again appear on the Mexico-U.S. border and again begin to shame the American president in front of TV cameras for not giving them the chance "of starting a new and happy life," it could seriously harm the Republican Party candidate's chances of retaining his presidential post.
"We will still get to America, and President Trump should let us through. He is himself from a family of migrants and has made his money in the U.S. I want my children to be given the same chance. And he has no right to deny them that," repeated Cecilia Igines from Honduras, while holding her three-year-old daughter in one arm and supporting her five-year-old son standing next to her. But before they reach America, her family, as well as the thousands of other migrants, need to be allowed by the Mexican authorities to pass through their territory. At least for now, they will absolutely be denied this.
About this publication
---