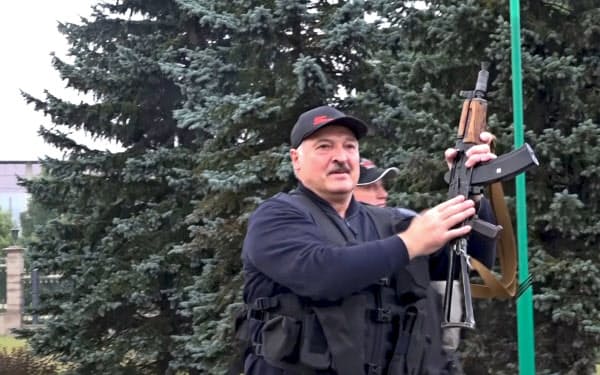 Russia and America have drawn swords over the former Soviet Republic of Belarus, where unrest continues in connection with a disputed presidential election. Increasingly distrustful of each other, Russia and America are holding back on intervening in the domestic affairs of Belarus. And as the end of Alexander Lukashenko's long dictatorship comes into view, both America and Russia are quietly bolstering their offensive and defensive strategies.
"Compared to America or Europe, our position is far more moderate and neutral," said Russian President Vladimir Putin. At the end of August, Putin touched on the unrest in Belarus for the first time in an interview on state TV, criticizing the West for its one-sided attack on the Lukashenko regime.
In the Belarusian presidential election held on Aug. 9, Lukashenko announced that he won his sixth election with 80% of the vote, but opposition forces and Belarusian citizens charged that the election was illegitimate. Huge protests and demonstrations took place, and there is a growing movement demanding that Lukashenko resign and that Belarus hold another election.
Russia claims that Lukashenko's election was fair, but the West supports the citizens' protest movement on every front, including the economic front. U.S. Deputy Secretary of State Stephen Biegun met with Svetlana Tikhanovskaya, Belarus' unified opposition candidate who faced Lukashenko in the election.
Secretary of State Mike Pompeo has determined that the election was "not free and fair," and said that "[a]s friends of Belarus, we support Belarusian independence and sovereignty, as well as the aspirations of the Belarusian people for a democratic, prosperous future."
Putin has revealed that at Lukashenko's request, Russia is prepared to send a peacekeeping squad if the situation deteriorates. He says it will only be deployed under extreme circumstances such as looting, arson or the occupation of administrative institutions, but the West has grown increasingly suspicious. When Biegun visited Russia in late August for talks with Foreign Minister Sergey Lavrov, he warned that America would sanction Russia if it intervened militarily in Belarus. The West's mistrust of Russia is all the more intense in the wake of Russia's military intervention during the Ukraine crisis of 2014.
An event took place in Belarus at the end of July which symbolized the deep-rooted conflict between Russia and the United States. More than 30 Russian fighters from the private Russian military company Wagner were detained in the Belarusian capital of Minsk, and elsewhere.
Russia explained that the soldiers were heading to another country, but Belarusian authorities alleged the soldiers were planning "planning riots and acts of terror." Lukashenko also criticized Russia for "plotting to destabilize the domestic situation ahead of the presidential election." He thinks that deploying the soldiers was meant to fan anti-government demonstrations and block his reelection.
The Russian tabloid Komsomolskaya Pravda reported that according to Russian authorities, the fighters were Ukrainian special forces sent to sow discord between Russia and Belarus. The newspaper claimed that Russian fighters were allegedly summoned to guard oil installations in the Middle East and Latin America.
The Ukrainian government dismissed this as "fake news," but the Ukrainian media have reported on possible involvement by Ukraine's security service and its defense ministry information office. The media reported on conspiracy theories involving America and Ukraine in an operation aimed at arresting soldiers who had participated on behalf of Russia in the conflict in eastern Ukraine.
In reality, although Ukraine asked that the soldiers be handed over, the soldiers were repatriated to Russia. It might have seemed that the incident was over, but Putin brought it up at the aforementioned press conference on state TV, saying, "it was a coordinated operation by American and Ukrainian special forces."
Whatever the truth is, it is apparent that Russia is somehow warning America against interfering. Ukraine, a former Soviet republic, underwent a popular democratic uprising known as the Orange Revolution in 2004, and in 2014, a pro-Russian government was toppled by a citizens' protest movement. To Russia, it seems that America is somehow surreptitiously manipulating this, and Russia appears to be firmly determined to stop this in Belarus.
Belarus is a member of the Eurasian Economic Union led by Russia, and with regard to the economic sector, it has signed the Treaty on the Creation of a Union State, which aims to create a unified market, among other things. Belarus, which borders Poland, Lithuania and Latvia to the west, is also important to Russia's defense strategy in guarding against incursions by NATO.
However, there is doubt even among Russian experts about Lukashenko's ability to maintain his long-term hold on the presidency. As Russia expels Western influence, it appears to be carefully steering a future transition in government.
About this publication
---