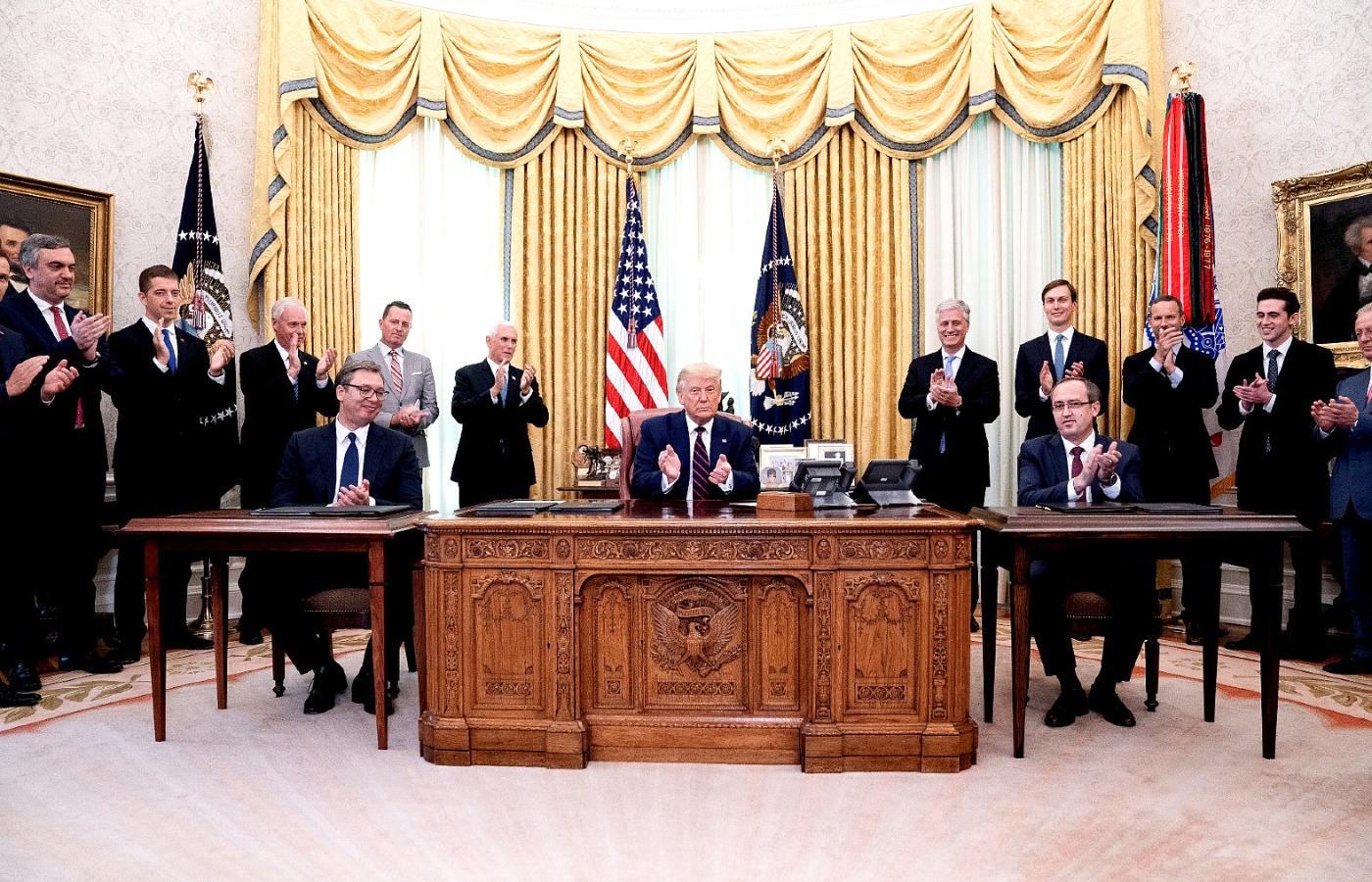 Donald Trump has announced that the agreement signed by Serbia and Kosovo in Washington is a milestone in normalizing relations between the two countries. But that is not exactly the case.
Whenever Americans meddle with Balkan politics, they tend to leave a mess behind that lasts for years. That was the case with the Bosnian constitution, written in haste and without knowing the reality of the country's situation, and which now blocks the development of the country and its prospects.
The same thing happened, in my opinion, with the bombing of Belgrade and other Serbian cities in 1999, and with unreserved support for President Hashim Thaci and his militia, the Kosovo Liberation Army, which has never been tried for its war crimes. The same kind of meddling also happened with the hasty recognition of Kosovo's independence.
The US and European Union in the Balkans
Now history is repeating itself. Donald Trump has announced that the agreement signed in Washington between Serbia and Kosovo is a milestone in normalizing relations. But this is not exactly the case. America is playing a game in the Balkans.
First, in the spring, America helped expedite the collapse Albin Kurti's government, which was wary of the treaty with Serbia, and critical of Thaci's militia. Later, the U.S. supported the mission of Prime Minister Avdullah Hoti of the Democratic League of Kosovo, who favored Washington's plans.
The problem is that haste in the Balkans means neither a long-lasting solution to the conflict nor success. Besides, these moves were in complete contrast with the Brussels policy, which clearly called for the withdrawal of a vote of no confidence for Kurti and his team.
America also proposes and supports the idea of redrawing territorial boundaries between the countries, which, in its opinion, would solve the problems of Serbian and Albanian ethnic minorities.
The EU, and especially Germany, opposes this, and is convinced that it will, instead, be a source of new regional conflict and unrest.
The problem is that Serbia and Kosovo are in Europe, and both countries aspire to be EU members; but Trump seems to forget that.
Serbia, Kosovo. How Are They Different?
Brussels has mediated talks between Belgrade and Pristina for years, although the results seem to be rather meager. Solving the problem of peaceful coexistence after the war is difficult. Whatever Belgrade supports is unacceptable in Pristina — and vice versa.
Kosovo was a Serbian province that rebelled and declared independence, and as a result, infringed on previous agreements. Serbia does not recognize Kosovo's sovereignty, nor do most of its citizens. This is a significant political declaration which affects election results.
The situation is inflammatory, especially in Kosovo, where there is a considerable Serbian minority that does not recognize Pristina's sovereignty. President Thaci has had problems with the tribunal in The Hague for years, yet he has not been brought to justice for war crimes against the Serbs. Undoubtedly, he owes this to support from the Americans.
Serbia has close relations with Russia, and European sanctions have pushed it toward Moscow. Kosovo, in turn, is not doing well economically and cannot find its place in the Balkan market, not to mention in that of Europe. Suffice it to say that 15% of the country's gross domestic product is money sent home by emigrants working in the West.
Serbia often blocks Pristina's dealings, because it does not intend to make life easier for the rebel province. President Aleksandar Vucic has promised to normalize relations, which, however, does not mean recognition of its sovereignty. Serbia fears that in the end, it will be forced to recognize Kosovo's independence, and Pristina expects this to happen. And thus, the vicious circle is complete.
Brussels is doing what it can; it has even appointed seasoned Slovak diplomat Miroslav Lajcak as its representative in charge of dialogue between the capitals. Trump has also nominated Richard Grenell as his representative in charge of negotiations and who prepared the agreement signed in Washington. Trump has met Vucic many times and he is not concerned with the politician's extreme nationalist past nor his dictatorial or authoritarian rule. Nor has Thaci's past ever bothered him.
Balkans in Trump's Presidential Campaign
The agreement signed in Washington aimed to normalize neighborly relations and result in peace and quiet in the Balkans. This peace is still under threat. The agreement meant to focus on the economy, resumption of air and rail services and cross-border movement. However, it turned out that it did not stop with the economy: Trump has used both leaders in his presidential campaign.
Kosovo, which is mostly Muslim, has pledged to establish diplomatic relations with Israel and open its embassy in Jerusalem. It looks like Belgrade has also promised to relocate its diplomatic mission there in 2021, and in the nearest future — immediately before the U.S. election — to open a sales office in Jerusalem. Again, this does not align with the political position of Brussels, which opposes establishing Jerusalem as the capital of Israel because it breaches international law.
Trump is decisively hindering further talks between Belgrade and Pristina under the auspices of the EU. Things are appearing to bog down, and we are stuck right where we are.
Both politicians from Serbia and Kosovo went from Washington to Brussels and left empty-handed — except for the warning that relocating their embassies to Jerusalem would weaken their chances of being admitted to the EU. Meanwhile, Israel's Prime Minister Benjamin Netanyahu is pleased and has already congratulated both leaders.
Trump will be able to proclaim his foreign policy a success for bringing about normalization between two warring countries in the Balkans. Even though most Americans have no idea where Kosovo is and cannot find Pristina and Belgrade on a map, success always does its job, it provides a reason to strut about and makes one more popular. Just look how brave our President Trump is! He may have failed in his fight against coronavirus – as many as 200,000 Americans have lost their lives – but he triumphs in the Balkans.
Photos from the White House ceremony suggest that Vucic did not know what he was signing, and that he will support Trump's idea by moving the Serbian embassy to Jerusalem. Yet, he is not a newbie. He must have realized that this also would cause chaos in relations with Turkey and the Arab countries. Did he intend to put pressure on Brussels to speed up EU membership negotiations?
Ultimately, if these calculations fail, he can argue that the deal requires approval from the Serbian parliament. And quite probably, he will do it right after the American election.
About this publication
---