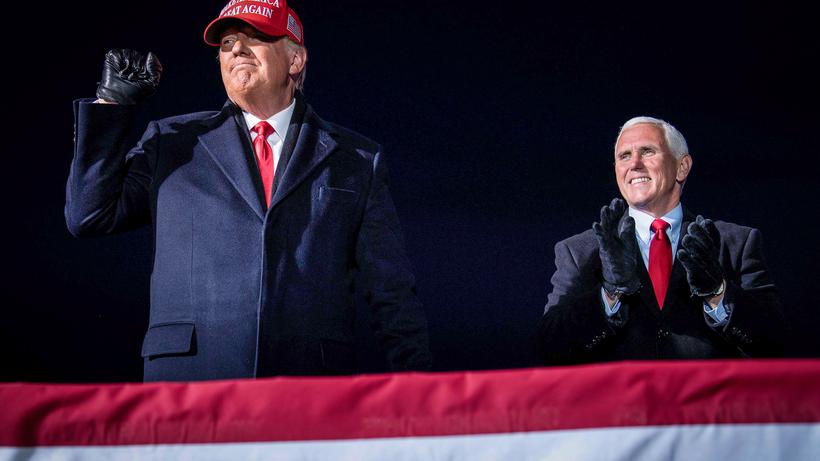 Vice President Pence was long a loyal acolyte of Donald Trump. A break did not come until the very end. He could now depose the president — but does he want to?
Mike Pence is a stoic guy. Not the worst trait to have as Donald Trump's vice president. For four years, Pence went along with everything that the U.S. president had to answer for. Even during the campaign in the middle of a pandemic, Pence defended every decision and action by the administration during his TV duel with Kamala Harris. That was his role, and he played it perfectly.
Even the fly that sat on Pence's head for over a minute did not unsettle the 61-year-old as he tried to downplay Trump's racist administration. We are not privy to how much the ridicule about the fly — which even got its own Twitter account — hurt Pence. But we can assume that the years at Trump's side would harden anyone against the occasional meme.
But the failed election on Nov. 3 triggered an estrangement between Trump and Pence, which finally resulted in a break last week. It was a break that Pence initiated after he was presented with the question of whether to depose Trump. House Speaker Nancy Pelosi gave Pence an ultimatum to either invoke the 25th Amendment by Wednesday and together with a majority of the Cabinet declare Trump unfit for office, or the Democrats would advance a resolution for impeachment, introduced on Monday.
The fact that Pence finds himself in this uncomfortable position has its origins in Trump's refusal to accept the election results. After all the president's attempts to reverse his defeat failed, Trump finally turned publicly to his vice president at a campaign rally in Georgia last Monday. "I hope he comes through for us," the president said, meaning that Pence should not accept the Electoral College votes. But the vice president does not have that power. As the president of the Senate, his declaration of the winner of the presidential election is a mere formality.
But loyalty cannot be so easily sloughed off. Pence initially did not mount any rhetorical offensive. He did not support a lawsuit by Republicans to expand his power to invalidate the election results, and asked the judges to dismiss the suit because he did not think he was authorized to make that decision.
'If Mike Pence Does the Right Thing, We Win the Election'
A day before the storming of the Capitol, The New York Times reported that during his weekly lunch with the president, Pence said he was not authorized to change the election results. There, too, Pence hid behind formalities.
The escalation of tension between the president and his vice president did not occur until the day when everything escalated in the country. Before Trump's followers breached the barriers in front of Congress and stormed the building, Pence wrote in a three-page statement that it is "my considered judgement that my oath to support and defend the Constitution constrains me from claiming unilateral authority to determine which electoral votes should be counted and which should not."
He formally rejected the demand Trump made of him and which Trump made again the same day before his supporters: "If Mike Pence does the right thing, we win the election." But in Trump's view, at least, Pence did the wrong thing.
Not Someone To Steal Trump's Thunder
As Congress reassembled after the riot, Pence confirmed Joe Biden and Harris's victory. People in Trump's circle have fallen out of favor for much less. Pence's refusal to ignore reality, like the Constitution, was the ultimate betrayal. Afterward, silence reigned between Trump and Pence. Sen. Jim Inhofe of Oklahoma told the Tulsa World had never seen Pence that angry. Inhofe is quoted as saying, "'After all the things I've done for him,'" describing Pence's reaction. The two did not speak again until Monday, according to CNN, when they "discussed the week ahead."
Pence should not be surprised that Trump did not accept his behavior. Pence has personal experience with how Trump treats his colleagues in the White House. But until now, his vice president was exempt from that treatment, because Pence had never presented himself as a target. Pence may not have belonged to the earliest supporters of Trump's candidacy in 2016, but he got behind him when he won the primaries. Pence himself has always described himself as "a Christian, a conservative and a Republican, in that order."
That made him an ideal vice president for Trump. As a former governor and member of the House of Representatives, Pence had enough experience, was well connected in Washington, D.C., and beloved among an important block of conservative, evangelical voters. As governor of Indiana, he signed one of the strictest constraints on abortion in the country and was the first vice president to speak at the March for Life, a demonstration by anti-abortion activists. He also supported a law that allowed religious businesses to refuse to serve homosexual couples.
Moreover, based on his personality, Pence was unlikely to be someone who would steal Trump's thunder or Trump's headlines. And he didn't. We heard no criticism of Trump from the vice president in four years. Pence defended everything. On climate change, for example, he said during the debate with Harris that its causes were unclear. He was silent on all the Oval Office's shortcomings and stood steadfast at his boss's side during the first impeachment. At the time, he said that Trump "did nothing wrong."
After Electoral Defeat, Pence Goes Silent
In February 2020, Trump appointed Pence to lead a COVID-19 taskforce. He played down the dangers of the pandemic just as Trump had, and said in August that he could not be "more proud" of Trump's leadership. When Pence garnered attention for his daily, calm and, indeed, factual press conferences, Trump reclaimed the COVID updates for himself. Pence did not complain. And he toured the country, like Trump, attending campaign rallies where there were no COVID-19 protocols.
When it became clear after Nov. 3 that the Trump-Pence ticket had no future in the White House, Pence went silent. He did not support Trump's baseless claims of election fraud, rarely tweeted and concentrated on the COVID-19 taskforce.
Pence is not made for a Trump world outside of the White House. He is a career politician. It is time for Pence to think about his life after the White House. Maybe he has come to his senses in these last days and was reminded of how he described himself. His "Christian First" motto slid far down on the priority list a few times during the four years he spent at Trump's side. Having decided to do his job in Congress, Pence cut his ties to Trump and left his future in the party open.
It's been reported that Pence plans to attend Biden's inauguration. But it is unlikely that the Democrats will pressure him into declaring Trump unfit for office, something which would not be advantageous for him.* It is also unclear how his own party will deal with Trump and his inheritance in the future. So, the vice president is preferring to stoically wait out the last seven days of Trump's presidency. And Pence has plenty of practice with that, after all.
*Editor's Note: After Pence rejected a resolution by the House of Representatives asking him to invoke the 25th Amendment on Jan. 12, the House impeached Donald Trump on Jan. 13.
About this publication
---