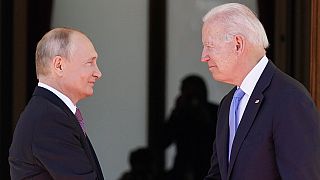 Relations between the United States and Russia are at their worst point since the fall of the Soviet Union, and the summit between their leaders was a rapprochement without yielding on positions.
Summits between presidents of the United States and Russia always get the world spotlight because, ever since Ronald Reagan and the last Soviet president, Mikhail Gorbachev, reached an agreement to end the Cold War, these meetings have produced geopolitical understanding for world peace that has made history. Now, there are no atomic missiles pointed at one side or the other, but the deterioration of relations between both countries is at its worst, fraught with diplomatic tension.
For Joe Biden, this problem had to be fixed "face to face" with Vladimir Putin. The reunion last Wednesday in Geneva, Switzerland, was perhaps one more meeting without progress, according to the measured words of the presidents in separate press conferences, which did not highlight any effective progress toward lowering tensions. This is why the official statement agreed on by both countries has all of the characteristic ambiguous language of previous summits.
However, Washington hastened to have the meeting in the face of escalating sanctions and expulsions of diplomats due to Kremlin interference with U.S. elections and cyberattacks attributed to Moscow's intelligence agencies. There is also the repression of political opposition in Russia; for example, the detention of Alexei Navalny, who seeks to dethrone Putin, a man perpetually in power and now legally permitted to serve as president until 2036.
In spite of the Russian president's characterization of the meeting as "constructive" and conducted with "no hostility," tensions were palpable, especially regarding critical subjects such as cybersecurity. Biden issued tough warnings, including a list of 16 key sectors that must remain out of bounds for cyberattacks. Aggression will be met with a response, according to the firm position of the White House. In that sense, Russia also feels threatened in virtual space and Putin talked about agreeing on "rules of the road" in an effort to cooperate in dismantling cyberattack networks.
Biden, with his vast political experience, appeals to pragmatism and faces problems in the foreign arena head-on at the highest level, particularly problems with Russia. For Putin, this meeting helps him domestically, considering parliamentary elections are coming up next September. Putin's popularity is low due to the pandemic and social discontent driven by the economic downturn. The Kremlin has used foreign affairs to regain domestic power, and Putin, who does not travel outside of Russia, did not hesitate to go to Geneva now.
About this publication
---