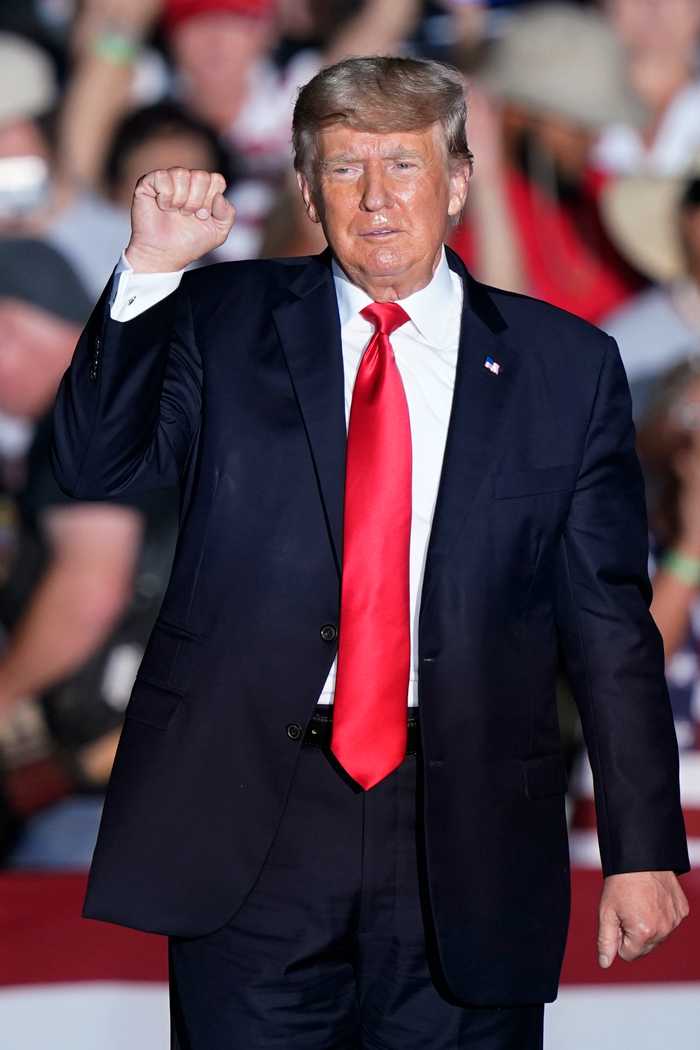 Former President Donald Trump's return to the public sphere can be interpreted in different ways. He misses the spotlight. His return is either a trial balloon for 2024 or one last revenge tour before the courts sink their claws into the real estate billionaire.
Donald Trump's dilemma is that while he admittedly controls the Republican Party, he also feels outdated. At the premiere of his summer tour in Ohio last weekend, Trump sounded like a broken record. Inciting his supporters to chant "lock her up" with regard to Hillary Clinton sounded like a tiresome echo from a distant past.
He did not propose any solutions to America's many problems. Instead, his speech largely reiterated baseless claims of election fraud and dissatisfaction with how unjustly he's been treated. Trump just digs himself deeper and deeper into the victim role.
Such a message might hit home for Trump's most loyal followers, but is it actually what the American people want to hear from a presumptive candidate for the 2024 presidential election?
Interest in Trump's comeback was quite serious among his core supporters. It is obvious that he is a very popular figure in certain circles. However, his return failed to make a large impact on American media outlets. They reported the event dutifully without any prominent feature coverage.
Trump continues to be banned from Twitter and Facebook, which makes it difficult for him to communicate directly with his supporters.
My impression is that interest is higher among foreign media outlets that continue to be fascinated by the Trump phenomenon.
Trump himself has waited impatiently to return to the public sphere. His upcoming summer tour filled with campaign rallies serves multiple purposes.
Out for Revenge
Trump is getting an opportunity to measure the strength of his public support. Are people still prepared to stand in line for hours and travel across the U.S. to listen to someone who is now a former president? Will such energy be enough to carry Trump to a new election victory in 2024?
As has been the case before, Trump has been content with hinting that he might try to run for president again. Yet this is just as likely a way of staying relevant as it is a genuine indication that he is seriously considering a new candidacy.
Trump will turn 78 in 2024. Admittedly, he is fairly vital, but if he is set on returning to the gauntlet that is an American election then he will want to be relatively certain of victory. The opinion polls are not terrible yet, but they are also not very promising.
The Summer Tour Is Also Revenge
Trump wants to punish the 10 Republicans in the House of Representatives who voted to indict him for his role in the insurrection at the Capitol on Jan. 6. The Ohio rally was aimed at Rep. Anthony Gonzalez. Trump supports the candidates who are running against all those who turned against him after he lost the election. This is revenge in its purest form, with the ultimate goal of scaring other Republicans from turning against the de facto leader of the party.
Perhaps it's a final opportunity before the courts turn Trump's life upside down. Prosecutors in New York have indicated that his company will soon be indicted, and more indictments may follow.*
Blocking Fellow Party Members
So far, the Republican Party has been patient with Trump. Despite their own doubts, many backed his claims of election fraud long after the courts dismissed all allegations of wrongdoing.
But there are many leading Republicans who are ready to launch their own 2024 presidential campaigns. Their patience will soon begin to dwindle. They want Trump to decide, will he run in 2024 or not?
If Trump decides to run, then none of them will challenge him. Should Trump become the party candidate, no one will have enough power or support to challenge him. If this is the case, it will be Trump in 2024.
However, by delaying the decision, he is blocking his colleagues in the party from building a campaign fund, recruiting campaign staff, and so forth. This might hurt the party's chances of defeating Joe Biden or whomever the Democratic candidate is in three years.
After the summer tour, it will be high time for Trump to make up his mind.
*Editor's note: The Manhattan District Attorney and New York Attorney General's offices indicted the Trump Organization and its chief financial officer on July 1 on charges of tax fraud.
About this publication
---