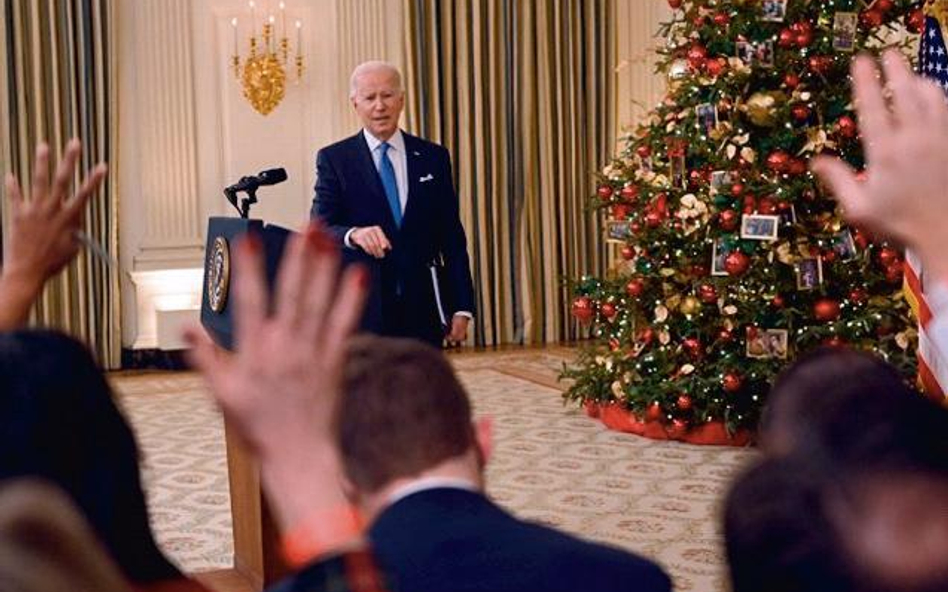 Joe Biden has reason to be proud. Yet, his first year as president will go down in history as marked with failure.
"Biden promised competence and order. Chaos and uncertainty are winning," a Politico headline reads, reflecting popular opinion throughout the country, especially among those who are hostile toward the current administration. These are the conclusions one can draw as you watch the pandemic once again spin out of control, inflation devour wages, supply chain disruptions overtake the holiday season, and a member of his own party, Sen. Joe Manchin, destroy the chances of one of the most important bills, the Build Back Better Act, that expands social programs and environmental protection.
Manchin's decision to withhold his support for Joe Biden's flagship bill is a blow not only to the fight against climate change but also to the efforts to provide welfare to Americans. This is, most of all, the president's failure, a man who in planning likes to compare himself to his Democratic Party predecessors, Franklin D. Roosevelt and Lyndon B. Johnson, the great reformers of social programs in times of crisis. Biden appears to be a president who, contrary to his promise about the ability to cooperate across party lines, is not able to even secure support within his own party.
In recent days, the president has been criticized about his handling of the pandemic. Despite having promised half a billion free COVID-19 tests and aid from the military's medical services in the current omicron wave, people are criticizing him for acting too late and for not following the example of other world leaders who have taken more decisive steps in the fight against the omicron variant. Meanwhile, Biden's hands are tied by America's polarized response to vaccines and masks and a lack of cooperation from authorities in some states, which have broad public health jurisdiction.
The unrelenting pandemic, inflation, legislative failures and the earlier, chaotic withdrawal of American troops from Afghanistan have all contributed to general American discontent, and above all, have taken a toll on Biden's ratings.
Americans have failed to notice the current administration's successes: increasingly better economic numbers, falling unemployment, the widespread availability of vaccines and the successful removal of lead pipes across the whole country. This administration can also boast about numerous legislative victories.
"Relative to its strength in Congress, the Biden administration has proved outstandingly successful," David Frum wrote in The Atlantic. He went on to calculate that "in 11 months, Biden has done more with 50 Democratic senators than Barack Obama did with 57."
"He signed a $1.9 trillion COVID-relief bill in March 2021: $1,400-per-person direct payments, $350 billion in aid to state and local governments, an extension of supplemental unemployment insurance benefits and subsidies under the Affordable Care Act. He signed a $1 trillion infrastructure bill in November. He signed some 75 executive orders, many of them advancing liberal immigration goals. He's also won confirmation for some 40 federal judges, more than any first year president since Ronald Reagan, and twice as many as Donald Trump confirmed in his first year with a 54-vote Senate majority," Frum said.
Despite all that, Biden is nearing the end of 2021 with low opinion poll ratings and a growing panic among Democrats. They fear they will lose the majority in the Senate, and possibly also in the House of Representatives, in the midterm elections next year.
About this publication
---