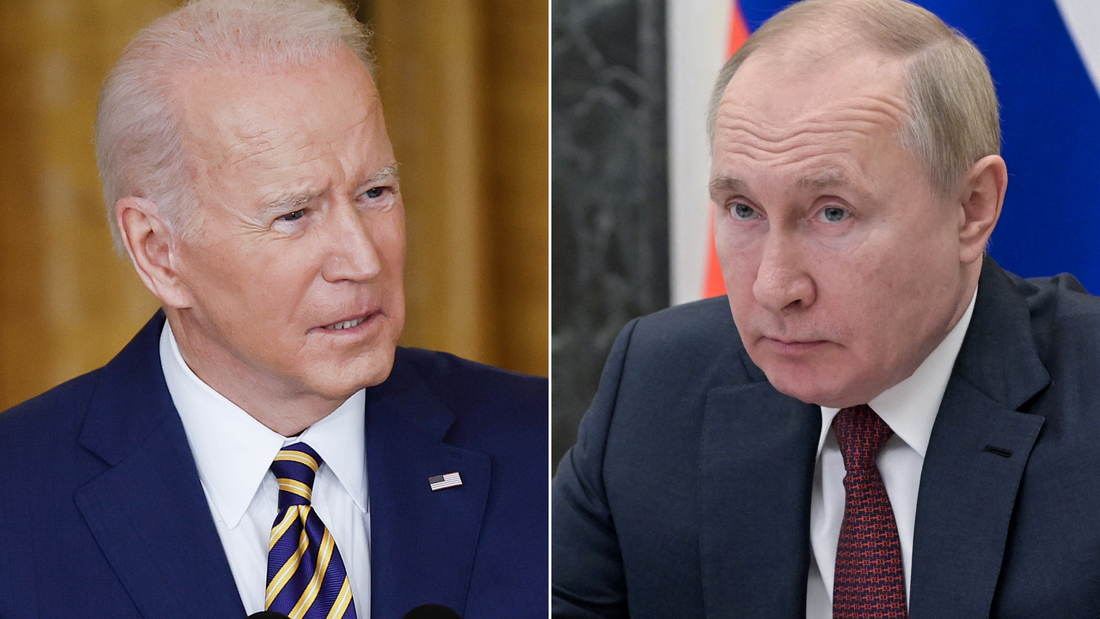 Unfortunate statements, an unpredictable opponent: Biden is entering the Ukraine crisis under pressure to show more strength toward Putin.
Mike Pompeo found friendly words for the president on Fox News. "He knows how to use power. We should respect that," the former secretary of state said on Sunday on the program Fox News Sunday. However, Pompeo was not talking about Joe Biden, but rather about Russian President Vladimir Putin.
On the contrary, the Republican criticized the Democratic president and his strategy for dealing with Russia and the Ukraine crisis. He said the Biden administration reacted too late and too weakly. "I think they don't see President Biden as credible," Pompeo said. A weak Biden in a showdown against the skilled Putin — that's how the Republicans are currently portraying it. And they demand more action from the president. "We need joint exercises in Poland, the Baltic states, Romania, Bulgaria to show Putin that we're serious," Michael McCaul said to CBS, for instance. "Right now, he doesn't see we're serious." The politician is one of the top conservatives on the House Foreign Affairs Committee.
Biden himself was silent over the weekend, having retreated from Washington to Camp David. The State Department announced it was withdrawing families of embassy employees from Ukraine and authorizing employees to leave the country. The president was briefed at his Maryland retreat, according to multiple U.S. media outlets, by Secretary of Defense Lloyd J. Austin III and Chairman of the Joint Chiefs of Staff Mark Milley on a possible troop deployment to Eastern Europe. That could mean multiple thousands of American soldiers, war ships and combat aircraft being sent to Eastern Europe. It would be an intensification of NATO's plans to dispatch additional combat aircraft and naval ships to the Baltic Sea and Eastern European countries, which the alliance has announced.
'This All Started with Afghanistan'
If the Biden administration indeed decides on a similar maneuver, it would be a clear signal underscoring part of the strategy attempted repeatedly by Antony Blinken last week during visits to Kyiv, Berlin and Geneva that there are two paths for Putin: dialogue and diplomacy or conflict and consequences. The latter would be strengthened by an American troop deployment. Biden himself caused considerable insecurity when he said during a press conference on the first anniversary of his term in office, "Russia will be held accountable if it invades. And it depends on what it does. It's one thing if it's a minor incursion and then we end up having a fight about what to do and not do."
Since then, both the White House and Blinken have tried to dispel the notion that the United States is absolutely determined. But how far does this determination extend in a conflict far from the United States and only half a year after the withdrawal from Afghanistan?
In the view of U.S. allies, the withdrawal played out catastrophically, plunged Afghanistan into a humanitarian crisis and raised the question of how reliably the United States acts internationally. Biden does not want American troops in a war abroad in any case. His message during the withdrawal was that he had ended the forever war and did not intend to get himself involved in a new one. The weeks during and after the withdrawal were difficult ones in Biden's presidency. His poll numbers fell; even if a majority of citizens were in favor of a complete withdrawal of troops, the way it was done was criticized in the United States as a sign of weakness. And now it's being used as an argument by the Republicans.
"I think this all started with Afghanistan and the unconditional surrender to the Taliban. He saw weakness, weakness invites aggression," McCaul said. However, in their narratives, the Republicans leave out the fact that their former President Donald Trump cozied up to Putin and betrayed his own intelligence service in order to flatter Putin, when it came to Russian election interference.
China the World Power, Russia the Disruptor
Republicans are demanding a strong military signal besides fast and strict sanctions against Russia, such as around Nord Stream 2. However, the pressure is mounting on Biden from Democratic senators as well to clarify the position of the United States.
"We're not sending American troops, but in my view, there should be much more expansive arms aid, a massive airlift of … lethal weapons," Democratic Sen. Richard Blumenthal said last week in Politico after he returned from a trip to Ukraine. And Evelyn Farkas, the top Department of Defense official for Russia and Ukraine during the Obama administration, tweeted, "US & NATO can do more, must seize the initiative away from #Russia."
A Competition of World Powers
When Biden took office, he made it clear that at a higher level, he also wanted to be involved in the competition of political systems — the democracies of the world versus autocratic forms of government. To this end, he organized the Summit for Democracy in the White House without inviting Russia or China, tried to reestablish his country as a pace-setting world leader in multilateralism and went into direct confrontation with China and Russia, at least verbally. However, his focus was and is clearly more on China. Last June, he met Putin at the summit in Geneva, though the U.S. president made it repeatedly clear that he perceives Russia as a disruptor, but an altogether far less dangerous competitor and world power than China. "We're in competition with China and other countries to win the 21st century," Biden said in April in his speech to the assembled Congress. He doesn't see Russia in this competition of world powers.
Putin is openly showing which territorial claims to power he is pursuing in the Ukraine crisis and is thus demanding Biden's full attention. Biden's secretary of state did not discount a meeting of the two presidents, "to carry things forward," in Geneva after his meeting with Russia's foreign minister Sergey Lavrov.
"Not only are Xi Jinping and Chairman Kim and the Ayatollah watching, but so are the people of Taiwan, the Iranian people and the Chinese people as well. The whole world watches how America leads, and when we fail to do so we create instability," Pompeo said on Sunday.
Now, it's not just the United States that is leading this conflict, which Blinken also made clear on his trip through Europe. The current diplomatic message is that Europe, NATO and the United States would react to Putin in concert. However, it is also clear that it won't work without the United States. In this decisive phase of the conflict, Biden cannot duck out.
About this publication
---