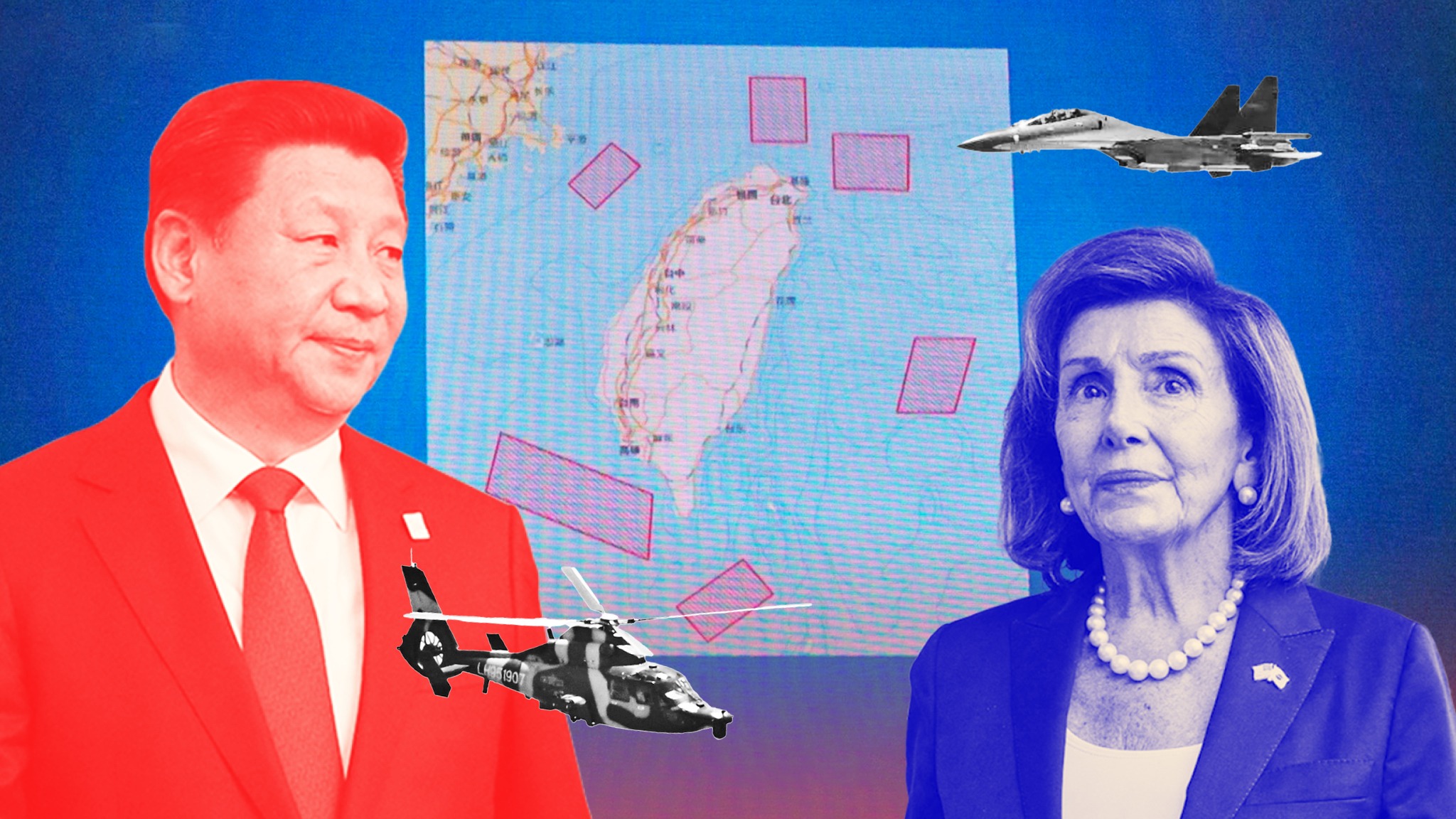 During a recent engagement with the foreign ministers of Mongolia, South Korea and Nepal, Chinese Foreign Minister Wang Yi pointed out that the visit by House Speaker Nancy Pelosi to China's Taiwan region proved to be a complete political provocation and farce.
With the situation in the Taiwan Strait still developing, we must be particularly wary of three dangerous trends.
First, we must be alert to the fact that the United States, not content with defeat, is gathering its allies to add fuel to the fire, increasing regional military deployment, promoting further escalation and plotting a new and greater crisis. Second, we must watch out for the forces of Taiwanese independence misjudging the situation, overestimating themselves, continuing to intensify domestic and foreign collusion, and proceeding ever further down the path of dividing the nation and the people. Third, we must be on the lookout for certain foreign political figures who have scant regard for right and wrong, blindly follow sensationalist trends and put on a political performance out of their own self-interest. These tendencies will seriously damage the political foundation that underlies relations with China and will constitute a grave assault on the U.N. Charter and the post-World War II international system.
The facts bear out these three dangerous trends pointed out by Wang. First, the U.S. government and military have both let it be known that U.S. aircraft and warships will soon be dispatched to the Taiwan Strait. Second, like sheep in wolves' clothing, a handful of Taiwanese independence proponents, such as Tsai Ing-wen, continue to clamor for confrontation with the mainland. Finally, certain allies of the United States, such as Germany, have declared they will send military aircraft to the Taiwan Strait.
The attitude of the Chinese government, the Chinese people and the Chinese People's Liberation Army is clear and firm. On Aug. 17, the Ministry of Foreign Affairs spokesman stated unequivocally that "[t]he U.S. should heed China's serious warning: The U.S. must not act recklessly or create bigger crises. Those who play with fire will not come to a good end. Those who provoke China will surely be punished."
The United States and the West are spreading the view that members of Congress have always visited Taiwan, noting that former House Speaker Newt Gingrich set foot in Taiwan 25 years ago. On the other hand, U.S. and Western warships and military aircraft have historically passed through the Taiwan Strait, so the United States and the West have accused China of overreacting to Pelosi's visit.
Indeed, in the past 10 years, at least 149 members of Congress have set off for Taiwan, Gingrich himself setting a precedent as House speaker in 1997. But first we should note that the Chinese government has never agreed to official contact between U.S. officials and Taiwan. Moreover, the United States has adjusted its global strategy since the start of 2018, openly declaring China to be one of its main opponents, and has considered China its most important adversary over the last two or three years. Against this backdrop, both Democratic and Republican lawmakers have increasingly scurried off to Taiwan more frequently. During Joe Biden's first year in office alone, 33 members of Congress, or about 22% of the 149 lawmakers mentioned above, visited Taiwan. Finally, Pelosi's recent visit and Gingrich's visit back in 1997 are cut from the same cloth, in that they violate the spirit of the U.S.-China Three Joint Communiqués. However, the significance of the visits for China-U.S. relations and their impact on Taiwanese independence are worlds apart.
When Gingrich visited Taiwan, Lee Teng-hui had already revealed his hand on Taiwanese independence — a prospect that the Kuomintang as a whole opposed — although he was still trying to cover it up. Today, there is an unprecedented convergence of all kinds of "Taiwan independence" forces dominating Taiwan's political ecology. The Chinese government, people and military must respond forcefully to Pelosi's visit.
Since Ronald Reagan's presidency, successive U.S. governments have failed to strictly implement the One-China policy, selling military equipment to Taiwan to various extents and maintaining intermittent, lower-level official contact. But from Jimmy Carter to Barack Obama, successive U.S. administrations have pursued a basic approach of both containment and engagement with China. China-U.S. relations have deteriorated sharply since Donald Trump declared China one of America's main enemies and set off a new Cold War aimed at fully containing the People's Republic. This deterioration in relations has only gathered momentum and intensified since Biden took office.
We must also point out that Pelosi's scramble to Taiwan came after the United States instigated the conflict between Russia and Ukraine, displaying the basic strategy it uses to deal with China and Russia at the same time, namely, to exhaust Russia at the expense of Ukraine, and to obstruct the great rejuvenation of the Chinese people by instigating mutual destruction of the Chinese on both sides of the strait.
There is a view which holds that since the United States is intent on engineering internecine strife among the Chinese, China must resolutely refuse to take the American bait and insist on peaceful reunification. According to this way of thinking, China is making a mountain out of molehill in response to Pelosi's Taiwan visit. But those who think this way are turning a blind eye to the United States' naked ambition and its use of divisive tactics to connive with and support the separatist forces of Taiwanese independence. If, pursuant to this view, China maintains its composure in the face of the United States condoning and supporting Taiwanese independence, then the result will very likely see Taiwan being carved up by the United States.
Needless to say, there is clearly less chance of peaceful reunification across the Taiwan Strait in the foreseeable future than there is of achieving reunification through somewhat nonpeaceful means. In light of recent and dangerous moves by the United States, Taiwan and a number of U.S. allies, the chances of a showdown between China and the United States on the Taiwan issue will accelerate.
The chief executive and the governing team of the Hong Kong Special Administrative Region firmly support the Central Committee in challenging U.S. and Western interference in Taiwan, and all sectors of Hong Kong society need to fall in line.
About this publication
---