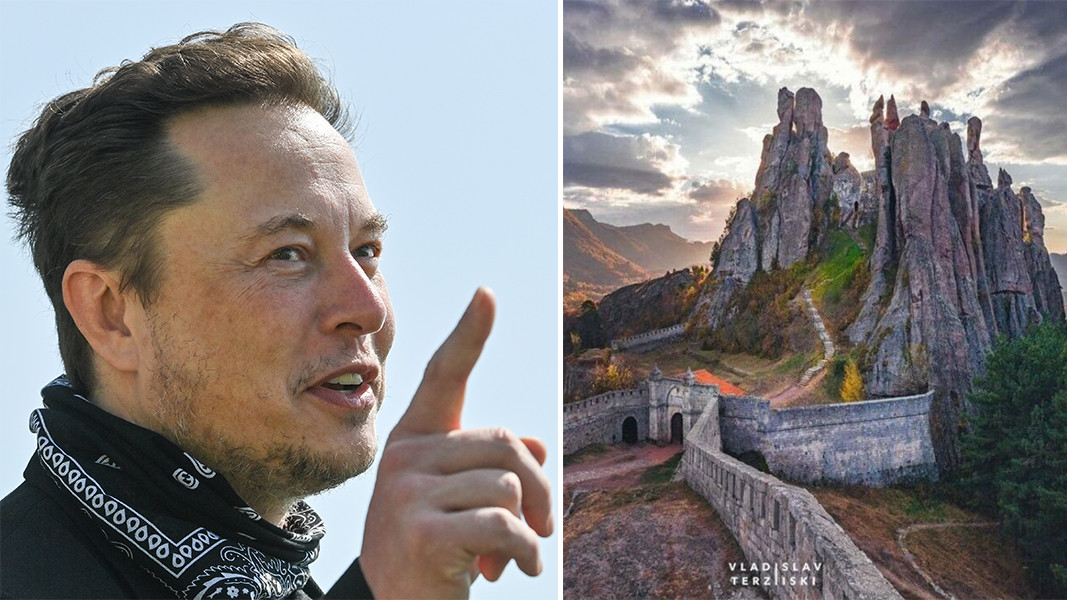 Elon Musk has never been closer to a visit to Bulgaria's Northwest, but whether or not this will happen is unclear
When not colonizing Mars, buying Twitter or making electric cars, Elon Musk loves to vacation in Bulgaria's Northwest. Specifically, Belogradchik, where Musk's team has made reservations at the restaurant ONÀ for April 23. Actually, we're not sure about the accuracy of any of the above but must admit that the world has never been closer to the possibility that the world's richest man will drink rakia from Vidin.
This is the gist of the story: On Nov. 21, the Twitter handle Anc_Aesthetics published a picture of the Belogradchik Fortress by photographer Vladislav Terziiski. A day later Musk, who since acquiring Twitter has not left the social network, responded with "pretty sure that was in Elden Ring" — the latter, in case you're confused, is the name of one of this year's hit video games. Without taking attention away from the beauty of the photo or the fortress itself, we must mention that the shot has been heavily edited and could easily be perceived as originating from a video game.
Musk's response caused a frenzied reaction within Bulgarian Twitter. Everyone rushed to explain that this is actually Belogradchik proper — not just ordinary users but a city council member of the town as well as interim Minister of Tourism Ilin Dimitrov (a member of Parliament from the We Continue the Change Party whose given name makes him almost a namesake of Elon).
A day later Dimitrov explained that his campaign was successful: Musk is coming to Bulgaria. At the same time the restaurant ONÀ (in the Belogradchik village of Stakevci) announced that a representative of Musk's has made a reservation for April 23 via a SpaceX email and has asked about local attractions.
The media's reaction was swift. "Musk to visit Belogradchik: A joke, a marketing trick, or the truth?" asked bTV during its noon broadcast following Terziiski. "Is Musk really coming? ONÀ unaware of who made the reservation" wrote OFFNews, trying to calm the excitement of its ravenously excited colleagues.
The best take, however, surely came from "Club Z," which, rather than considering whether Musk would or would not show up, began philosophizing on what could happen to Musk if he did come to the Vidin region. "They will stop him!" wrote the author Stefan Milev, who is from the region. His explanation makes it clear: If Musk visits, it would be best if he came as the owner of Twitter, not of Tesla, as the driving habits of the locals are unlikely to be appreciated.
"Here respect is given to conventional fuel for the internal combustion engine. Specifically, gas. Specifically, stolen gas," Milanov wrote. We would like to add an additional note — the roads north of Sofia are best traversed in a SpaceX vehicle, not a Tesla.
About this publication
---