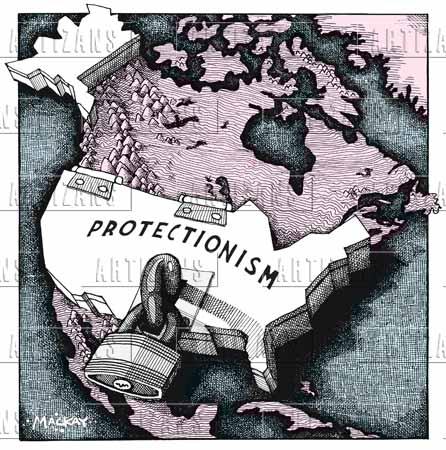 America shrugs off criticism of its protectionist economic policy. It says the EU is being hypocritical.
For decades, America has preached global free trade. However, under Democratic President Joe Biden, it is now suddenly pumping $370 billion of federal aid into the domestic energy sector, and an additional $280 billion is going to the semiconductor industry. Surprised Europeans are sharply criticizing this, but the Americans are unconcerned. As New York Magazine recently wrote, Europe should stop whining and finally get its own economic and governance model in shape.
At the World Economic Forum in Davos, Democratic Sen. Joe Manchin recently said that the EU is being "hyper hypocritical." He reasons that America has defended Europe's security in Ukraine, so it is only right that the EU does what is good for the protective superpower. His fellow Senate Democratic Party colleague Chris Coons recalled that Europe, and Germany in particular, found itself too dependent on Russian gas. Now, he says, Europe is suffering the consequences, claiming its industry is no longer competitive because of high energy prices.
It's Your Own Fault, Europe: Too Much Austerity, Too Low Wages
The criticism from these two moderate Democrats looks downright diplomatic compared to comments from the left-leaning spectrum of opinion. New York Magazine recently reported that the EU has conducted a fundamentally flawed economic policy. It claims that, especially after the 2008 financial crisis, EU countries slowed down domestic consumption through policies of austerity, wage suppression and gaps in shared fiscal and industrial policy.
This is why the EU, and Germany in particular, specialized disproportionately on exports, according to the publication. Yakov Feygin of the California think tank, the Berggruen Institute, told the magazine that Europe should focus less on high-value-added, energy-intensive industries and build more shopping malls instead. That is: crank up domestic consumption and decrease energy prices — along with nuclear power, which Europe has too hastily abandoned.
According to this interpretation, this new American protectionism is not the problem but rather the solution. It contends that the U.S. is once more the shining example that the EU should follow. The protectionist laws called the Inflation Reduction Act and the CHIPS and Science Act are two chances for the old continent to renew and further develop its political structures.
Is Free Trade Dead?
International free trade is dead, according to voices such as these. Biden's Trade Representative Katherine Tai has also made this clear. Three factors are often cited for this. First, the U.S. must protect its industry from China out of security considerations. Second, American politics is under pressure to alleviate the unequal distribution of wealth by creating jobs for individuals with few qualifications. Third, the pandemic proved that federal economic policy can be sensible and successful.
Many Republicans also renounced economic liberalism long ago. In Donald Trump, it was one of their own who took a confrontational course against China. It was likewise Trump who converted the frustration of the American workforce into political victories for the party. And it is also Republicans who are happy to have themselves photographed at the openings of factories in their home states, which were built thanks to federal aid and tax rebates. Changes to the protectionist character of Biden's laws should not be expected, at least in the current Congress.
However, not everyone may join in on the swan song of free trade, and cautionary texts with historical quotes from the economist Adam Smith are currently enjoying great popularity in relevant publications. The conservative American Institute for Economic Research, for one, criticizes Biden's economic policy as a mistake that puts too much faith in the government that will lead to worldwide losses in efficiency and prosperity. It is only occasionally mentioned in passing that through this Biden is also straining the trans-Atlantic alliance — often accompanied by the remark that at least the American incentives are more efficiently designed than the ever-too-bureaucratic European solutions.
About this publication
---