The Grandmothers of Art Have Their Moment
After decades of being forgotten and scorned, a generation of female artists over 70 take over museums, expositions, shows and auctions.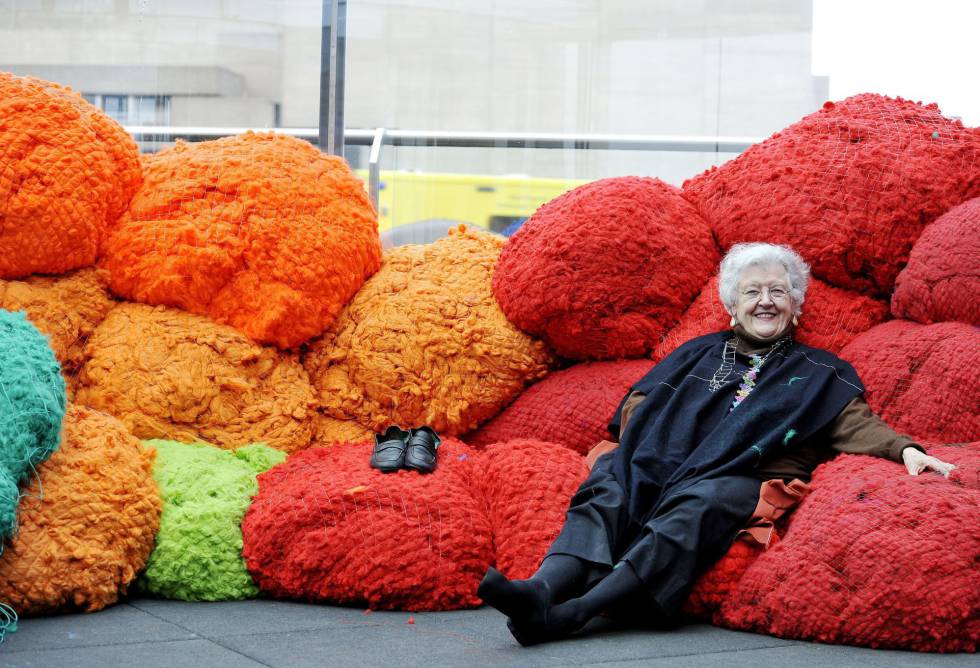 After decades of being forgotten and scorned, a generation of female artists over 70 take over museums, expositions, shows and auctions.
Carmen Herrera is 102 years old. She sold her first painting at the age of 89. She'd always painted both for pleasure and as a personal necessity, expecting neither money nor fame, since neither propelled her creations. After years of having been stubbornly ignored by the guardians of the art canon, gallery owners and buyers suddenly have begun to take an interest in her geometric abstractions.
Herrera was born in Cuba in 1915, and has lived in the United States since the 50s, when she started selling her art. At that time, her most expensive works were sold for $40,000. Last autumn, her 1965 piece "Cerulean," a blue composition created on a diamond-shaped canvas, was sold at a Phillips auction for a record amount of almost $1 million. The recognition of Herrera's artwork has not just been monetary. From September 2016 to January 2017, the Whitney Museum of American Art displayed her work in a retrospective that situated her among the other great artists of American abstraction. Although she is over 100 years old, far from wanting to retire, Herrera will attend another retrospective exhibition in Dusseldorf this fall, and she will exhibit new works in her gallery in London.
Herrera's comeback is just the tip of the iceberg. A whole generation of mature women, condemned for decades to the margins of art because of sexism, has been invading museums, expositions, and auctions for months. In the last Art Basel, celebrated in June, the Italian Carol Rama broke another record by selling one of her compositions for 700,000 euros (approximately $830,000). Like Herrera, Rama's rise in the market was accompanied by institutional interest: the New Museum in New York has opened a retrospective of her work that is open until September. Unfortunately, recognition of her brilliance arrived late. Dirt poor, Rama died in 2015 at the age of 94. The same thing happened to Ruth Asawa, a Californian of Japanese origin, who died four years ago at the age of 87. Her hanging sculptures from the 60s, unknown for years, are now causing a sensation.
One of the celebrated figures in the Venice Biennial this year was Sheila Hicks, an 83-year-old American, most of whose career unfolded in Paris. Her grand-scale textiles, ignored for decades, have finally received their due. "She was undervalued because she came from the world of decorative arts. Now she is experiencing a moment of hyper-visibility thanks to the work of young curators who were trained not to restrict their views to rigid artistic categories," says Christine Macel, the 2017 Biennial's director and chief curator at the Centre Pompidou. "The end of modernity has pushed us to move away from non-negotiable dictates and free ourselves from prejudices of the past. So now we look at pieces that we wouldn't have ever considered before."
Macel has included other female veterans in her exhibition for this biennial. Anna Halprin, 97, was a pioneer in conceptual dance. Zilia Sánchez, 83, is a Cuban plastic artist known for the sensual minimalism of her abstract compositions. Additionally, Macel nominated Carolee Schneemann for the Golden Lion award for lifetime achievement, an honor that was conferred upon Schneemann, the mother of feminist performance. In October, Schneemann will celebrate her 78th birthday with the first retrospective exhibit of her career, at PS1 in New York.
Mature artists also made appearances in the National Pavilions of the Venice Biennial, in which each country sends an artist to represent its talents in an international competition. The British Pavilion of the Venice Biennial exhibited the work of Phyllida Barlow, a 73-year-old sculptor known for her monumental installations. Geta Bratescu, 91, represented Romania. Bratescu afterward participated in the documenta* in Kassel, Germany, the other central meeting place of European contemporary art. Also present at the documenta* were other enduring artists like Austrian Elisabeth Wild, 95, and Colombian Beatriz González, 79.
Both Barlow and Bratescu are represented by the gallery Hauser & Wirth, which specializes in older artists who have received recognition later in life. Since 1996, Hauser & Wirth has also promoted the work of the now-deceased Louise Bourgeois, who is the best example of this phenomenon. The first retrospective of her work (and the first retrospective dedicated to a woman) was exhibited at MOMA in 1982, when Bourgeois had already surpassed the age of 70.
"Working with brilliant women of a certain age who have been underrepresented has become a very conscious element of our identity. It's almost a responsibility," gallery owner Iwan Wirth explains in an email. He trusts that this is not just a passing fashion or a question of political correctness. "I hope that this is a turning point in art history. We are beginning to pay attention to artistic practices that have been historically underestimated. We are reevaluating the canon on a large scale, trying to raise up the women who deserve the same – or more – recognition than their male counterparts."
In her recent book, "A Woman Looking at Men Looking at Women," Siri Hustvedt speaks to this phenomenon, denouncing the fact that women only receive artistic recognition when they are no longer "desirable sexual object[s]." She cites examples like Joan Mitchell, Alice Neel, Lee Krasner, and Louise Bourgeois, writing, "The old wrinkled face is better suited to the artist who happens to be a woman. The old face does not carry the threat of erotic desire."
Camille Morneau, the new director of La Monnaie, an art hotel in Paris, and president of the association AWARE, which lobbies for creating a fair role for women in art history, thinks Hustvedt's point is "too pessimistic." "Things change slowly, but they do change," she says. "There is still a considerable lag in museums and universities, but evolution is occurring. Among other developments, women now fill many positions as directors of museums." Morineau speaks about this evolution from experience. In 2009 she reorganized the Pompidou's permanent collection to ensure more than half of the physical space there was dedicated to women. "I worked in an atmosphere of uncertainty and anxiety. This was practically considered to be a scandal. Now, eight years later, I can organize an exhibit focused partly on female artists without anyone raising a fuss. People have accepted that this is not just an important issue, but also an interesting one."
*Editor's note: documenta is an exhibition of contemporary art which takes place every five years in Kassel, Germany.