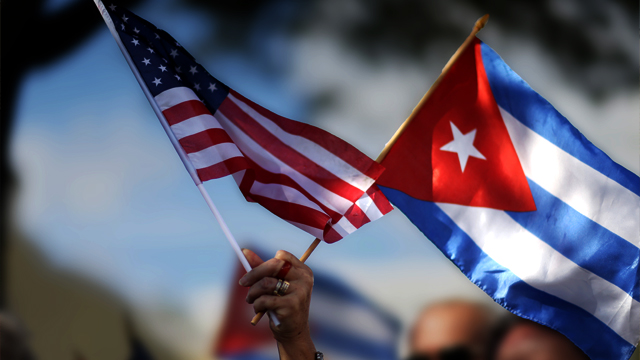 With President Barack Obama's Cuban visit less than a month away, the U.S. government's recent behavior, like the red carpet that precedes him, is doing nothing to meet the Americans' objective of generating sympathy among the Cuban people.
On Feb. 26, the U.S. Treasury Department's Office of Foreign Assets Control fined the Halliburton Company $304,706 for providing services to the Cuban company Cuba Petróleo, in response to which the Cuban Ministry of Foreign Relations Director General for the United States Josefina Vidal tweeted that "the Cuban blockade continues to be rigorously applied by the U.S."
On March 2, U.S. Deputy Secretary of State Antony Blinken, referred to Obama's impending Cuban visit in his statement before the United Nations Human Rights Council in Geneva, alongside interfering pronouncements and repetition of the hostile argument traditionally used by the U.S. in U.N. circles to justify the continuing blockade. The attending Cuban diplomatic delegation responded by alluding to the repressive and discriminatory tactics frequently employed on U.S. soil — "racial discrimination, political violence, mistreatment of immigrants and torture of prisoners" — and reiterating that the blockade of Cuba "is the principal violation of the human rights of a whole nation, and which in recent months has intensified with the imposition of million dollar fines against banking and financial institutions, for the purpose of intimidating and obstructing Cuba's economic and financial transactions."
Almost immediately after this, it was made known that Secretary of State John Kerry would not be visiting Havana after all, despite having mentioned a planned visit in Congress on Feb. 23: "I may be down there in the next week or two, to have a human rights dialogue, specifically."
The media seems unable to conceive of how a relationship between equals presupposes that the small country, which wields neither economic nor military nor media power, might take offense to the deputy secretary of state's aggressive words in Geneva and object to a subsequent visit by Blinken's boss. Nonetheless, that is exactly what has happened. Neither does the media recall that Cuba first proposed a bilateral dialogue on human rights in July 2014, then reiterated it in January 2015, when the proposal was accepted by the American administration. A first meeting took place on March 31 last year in Washington, following which the leader of the Cuban delegation, Pedro Luis Pedroso Cuesta, told a press conference that the working atmosphere had been respectful and professional, and that the parties had pledged to "maintain contact through diplomatic channels with regard to further exchanges, dates, venues and agendas." No further bilateral meetings took place on the subject. American diplomacy has instead taken advantage of a U.N. multilateral forum to attack Cuba and relate its offensive to Obama's imminent visit.
It has just been announced that Ben Rhodes, President Barack Obama's deputy national security advisor, is to travel to Miami next week to meet with leaders of the Cuban-American community and allay concerns about the president's trip to Havana at the end of March. This would seem to provide a motive behind Blinken's remarks in Geneva, together with the knowledge that, as far as the White House is concerned, these "leaders of the Cuban-American community" are in fact far-right members of the U.S. Congress and members of organizations that have traditionally been financed by the American government to destabilize Cuba. These individuals have seen a downturn in their popularity recently, precisely because of their opposition to the new U.S. policy on Cuba. The message to these "leaders," as conveyed to the press, asserts Washington's apparent conviction that Obama would be addressing the Cuban people on television and meeting with "dissidents" in receipt of U.S.-government-assigned resources, via channels facilitated by those same groups in Miami: all this despite the fact that U.S. diplomats in Havana have themselves discounted these dissidents as credible opposition and pointed out their lack of connection to Cuban society.
What is extraordinary is that the United States press should present the fact of live broadcasts of Obama's activities and arguments, and his freedom to choose whom he meets with, as the result of a concession obtained from the Cuban government, when in fact both these circumstances were a feature of visits by former President James Carter and Secretary of State John Kerry, whose participation in the re-opening of the U.S. Embassy in Havana and in the Cuba Hotel Nacional press conference were broadcast in their entirety on Cuban television. Such manipulation of the facts, already indulged in by the media on previous occasions, can only be explained by a need to depict a set of circumstances considered normal by the Cuban people as a victory over the Castro brothers' totalitarian regime.
And finally? On March 4, Obama took the decision to extend the validity of Executive Order 13692, signed on March 8, 2015, for a further year. The order declared a "national emergency" on the grounds that Venezuela — Cuba's principal ally in the region — was considered "an unusual and extraordinary threat to the national security and foreign policy of the United States." This time, Cuban diplomacy did not respond. A "Revolutionary Government Declaration" described the U.S. decision as "arbitrary and aggressive" and reiterated "the Cuban government and people's resolute, loyal and unconditional support for its sister republic, the Bolivarian Republic of Venezuela, for the legitimate government of President Nicolás Maduro and for the civic-military union of the Bolivarian people."
A day later in Caracas, Cuban Vice President Miguel Díaz Canel furthered the argument against Obama's anti-Venezuelan stance: "Once again, the empire shows that it has not changed the essence of its aggression against and contempt for our peoples, reiterating its threats against a peaceful and united sister nation, and ignoring the indignation and unanimous rejection provoked by this infamous order barely a year ago."
Popular sayings are often sources of great wisdom. You can't have your cake and eat it too. Don't bite off more than you can chew. All this U.S. hostility against Cuba and its Venezuelan ally has not only generated a parallel response from Cuba, but it has also been widely reported in the media. The Americans' aim may be to win the impossible approval of those whose livelihoods have long depended on the confrontation between the two countries, but the result of their actions is in fact a diminished friendliness toward Obama, and vindication for the skeptics who warned that Washington has not renounced its imperial behavior against Cuba.
About this publication
---