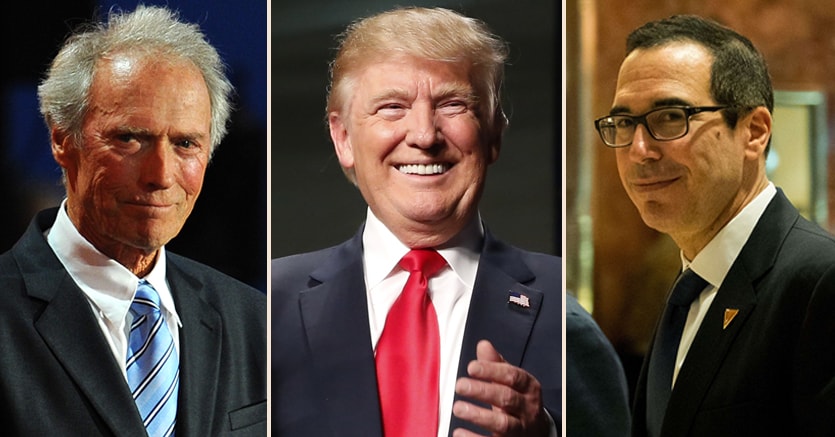 Those who hate Donald Trump claim that the president-elect of the United States is a failed actor, not even a B-list actor either like he accused Ronald Reagan of being, but one with frustrated ambition that would later find its release on "The Apprentice," the reality show for aspiring business managers. It's not surprising then that a newspaper critical of Trump like The New York Times had as this morning's headline: "Trump Taps Hollywood's Mnuchin for Treasury […]," like Hollywood was a B-list business? Key private, public, and show business explanations are produced by the same president-elect, who in his tweets speaks of "finalists" for roles in government.
This time, the appointee is Steven Mnuchin, a 53-year-old former Goldman Sachs banker and therefore a product of Wall Street. This morning, the man himself confirmed and promised a Reagan plan, anticipating a growth of 3 percent to 4 percent in the next two years. Since May, Mnuchin has been the man who raised money for the Trump campaign. He previously worked for a hedge fund tied to George Soros, Trump's No. 1 enemy and a generous backer of Hillary Clinton, whose husband, Bill appointed Treasury Secretary Lawrence Summers, the economist, Harvard president, child prodigy, great theorist and a man with an unsurpassed pedigree and resume. It helps to remember him to understand the changing world.
Trump takes us to another planet, or just to the West Coast. Mnuchin came to Hollywood 10 years ago, landing in Los Angeles with a troop of Wall Street managers. As president of Dune Entertainment Partners, Mnuchin produced "Avatar," and more recently "The Accountant" starring Ben Affleck, as well as "Sully," directed by Clint Eastwood (released in Italian cinemas tomorrow [Dec. 1, 2016]). News of the Mnuchin choice was reported by The New York Times, but a more updated resume of the freshly appointed treasury secretary was provided by Hollywood Reporter.
So it turns out that Mnuchin has forged ties and completed mergers with the production houses of "American Sniper," another Eastwood movie, and "Mad Max: Fury Road," a masterpiece that tells of a world ravaged by those climate changes President-elect Trump has vehemently denied.
With Mnuchin, a Hollywood and Wall Street man, and also the Organization for Economic Cooperation and Development, which promotes Trump's infrastructure plan (yesterday's news), you will have to do math. Because the new treasury secretary is not only good at collecting money, but has played a key role in the development of Trump's economic proposals, especially deregulation and tax cuts.
In Trump's world, Hollywood experience remains an asset, but even more important is loyalty to the leader, a sport in which Mnuchin has shown how to be a champion. The former banker and boyfriend of an aspiring actress-come-writer was one of the most loyal people to the candidate in the most difficult moments of the campaign.
That said, Mnuchin is anything but an outsider and commentary from the corners of the Democrat Party – the Democratic National Committee – regarding his appointment focuses on the following: "And this would drain the swamp? (i.e. cleaning the ranks of the Administration and the Congress). Appointing Steve Mnuchin as treasury secretary — a billionaire hedge fund manager, former Goldman Sachs employee who strangled homeowners in difficulty during the recession — it's a slap in the face to voters who chose Trump because they hoped that he would have turned Washington upside down. Trump is ready to become the most corrupt, contradictory, unpopular president elect of history, now he has also violated the contract that he signed with his constituents."
About this publication
---