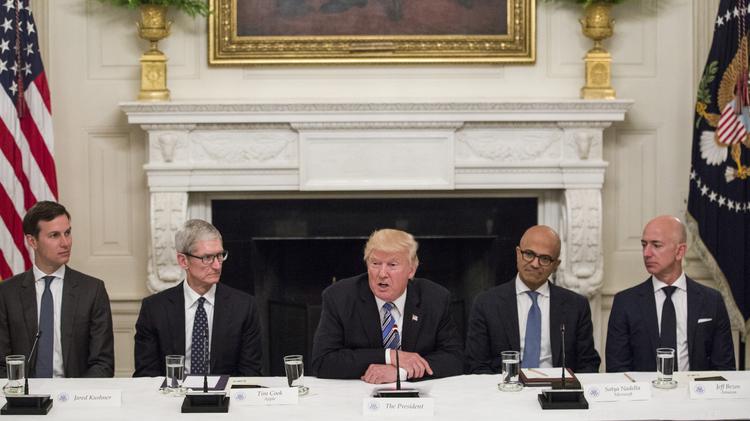 The CEOs of the United States' largest technology firms are now getting behind Donald Trump. During a meeting in the White House, the Trump administration received praise from the CEOs of Apple Inc., Microsoft Corp., Google and Amazon.com. It is becoming obvious that the Silicon Valley leaders' liberal principles have been put to one side in order to conduct business with the government.
This week, the White House invited the leading U.S. technology firms to take part in an informal new organization called the American Technology Council. A dozen CEOs for technology giants such as Apple, Microsoft, Alphabet (which includes Google), and Amazon took part in the meeting.
Surprisingly, several of these influential leaders gave the Donald Trump administration their wholehearted praise. This meeting is a sign that perhaps it is time to re-evaluate the perception of Silicon Valley as a liberal counterforce to the Trump administration.
Even during Barack Obama's time as president, leading U.S. technology firms were regularly invited to the White House to discuss how Washington and Silicon Valley could help one another. At the time, representatives of technology giants such as Apple, Google, and Amazon not only discussed technical solutions, but also a common liberal view of America's future, with a more open and effective government. Silicon Valley leaders were careful to come across not only as businessmen, but also as leaders of a humanitarian revolution; they also shared Obama's views on topics such as immigration, LGBT rights and climate policies.
Since Trump became president, protests and large demonstrations against him have been organized all around Silicon Valley. Thousands of employees of technology firms have demonstrated against Trump's policies and travel restrictions directed at Islamic countries. A survey conducted by The Atlantic magazine earlier this year showed that not a single CEO at the 50 technology firms surveyed had voted for Trump. (There are a few examples of Silicon Valley leaders who openly support Trump, for example, Oracle's CEO, Larry Ellison, and Facebook's Peter Thiel.*)
However, after six months with Trump as president, it seems that these companies have changed their tune. During this week's Technology Council meeting led by Trump's son-in-law, Jared Kushner, the view of the Trump administration was overwhelmingly positive.
"I am completely convinced that there will be an explosion of new possibilities during your administration … " said Eric Schmidt, CEO of Alphabet, which includes Google. Trump himself started the meeting by promising a "substantial change in the federal government's technology activity." Other than a comment from Apple CEO Tim Cook, who pointed out that many of his employees are nervous about a change in immigration policies, there was no noticeable criticism of Trump's controversial policies.
The extreme right-wing Breitbart News site, which during the last six months has become Trump's personal propaganda platform, gave the meeting the convenient headline: "Tim Cook, Eric Schmidt and Jeff Bezos Praise the Trump Administration After Technology Meeting."
For those who have seen Silicon Valley as a liberal force in the U.S., this is a surprising turn of events. The meeting appears to have confirmed that the cynics in the technology industry were right when they claimed that these leaders didn't really care about the liberal principles that they were keen to portray in their marketing and during expensive product launches and conferences.
It remains to be seen how the employees at these companies will handle this latest development. Silicon Valley is one of the most progressive and liberal regions in the United States. In the 2016 presidential election, about 80 percent voted for Hillary Clinton in cities such as Palo Alto and Mountain View, where many of these companies have their headquarters. Around half of all successful technology firms in the region were founded by immigrants.
This week's meeting must be viewed as an enormous public relations success for the Trump administration, and for his adviser, Kushner, who led the meeting. Kushner tries to portray himself as the moderating force within Trump's government, this despite not having done anything to stop any of his father-in-law's many controversial political decisions.
During a speech, Kushner presented a vision of beginning a new era of openness in the government's relationship with its citizens.
"We are going to launch a number of new state-run startups that will make us global leaders in transparency and responsiveness toward citizens," Kushner stated.
His claims cannot be reconciled with reality, however. The Trump administration has been one of the most secretive and least open in modern American history.
On Tuesday, Jason Chaffetz, a former Republican congressman who recently resigned, criticized the Trump administration's complete lack of respect for democratic principles concerning openness in the negotiation of new laws.
"I see a bureaucracy that doesn't want documents and the truth out the door …  and just flipping the middle finger at Congress," Chaffetz told The Washington Post.
During Trump's time as president, Republican members of Congress have secretly negotiated to replace Obama's health care law with a radical new bill that would cost 24 million Americans their health insurance. The same day as the American Technology Council was meeting, the White House press office announced that, from now on, film cameras, photographers and all forms of sound and picture recording equipment would be banned during the White House daily press conferences. Trump has, in turn, criticized journalists and described the U.S. media as the enemy of the people. This is a behavior you normally associate with banana republics, rather than the world's most powerful democracy.
The White House's boasting about being a global leader for openness and transparency in such a situation is utterly absurd. What is remarkable is that nobody from the top Silicon Valley firms called out the obvious hypocrisy.
The leaders of the technology giants are so eager to collaborate with the Trump administration that they are prepared to put their liberal and humanitarian principles to one side.
It is not illegal to decline meetings with President Trump. A coalition made up of organizations fighting HIV/AIDS have, for example, decided to boycott White House invitations following Trump's decision to radically reduce their funding, including the removal of a page on battling HIV on the White House website. Silicon Valley CEOs loyally appearing when Trump called, suggests that they are not too concerned about keeping to their principles.
*Editor's note: Peter Thiel is a member of Facebook's board of directors and was the company's first outside investor in 2004.
About this publication
---