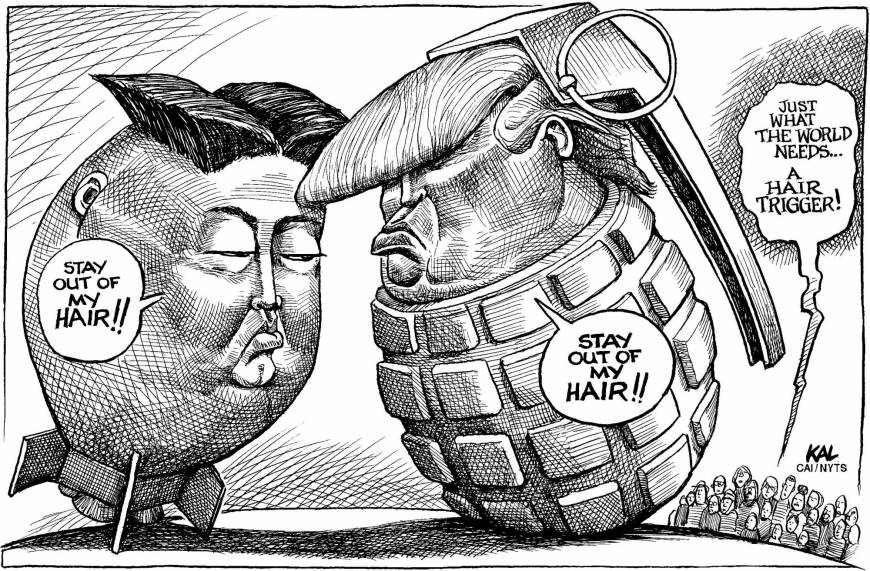 Seventy-two years ago, atomic bombs claimed the lives of over 200,000 people in Hiroshima and Nagasaki. For the past few days, while Japan has tried to remember those terrible scenes, America and North Korea continue to verbally threaten each other with missile strikes.
These words are increasing the threat of war. If this becomes an emergency, then I am very concerned that Japan, South Korea, and China, among other countries, will be dragged into the conflict. I hope that both America and North Korea will show self-restraint in their words and actions.
On July 4, North Korea launched a new intercontinental ballistic missile, ramping up its military pressure to a new level. The United Nations unanimously passed a resolution to impose sanctions on North Korea, adopting a full embargo on its principal exports like coal and seafood.
After The Washington Post reported online that North Korea had successfully developed smaller nuclear warheads that could be loaded onto ICBMs, President Trump issued a warning that suggested the use of military force. "North Korea best not make any more threats to the United States," said Trump. "They will be met with fire and fury like the world has never seen." Trump has previously hinted at a nuclear strike on North Korea, saying that "all options are on the table."
In response to American bombers flying over the Korean Peninsula, the strategic commander of the Korean People's Army made a point of firing a missile near Guam, the site of a U.S. military base. Last week, the Korean People's Army revealed detailed plans to fire four new midrange Hwasong-12 (Mars-12) ballistic missiles, to land 30-40 kilometers (approximately 19 to 25 miles) from the coast of Guam.
The Korean People's Army clarified the missiles' detailed flight path, saying that the missiles would pass over Shimane, Hiroshima and Kochi prefectures once launched. The growing danger is clear: If missiles can pass through Japan's skies, they can also fall on Japan. We can already hear voices of fear and outrage from these three prefectures.
The only ones in possession of the launch buttons are Kim Jong Un, Chairman of the Workers' Party of Korea, and President Trump. If even one missile is fired, there will be many victims — soldiers, military officers and ordinary citizens. There will be irreversible tragedy if both sides continue this game of chicken instead of laying down their arms.
I hope that the two of them act based on reason and that both sides decide against launching a pre-emptive strike. Hopefully, President Trump will discuss the matter with his administration and stop using Twitter to send messages that are not agreed upon.
About this publication
---