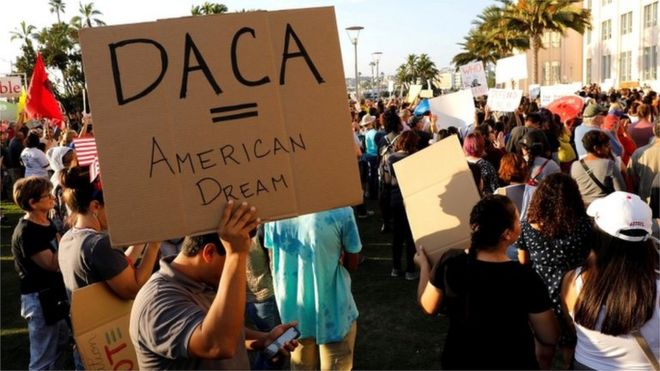 The president of the United States has repealed the executive order that enacted the Deferred Action for Childhood Arrivals program, authorized by Barack Obama in 2012, that prevented the deportation of young undocumented people who had illegally entered the country as minors.
While DACA did not provide citizenship to these young people aged between 15 and 31, it did provide them with work permits every two years providing that they have lived in the USA constantly since 2007, have completed secondary school or military service and have no criminal record.
Both DACA and the Deferred Action for Parents of Americans program were measures taken by Obama to prevent the separation of families with strong roots in the United States, against Republican opposition to passing the Dream Act, thus creating the name "dreamers."*
Some 800,000 young people with Latino surnames could be returned to their countries, countries that they do not know, where they may not have family and in some cases may not even speak the language. Current permits will expire over the next few years, culminating with the loss of all status on March 5, 2020.
The uncertainty is terrible and the signals are mixed, because Trump has now softened his stance, but yet continues to take this step. Some defend it while others, such as the far right, call for it to be declared unconstitutional—as happened with DAPA—effective immediately.
Others believe that with the six month grace period, Trump is giving Congress a chance. He has recently met with Chuck Schumer and Nancy Pelosi, both leaders of the Democratic minority, sparking outrage among his Republican following.
These young people must now "wait" for the best, but prepare for the worst. On the other hand, these young people returning to Mexico and other countries in the region could be a great opportunity for those countries.
This group is one of the best, with 70 percent of them being educated to university level. They have fantastic English skills and have developed themselves within a highly entrepreneurial environment. Besides being cruel, as Obama described it, it is astounding that the USA is willing to lose such talent. However, their loss could be our gain.
*Editor's note: The DREAM Act, an acronym for Development, Relief, and Education for Alien Minors, is an American legislative proposal for a multi-phase process for qualifying alien minors in the U.S. that would first grant conditional residency and, upon meeting further qualifications, permanent residency.
About this publication
---