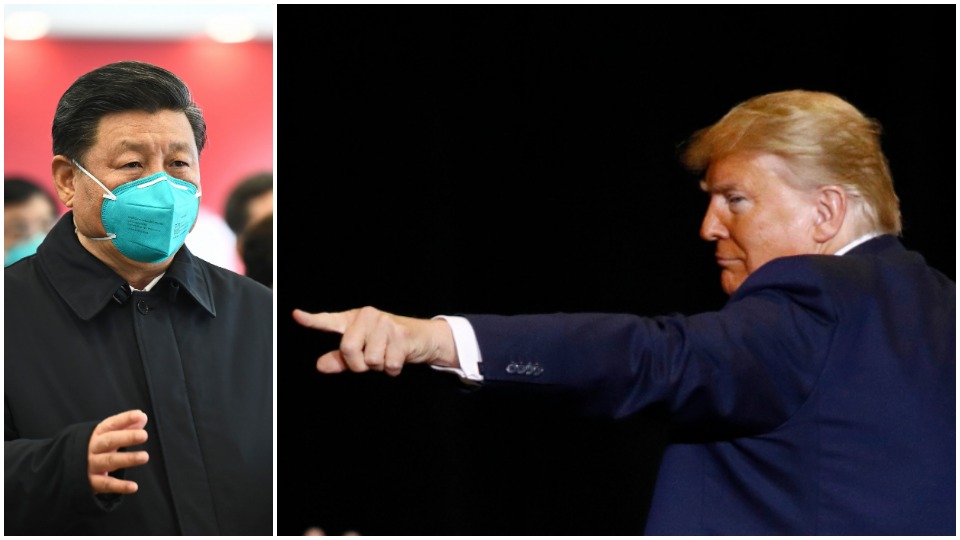 Media gurus have explained to ignorant people like us that the television is an "idiot box." Save yourself from its temptation. Excessive exposure to TV screens eventually backfires, and sometimes people are so enthralled by them that they can't pull themselves away.
President Donald Trump has this exact issue. When the coronavirus epidemic started getting out of control and corpses were stacking up in cities like New York, Trump began daily two-hour briefings from the White House. Experts in public health and infectious diseases stand next to him, but Trump doesn't allow them to finish their sentences. Lacking common sense, he rambles on about serious topics like the coronavirus.
Recently, the experts were stunned as they listened to him speak, but protocol required that they could not interrupt the president. Dr. Anthony Fauci was among these experts, and the helplessness on his face silently exposed Trump's ignorance. But President Trump's fans saw Dr. Fauci's facial expressions as an insult to their hero. Now, tight security has had to be arranged for Fauci's safety.
Instead of paying attention to the coronavirus, Trump ruthlessly insults reporters who ask him tough questions during his long briefings, and is happy to expose the media for allegedly spreading "fake news." Moreover, Trump takes pleasure in the fact that his prime-time briefings have begun to set new ratings records.
But, as the Persian proverb says, every day cannot be perfect. At the end of last week, in the presence of actual experts, Trump came up with a bold new idea. He seriously proposed that a vaccine could be developed that would inject disinfectant into the human body. He suggested that the same thing that is used to protect offices and homes from mosquitos and the like could be injected into the body. On top of using disinfectants as vaccines, Trump also suggested that modern doctors could create some kind of "ray" which could pass through people to prevent them from catching viruses like the coronavirus.
Trump's "creative" suggestions have shocked and disturbed the majority of even his die-hard followers. Many public health experts have had to appeal to the American people through the media to implore them not to inject disinfectants into their bodies, as doing so would essentially be suicide. Fearing the negative effects of the spectacle he caused, Trump avoided a prime-time briefing earlier this week.
Numerous polls show that during this pandemic, the American public has been neither comforted nor encouraged by their president. This issue is not only limited to Trump. Only 30% of the American public believes that within the next few weeks, life will be restored to how it was before the coronavirus. They have concluded that the decades-old system has come to an end because of the coronavirus and there is no hope of restoring it.
People are disappointed, but that disappointment has not yet turned into anger. However, Trump and his political strategists, for good reason, are convinced that the disappointment will gradually turn to rage. While Trump's reelection was considered almost a certainty until the beginning of March, his loss is a real possibility if this anger manifests itself during the November 2020 election.
There is a growing sense that the U.S. needs an experienced president like Joseph Biden. The crisis caused by the coronavirus can be handled with a level head and by consulting public health experts. The prospect of Biden winning is very disturbing to Trump and his supporters, and Trump's political strategists are now looking for ways to redirect the imminent anger of the American people.
A few days ago, I expressed fear that due to recent propaganda tactics, China would be held solely responsible for the torment inflicted by the coronavirus on the world. Such an effort has been underway since the beginning of this week. Two days ago, Trump said on television that China should be held responsible for spreading the virus and that it should pay for the resulting economic destruction. Many European countries have warmly welcomed Trump's proposal. Attempts have been made to stir up the public opinion needed to implement it.
Pakistan's traditional media outlets have ignored the emerging plot against China. However, some of our TV networks have started giving the public hope that China has nearly developed a vaccine against the coronavirus. China, our dearest friend, has decided to test the vaccine in Pakistan, and its effectiveness will be confirmed by the end of May. Following confirmation, China will produce an unprecedented number of the vaccines overnight using its advanced technology. It has also been decided that China, as our best friend, will give Pakistan first priority for the vaccine, which will allow Pakistan to revive its economy as soon as possible. Frightened by the horror of the coronavirus, I sincerely hope with all my heart that China is successful. The vaccine is still two or three months away, and the question is what Pakistan should do until then.
Unfortunately, our cities and villages don't look like they should during a lockdown since restrictions were eased primarily for economic reasons. Pakistan's economy has been running on an informal and agricultural basis for centuries. Not millions, but tens of millions of small business owners and day laborers work within this economy and are now confined to their homes. As journalists like myself have learned, the economy has come to a complete standstill.
Due to our extended families and collectivist social system, we have not witnessed any horrific cases of starvation. The government is also providing relief to the poorest families.
The sad fact is that even the experts are unable to predict when this will be over. I have spoken to a few credible experts and they say that we will likely need to be cautious at least through September, so the earliest this might end is October 2020. If we take the words of these reporters to heart, we can't help but think that in the months of May, June, July and August, we will have to go on living like we did at the end of March.
Simple economic facts show that this will not be sustainable. No one in the traditional media or on social media is talking about what a "smart lockdown" would look like. It seems impossible to keep hope alive.
About this publication
---