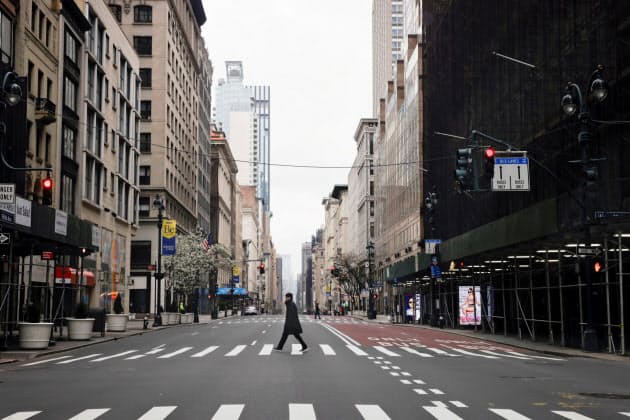 The American employment statistics in April registered a historic fall. Economic activity virtually stopped due to the spread of the new coronavirus, and many people lost their jobs in major industries, including food, drink and retail.
Employment statistics in Japan, Europe, etc., also show a record decline. Policymakers not just in America but worldwide must take all possible measures to stem the employment crisis.
The employment numbers in America (with the exception of the agricultural sector) fell in April by 20.5 million compared to March, and the unemployment rate climbed from 4.4% to 14.7%. Both of these are the worst figures since the war.
To slow the spread of infections from the new coronavirus, responses like quarantines and closing stores are unavoidable. These blows cannot be said to have been foreseen, and the decline in the number of employed people and the spike in the unemployment rate far beyond those seen after the financial crisis in 2008 are shocking.
The American gross domestic product shrank in the first quarter of the year by 4.8% compared to the year before, a massive negative growth not seen in about 11 years. The second quarter will be even harsher, with some forecasts predicting up to a 40% decline.
Although states are increasingly moving to partially resume economic activity, the normalization of things like personal consumption and equipment investment is still a long way off. We must steel ourselves for further worsening of the employment statistics.
The Donald Trump administration should cooperate with Congress and the Federal Reserve to support the unemployed and stave off business bankruptcies with all their might. This doesn't just mean implementing nearly $3 trillion worth of economic policies that pay individuals with cash and finance businesses. One should not hesitate about making vital additional expenditures.
Most of the unemployed were furloughed and can expect to return to their workplaces or look for other work once economic activity returns to normal. We would like to see America's economic recovery be tied to substantive support for individuals and businesses impoverished by the coronavirus disaster.
If America's employment crisis drags on, it will deal a severe blow to the world economy. In addition to emergency measures to save distressed individuals and businesses, economic measures to put the U.S. economy on track to recovery are probably necessary as well.
The International Monetary Fund expects global GDP to contract by 3% in 2020. Japan and Europe also have the responsibility to implement quick and generous measures to address the employment crisis.
Shinzo Abe's government should also implement individual and business support as quickly as possible on top of the 117 trillion yen ($1.09 trillion) emergency macroeconomic measures it put in place. At the same time, we also want to see the Abe administration expedite its investigations into additional measures that offer relief to small and medium-sized businesses which are delinquent in their rents and to students unable to pay tuition.
About this publication
---