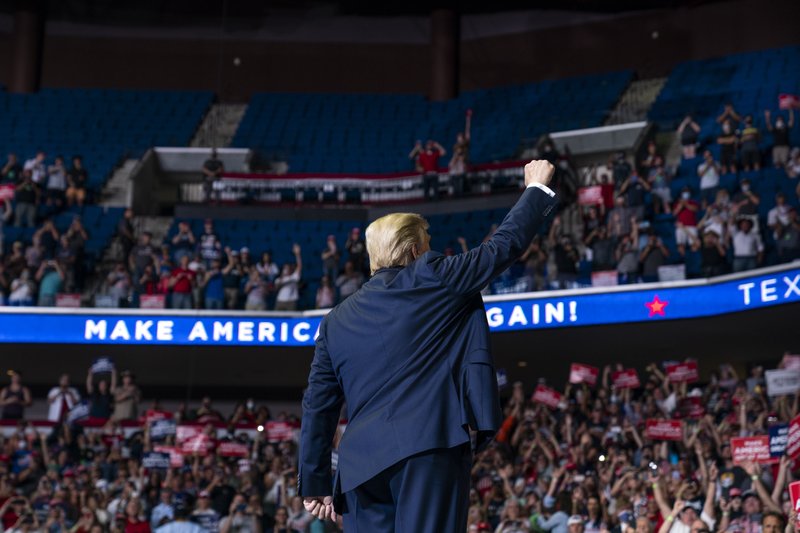 President Donald Trump's return after 110 days absent from the United States stage was an unexpected flop. He was far from filling the 19,119 seats of the BOK Center, in the city of Tulsa, Oklahoma, the chosen location for his return to the campaign arena.
The surprisingly low turnout was particularly striking because the venues where Trump holds his rallies are usually filled to the rafters. In fact, the Tulsa rally was supposedly going to be so huge that his campaign had planned for a special overflow area of 40,000 people where the president was going to give another address. However, that outdoor area was empty and Trump had to settle for a single speech.
The low turnout is striking because Trump is formidably able to lure an audience. And especially in Oklahoma, a state he won by more than 30 points in 2016. Whether this implies that the president has popularity issues — as the polls suggest — or whether this was due to other factors — perhaps the fear of coronavirus infection, even though nobody was wearing a mask at the BOK Center — remains for ex-post analysis.
However, despite being a failure in terms of attendance, the Tulsa event did not fail to be critical. Trump did not disappoint his followers. In fact, he was more populist — more Trump — than usual. He was more theatrical than his normal self, even staging conversations in what at times seemed more a performance in the style of a standup show than a political event.
He was more vulgar, stating that he had called former Boeing CEO Dennis Muilenburg a "dumb son of a bitch" to get him to lower the prize of the presidential plane (which Boeing did not do), and claiming that, if he had walked slowly in an event at the West Point Military Academy last Saturday, it was not because he is losing his faculties — as his critics pointed out — but because "I said, … 'there's no way I can make it down that ramp without falling on my ass.'"
He was definitely more boastful than usual, talking about his "leather bottom shoes," his silk ties, and informing the audience that he had "better hair … I got nicer properties. I got nicer houses" than his critics and especially those in the media. In addition, Trump gave the audience some advice that seemed like something out of a Martin Scorsese film: "Don't put anything in writing."
The president of the United States promised to pass a law punishing anyone who desecrates an American flag with a year in jail. It is a complicated matter, because in 1991 the country's Supreme Court declared it illegal to punish those acts. He also criticized the "violence of the radical left," expressed in the wave of attacks on statues that have taken place over the last 10 days. And, as expected, he insisted that Joe Biden — his opponent in the November election — has a mental impairment. To a great degree, the speech was in the norm for Trump. He himself described it as "average." The major issue was the relatively small audience in attendance. The president began his address by talking about "the silent majority" he claims to represent. In Tulsa, rather than silent, the majority was invisible.
About this publication
---