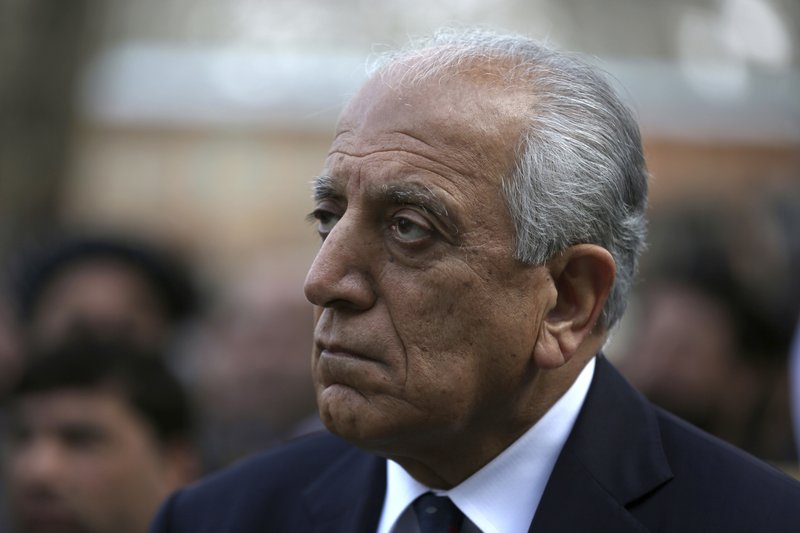 U.S. Special Representative for Afghanistan Reconciliation Zalmay Khalilzad has said that the Americans have agreed to have a meeting with Tehran regarding the Afghan peace process. In his words, "to achieve and maintain peace, the region must be positively involved, and we even agreed to organize meetings on Afghanistan with Iran, because we also want Iran to express support."
Granted, Khalilzad hasn't spoken of any concrete suggestions for carrying out the meeting. Nevertheless, this announcement feels like quite the revelation given the continuing intense confrontation between the U.S. and Iran. Particularly because, up until recently, the Americans have put an enormous amount of effort into excluding Tehran from the Afghan peace process, even though Washington knew — and indeed still knows — that Iran is one of the main players in the region. Tehran, which has been playing its own game in Afghanistan, has behaved accordingly by entering into talks with the Taliban. The dialogue was renewed following a series of meetings that the Americans held with the Taliban in Abu Dhabi, Islamabad and Doha. In its turn, Iran has declared that its relationship with the Taliban does not constitute a display of political or military support for the group.
However, the Financial Times writes that American experts acknowledged long ago that developing reconstruction options for Afghanistan with only Pakistan's backing and without Iran's presence is practically impossible. By the same token, referencing a senior representative of the U.S. Department of State, The New York Times writes that "by focusing on trying to withdraw troops from Afghanistan, U.S. President Donald Trump has begun to show a propensity to change his attitude toward Iran."* So, it's possible that Khalilzad's statement regarding Washington holding a meeting with Iran on Afghanistan is a means of testing the water. Objectively speaking, as the Iranian publication Mardon Salari proposes, Iran is concerned about the withdrawal of American troops from Afghanistan, but it's unlikely that Washington will be open to negotiation on this. It's another thing to try and influence processes taking place in Afghanistan using this, which even theoretically presents a major change in the American strategy.
And this doesn't just concern Iran. Speaking at a videoconference organized by The Hill news website, U.S. Secretary of State Mike Pompeo recently said that the Trump administration needs to support the Kremlin in order to normalize the situation in Afghanistan. "I made clear to the Russians that we needed their support in that effort as well," he said, responding to a question about Moscow's alleged attempts to offer Taliban fighters a financial reward for killing American soldiers. "There's a lot of history of Russia in Afghanistan. … We've made clear to our Russian counterparts that we ought to work together to get a more sovereign, more independent, peaceful Afghanistan. We think it's in Russia's best interests, we think it's in China's best interests, we know it's in the Afghan people's best interests."
The intrigue here is in whether, by cooperating with Iran and Russia, the U.S. intends to use this new Afghanistan strategy to turn to other issues in the restoration of its difficult relationships with Tehran and Moscow.
Or is this simply an attempt to solve just this one local Afghan problem by any means necessary? And how will this fit into the Americans' strategy and will there be any talks between the U.S., Saudi Arabia and the United Arab Emirates about the restoration of Afghanistan? Considering its geographical proximity to and its common border with Afghanistan, Iran wholly believes that it has more of a right to participate in solving the Afghan problem than the Arab states of the Persian Gulf. Then there is, of course, the issue of the de facto international recognition of the Taliban and their relationship with Kabul. Furthermore, many different countries have now been drawn into the Afghan peace talks at various venues, among them Pakistan, Saudi Arabia, UAE, Qatar, Russia, China and the U.S. Plus, Tehran has been attempting to step up regional and international consultations on the issue of establishing peace in Afghanistan.
Iran is being haunted by the goal of forming a regional initiative on Afghanistan with the participation of its neighboring countries and influential states, as well as the U.N., in support of intra-Afghan reconciliation. At some point everyone is going to have to get out of the "Afghan labyrinth," but when and how? Washington has made a move toward Tehran and Moscow. They just need to wait for a response.
*Editor's note: This quote, accurately translated from the original, could not be verified.
About this publication
---