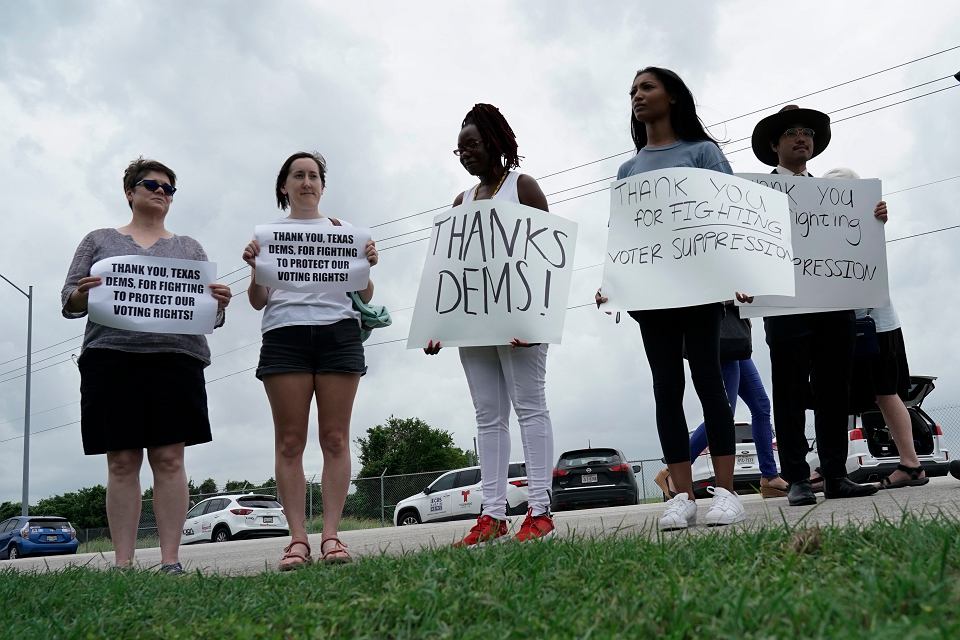 Texas Democrats will remain in Washington until the end of the Texas legislative session, during which Republicans there are seeking to alter the election laws. The Democrats feared they would be forced to attend the proceedings. The governor has threatened to arrest them upon their return.
Two Austin charter planes with at least 51 Democratic members of the Texas House of Representatives landed at Washington Dulles Airport on Monday evening. Seven more politicians were on their way to the U.S. capital.
"Our democracy is on the line," one fugitive, Rep. Trey Martinez Fischer, told NBC News. "It became very clear to us this weekend that any attempts to negotiate some Democratic concessions were cut off, making it very clear that Republicans were hell-bent on having it their way," Fischer added.
The Fight over Election Law in Texas
Fischer was referring to a special legislative session convened by Republican Gov. Greg Abbott, in which Republicans, who hold a majority in both houses, are trying to push through a bill that changes the election laws in the state of 29 million people.
Democrats are warning that it would make it difficult for millions of people to vote, especially ethnic minorities, and thus, their voters. They are confident that this is the purpose of the legislation. Republicans, in turn, insist they are concerned only with preventing fraud and strengthening election security.
The bill would introduce additional requirements regarding mail-in voting, eliminate drive-through voting and 24-hour polling stations introduced by Harris County (home to Houston, the strongest Democratic stronghold in the state), and strengthen the authority of election observers delegated by the parties.
At the end of May, Democrats had already blocked an earlier version of this reform bill by leaving the room just before the vote and breaking the quorum. This is why Abbott called a special additional session that began on Thursday.
Democrats have announced they will be "fighting back with everything they've got." This time, however, leaving the room was not sufficient. A special session lasts 30 days, and Republican authorities could force them to participate. (The law provides for such a possibility.)
The Great Escape of the Democrats
The solution turned out to be fleeing to Washington. Texas Democrats are seeking to put pressure on Congress to pass a comprehensive reform of election laws that would end initiatives such as those in Texas and other Republican states. Above all, however, they want to wait until the end of the special session in Texas.
The decision regarding fleeing the state was not an easy one to make, as many politicians have family obligations, small children, or suffer from health problems.
As reported by NBC News, they initially considered flying to West Virginia or Arizona, home to two Democratic senators, Joe Manchin and Kyrsten Sinema, who, in the name of seeking bipartisan compromise, have allowed Republicans to block the aforementioned comprehensive voting reform. Thus, it would have created additional pressure for the two to stop taking a contrary position. However, the fugitive legislators decided that the local Republican governors could capture and hand them over to Abbott.
A similar maneuver – leaving the state to paralyze the legislative process – was used by Texas congressmen in 2003 and later by Democratic senators during deliberation on a Republican redistricting bill. Eventually, however, the law was passed.
Republicans: We Will Not Give Up
Dade Phelan, Republican speaker of the Texas House of Representatives, said that Republicans would use "every available source" under the state's Constitution and local parliamentary rules to secure the quorum.
"These actions put at risk state funding that will deny thousands of hard-working staff members and their families a paycheck, health benefits, and retirement investment so that legislators who broke quorum can flee to Washington, D.C., in private jets. The special session clock is ticking – I expect all Members to be present in our Capitol in order to immediately get to work on these issues," Phelan said.
Abbott agrees. "As they fly across the country on cushy private planes, they leave undone issues that can help their districts and our state," the governor said.
In a Monday interview for the local TV station KVUE, Abbott threatened the Democrats with arrest when they return. He announced that if necessary, he is determined to convene special sessions into next year.
"And so if these people want to be hanging out wherever they're hanging out on this taxpayer-paid junket, they're going to have to be prepared to do it for well over a year," Abbott warned.
At the same time, groups fighting for voting rights are praising the Democrats' decision.
Many commentators, including an American BBC correspondent, have concluded that eventually, it is the Republicans who will win. The escape – although spectacular, symbolic, and something that is drawing attention to the problem – is postponing the inevitable.
Republicans Restrict US Voting Rights
The events in Texas are yet another installment in the war over voting rights that has flared up in the U.S. in recent months.
On Tuesday, the president will address this issue in Philadelphia, the cradle of American democracy. According to his press secretary, Joe Biden will issue a call to overcome "the worst challenge to our democracy since the Civil War." However, there is little the president can do. Accordingly, his advisers have warned not to expect any new, groundbreaking proposals.
As calculated by the Brennan Center for Justice, from the beginning of the year to mid-May, Republicans have already passed 22 laws in 14 states that, according to critics, restrict voting rights. In addition, almost 400 proposed bills on this matter have been submitted across the country.
Given the impasse in Congress, Democrats are left to challenge these bills in court. They have already done so in Georgia, Montana, Iowa, Arkansas, Arizona, New Hampshire, Kansas and Florida, while other states are preparing lawsuits. Still, they are being met with varying degrees of success. For example, on June 1, the U.S. Supreme Court, dominated by conservative judges, ruled that new voting regulations in Arizona did not violate the voting rights of its citizens.
Two laws in Arizona provide that a ballot (which in the U.S. can often be obtained in advance by mail) which is placed in a ballot box at the wrong polling station must be rejected. Moreover, the laws crucially limit the list of individuals who can collect such cards to deliver to the election board. Democrats found that this discouraged their supporters from voting because, in multiethnic neighborhoods of large cities, the polling stations are usually located in less obvious places, and the custom of collecting the votes for delivery is especially prevalent among Native Americans and Latinos.
About this publication
---