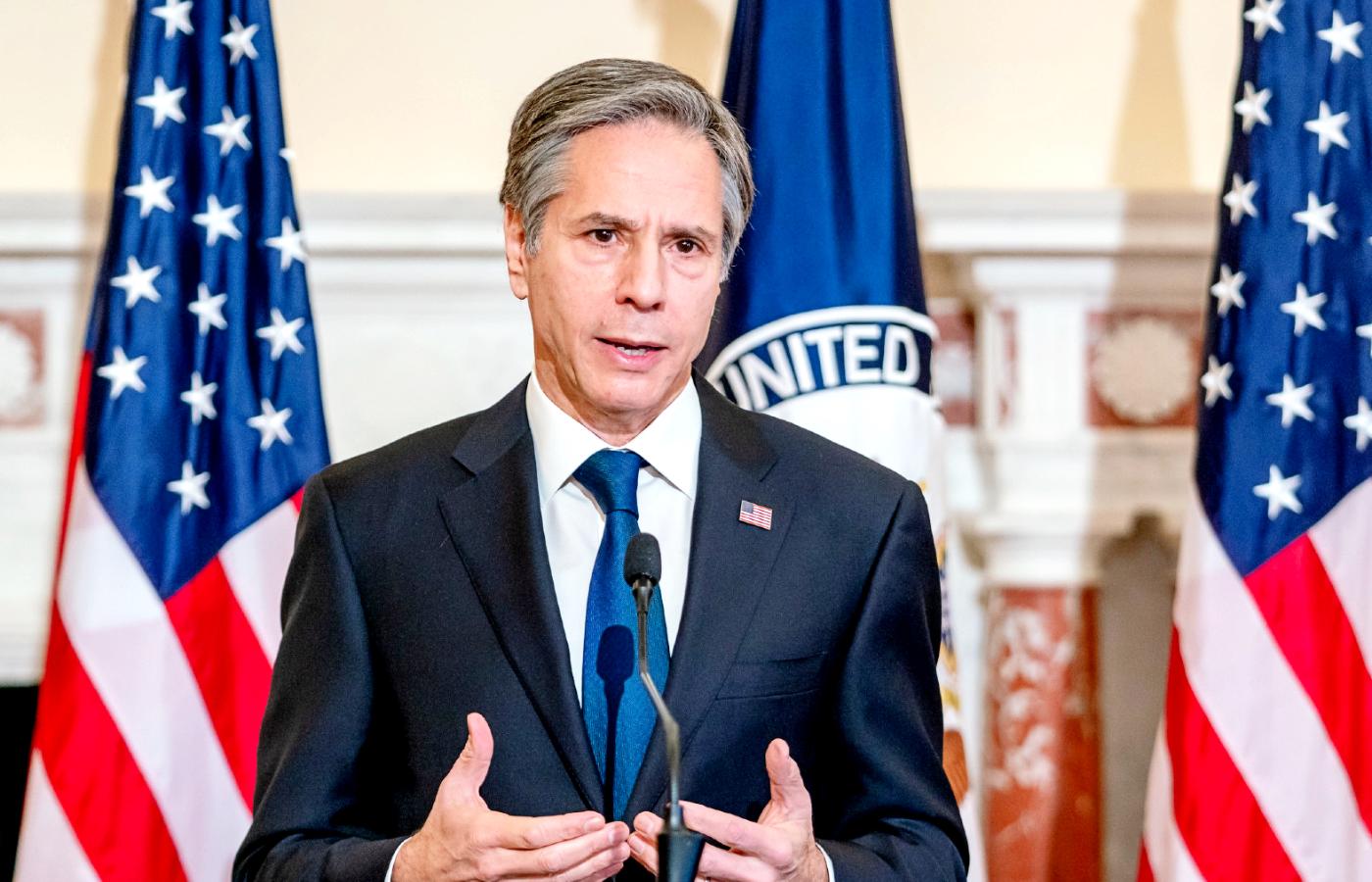 Secretary of State Antony Blinken's statement leaves no doubt that America is concerned about PiS Poland's evolution toward authoritarianism.
The Biden administration had an immediate and considerably strong reaction to the Sejm's passage of a bill on Wednesday that, under the pretext of protecting the media market against Russia, China and narcotics business, seeks to silence TVN, which has been relentlessly critical of the Law and Justice government. The amendment, which must still be approved by the senate and signed by the president, would ban media owned by non-European organizations, such as the Discovery Corporation, which owns TVN, from having a presence in Poland. Secretary of State Antony Blinken's statement, released Wednesday night, leaves no doubt that America is genuinely concerned about Poland's evolution under the United Right into authoritarianism.
Blinken Calls Out the Polish Government
According to Blinken's statement, "This draft legislation would significantly weaken the media environment the Polish people have worked so long to build. A free and independent media makes our democracies stronger, the Transatlantic Alliance more resilient, and is fundamental to the bilateral relationship. Large U.S. commercial investments in Poland tie our prosperity together and enhance our collective security. This draft legislation threatens media freedom and could undermine Poland's strong investment climate. Poland is an important NATO Ally that understands the Transatlantic Alliance is based on mutual commitments to shared democratic values and prosperity. These pieces of legislation run counter to the principles and values for which modern, democratic nations stand. We urge the government of Poland to demonstrate its commitment to these shared principles not only in words, but also in deeds."
Blinken also devotes a long paragraph to passage of a law by the Sejm on the statute of limitations for challenging administrative decisions regarding the nationalization of property in the People's Republic of Poland, which is the basis for restitution of property to Holocaust victims and their heirs. The secretary of state is urging President Andrzej Duda not to sign the bill or refer it to the Constitutional Court for consideration. As urged by Jewish organizations in the U.S., Blinken has emphasized that "a comprehensive law for resolving confiscated property claims is needed to provide some measure of justice for victims." He also points out that "such a law would benefit many Polish citizens, as well as people who were forced to leave Poland during and after World War II and who subsequently became naturalized citizens of other countries."
US Stands Up for TVN
As you can see, in the language devoted to Lex TVN,* Blinken is criticizing the threat to American investment in Poland, and therefore does not hide the fact that American economic interests are also of concern. However, the statement's perspective is focused mainly on the issue of press freedom. For a long time, America has let the PiS government know that it is not indifferent to this issue. Previous attempts to silence independent television were condemned by Donald Trump's administration; his ambassador in Warsaw, Georgette Mosbacher, protested, although the former president was not known as an ardent defender of liberal values.
From the beginning, Joe Biden's team has stressed that it will give priority to democracy and human rights issues, and will not hesitate to publicly denounce violations of norms in this area, including violations by allied countries. Hence the previous critical statements by State Department spokesman Ned Price, the chargé d′affaires of the embassy in Warsaw Bix Aliu, the visit of the State Department's special envoy Derek Cholett, and warning letters from prominent congressmen and senators.
Red Light for Poland
Blinken's statement should be viewed as a serious red light. The secretary of state is fourth in line to the presidency; when he speaks, it means that America is really worried. And no wonder; the "good change" policy of the Polish government and the helmsman leading from the back seat leaves no doubt that the goal is to gag the independent media, just as was done in Hungary. Under PiS rule, Poland has already fallen from 18th to 64th place in the World Press Freedom Index. After incapacitating the judiciary, the government is turning to dominating the market of information and opinion. And Poland is, after all, the biggest U.S. ally in the region, more important than Viktor Orbán's country.
Of course, the question remains: What will Washington do if Jaroslaw Kaczynski does not yield and continues to pull the strings? Will it end with warnings? Not necessarily, but that is another story.
*Editor's note: Lex TVN is a controversial Polish media law that modifies the Polish Broadcasting Act and forbids companies except those from the European Economic Area from holding more than a 49% stake in Polish radio and television stations.
About this publication
---