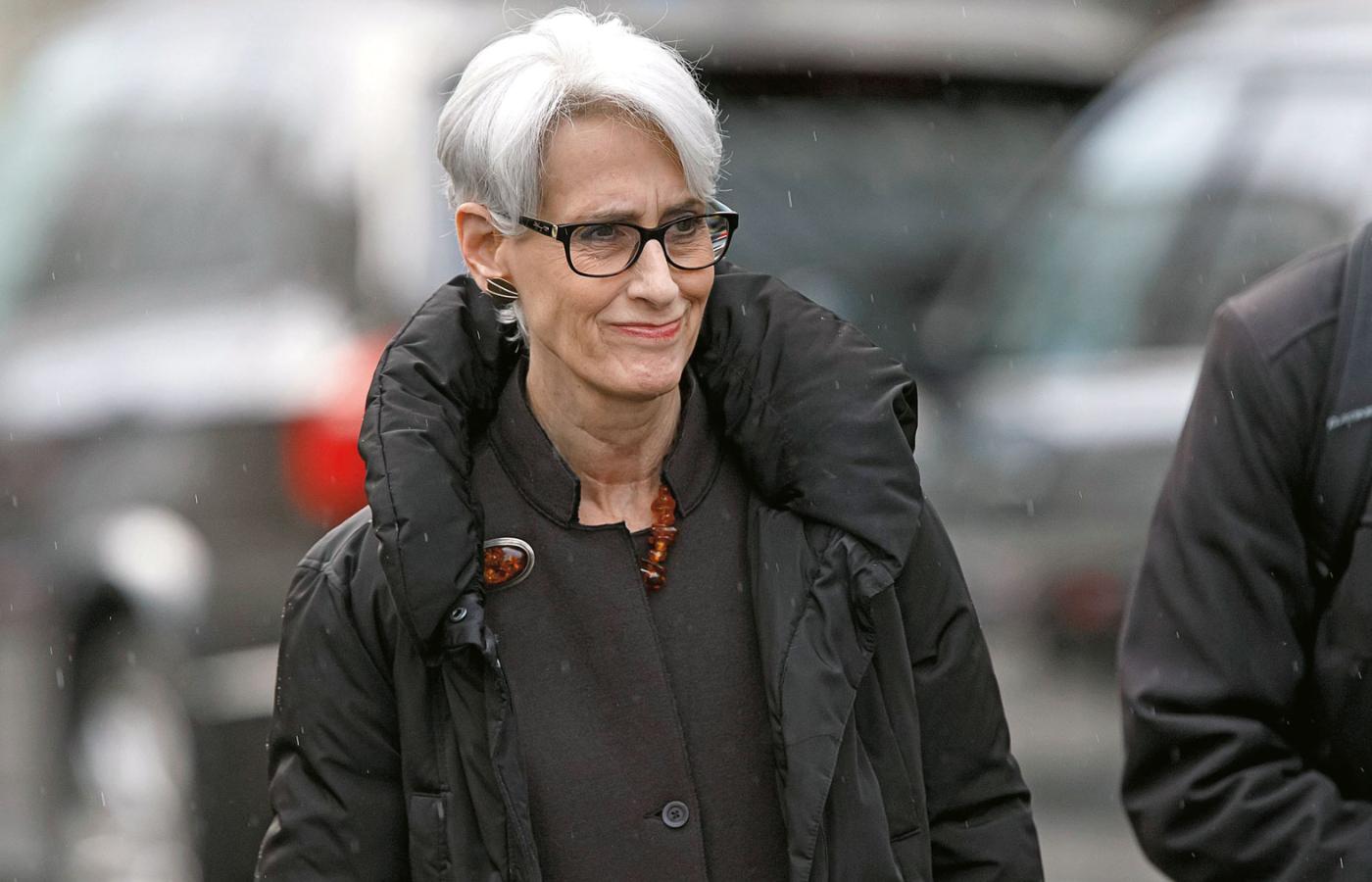 Long before she became a U.S. diplomatic star, Wendy Sherman worked in welfare agencies in Maryland. She says that her experience there with wife-beaters has proven tremendously useful.
Sherman has been dealing with diplomats from regimes hostile to America for almost three decades. This time, however, she's preparing for the most difficult test of her professional career. Sherman is representing the Biden administration in talks with Russia, whose president, Vladimir Putin, has demanded that the West consent to the Finlandization of the bordering countries from the former Soviet bloc, i.e., he seeks to turn the clock back a quarter of a century. All the while, he is holding Ukraine hostage, putting a gun to its head in the form of 100,000 troops on the Ukrainian border.
Wendy Ruth Sherman, 72, has led some of the most important negotiations during the last two Democratic administrations of Presidents Bill Clinton and Barack Obama. In 1994, as an adviser to Secretary of State Warren Christopher, she conducted talks with North Korea, as a result of which, its Stalinist dictator, Kim Jong Il, agreed to halt development of nuclear weapons in exchange for financial aid to save millions of its people from starvation. In subsequent negotiations with four other Pacific powers, "Dear Leader" vowed to halt missile armament. But Kim subsequently reneged on all of his promises, which allowed Republican politicians to accuse American negotiators of appeasement. Sherman maintained that Pyongyang's nuclear arsenal did not expand during Clinton's term, and expansion remained on hold until George W. Bush took office and threatened North Korea by including it as part of an axis of evil.
As Undersecretary of State for Political Affairs at the State Department during the Obama administration, Sherman served as head of the U.S. delegation negotiating an agreement with Iran that obligated the Ayatollah regime to curb the nuclear program in exchange for lifting sanctions. After 20 months of negotiations, the deal, which concluded in 2015 with the participation of five U.N. Security Council member states and Germany, delayed Iran's ability to build nuclear weapons. The deal was later broken by Donald Trump.
She Can Make a Scene
Sherman is etched in the memory of her Iranian partners at the Geneva and Vienna talks. When they attempted to withdraw from key provisions of the agreement at the last moment, she made a scene, prompting them to sign a version that contained mutual agreement. The Iranians called her the Silver Fox, referring to her elegantly styled short gray hair, but also with reference to her canny deal-making style. The nickname became popular in Foggy Bottom, as the State Department is called in reference to the area where it is located, and fellow diplomats sported "Silver Fox" T-shirts.
This foxy diplomat knows the Russians very well. In the 1990s, she managed a financial aid program for Russia and the former republics of the Soviet Union. In addition, during talks with North Korea conducted by five countries, she cooperated with Russian diplomats. Sherman also negotiated with her current partner in talks, Deputy Foreign Minister Sergei Ryabkov, during the Obama administration over how the Russians could take control of Syrian chemical weapons used by the Bashar Assad regime, which prompted the American president to threaten military intervention. Ryabkov, alongside Sherman, was also the main figure in the 2015 nuclear negotiations with Iran. "Wendy is tough, disciplined and her behavior during talks with Koreans and Iranians shows that the Russians will not do much if they try to upset her," said former U.S. ambassador in Warsaw, Daniel Fried.**
The future deputy secretary of state was born in Baltimore, Maryland, to a family with Jewish roots. Her father was a Marine who fought on the Japanese front during World War II and was wounded in the Battle on Guadalcanal. After the war, he founded a real estate company that sold apartments to African Americans in historically white neighborhoods prior to the end of racial segregation. After graduating from Smith College and studying sociology at Boston University, Sherman, who was raised in a progressive atmosphere, began her professional career like Obama did, working as a community organizer in metropolitan Black and Latino neighborhoods. She followed a natural path to politics in the Democratic Party, first at the local level, then in state government.
Sherman served as director of Emily's List, a fundraising organization for abortion rights candidates; director of Maryland's office of child welfare; and much later, as the founding president of the Fannie Mae Foundation, an arm of Fannie Mae, which was chartered by Congress to provide affordable mortgage financing to low and moderate-income borrowers in the United States.
The gateway to capital politics came during the Senate election campaign of Barbara Mikulski from Baltimore, who, as one of the few women senators in 1987, managed to conquer this historic stronghold of white men. The following year, Sherman oversaw the congressional election campaigns of Democratic Party candidates for the Democratic National Committee.
Sherman started her internship at the State Department in 1993 at the age of 44 as head of the legislative office. Her path to diplomacy was not a typical one, as most diplomats usually graduate with degrees in history or political science, and then intern in Foggy Bottom. It helps for diplomats to have a thorough knowledge of the countries they visit, their history, and their culture so they can fulfill their diplomatic mission. Sherman, however, stressed that her experience in politics was equally useful as she had a sense of how to operate during difficult negotiations with foreign partners.
More than once, especially in the past, she has had to deal with the glass ceiling that hinders women's advancement in institutions with patriarchal traditions. Sherman wrote about it in her book, "Not for the Faint of Heart: Lessons in Courage, Power, and Persistence." Highlighting the feminist aspect of her work may have come as a surprise because the U.S. had already experienced three female secretaries of state: Madeleine Albright, Condoleezza Rice and Hillary Clinton. Sherman, however, writes that when you're not a man, it isn't easy to climb the most important ladders of power that have historically been a patriarchic domain. When she applied for a job with Hillary Clinton, she faced resistance due to rumors that she lacked a sense of teamwork.
This is a typical kind of complaint made about outstanding women who show self-confidence, something that is considered normal in men, and arrogant in women. Sherman said that it was necessary therefore to find a balance between being tough and nonaggressive. Sherman has had to master this art in view of her appointment as undersecretary of state. And her gender helped during negotiations with the Iranians, since her interlocutors were not used to assertive women.
The Right Person in the Right Place
Sherman was the first woman to serve as undersecretary of state, the third person in line at the State Department, just as she is the first woman to serve in her current position as the deputy secretary of state. It is widely held that she's the right person for the job, and observers note her outstanding intelligence, experience and negotiating skills. As Time wrote: "If anyone can talk Russia out of invading Ukraine, it's Wendy Sherman." Will she succeed? Her task is incomparably more difficult than it was during the conflict with Iran, which only sought to lift sanctions, while Russia is demanding a new Yalta. The art of diplomacy, experts say, is based on finding common ground that partners can agree on and reach a consensus. Sometimes, however, there is such a great distance between the two sides that it is difficult to imagine a satisfactory compromise.
During the current U.S.-Russia talks in Geneva, during Russia-NATO, and at the forum of the Organization for Security and Co-operation in Europe, Sherman rejected all Russian demands, according to the White House. Russia has warned it will cut ties with the U.S. if sanctions are imposed for a possible attack on Ukraine. Despite hints from Moscow that the talks are over, the dialogue will probably continue. There is speculation in the U.S. as to what Putin will do. According to the worst case scenario, Putin initiated negotiations only to make it easier to publicly justify a planned invasion. If he were to refrain from invading, experts say, it would only be because America offered something in return that would help him save face. Hence the American offers to renew the treaty on the elimination of medium-range nuclear weapons, reduce missiles in Europe on both sides, and reduce the scale of military exercises in NATO countries neighboring Russia.
For Joe Biden, the Ukrainian power struggle is a nuisance, something that he most certainly would like to eliminate so he can focus on China, considered by the U.S. to be more of a problem than Russia. On the other hand, the crisis offers an opportunity to strengthen the trans-Atlantic alliance, which it already seems to be doing, and which the president has presented as one of his policy goals. He cannot afford to make excessive concessions to Russia, even if he wanted to, because it would confirm the Republican narrative after the retreat from Afghanistan that he appeases America's enemies rather than confront them. Moreover, the White House has suggested that Putin might exaggerate any potential American concessions, even the most minimal, as a colossal victory, and thus the administration is warning about the dangers of Kremlin "disinformation."
After all, the GOP will probably use even fake news as ammunition against Biden, whose public support has dropped below 40% due to domestic troubles. The president will be attacked if there is war by those who will say he did not prevent it, and if he prevents a war, by those who will say he offered anything Putin wanted. Washington policy with respect to Russia has until recently been a rare place of agreement between both parties; given that Democrats, in part out of disgust for Trump and his flirtation with Moscow, joined traditionally anti-Russian mainstream Republicans.
However, the deepening ideological and cultural divide in the U.S. makes it increasingly more difficult to also reach consensus in foreign policy, which may complicate the development of taking a common approach to the Russian bear, as Francis Fukuyama emphasized in The New York Times on Jan. 9. A hard bidding is now underway in Congress; Democrats have tabled a bill on sanctions in the event of an invasion, while Sen. Ted Cruz is calling for sanctions on the Nord Stream 2 gas pipeline.
However, if Trumpism ultimately prevails in the GOP, with its members favoring isolationism and sympathy for Putin as a savior against godless liberalism, we can fear the worst. But it's a distant scenario. For now, everyone is waiting for the Kremlin's next move.
*Editor's note: The original version of this article is available with a paid subscription.
**Editor's note: Although accurately translated, this quoted remark could not be independently verified.
About this publication
---