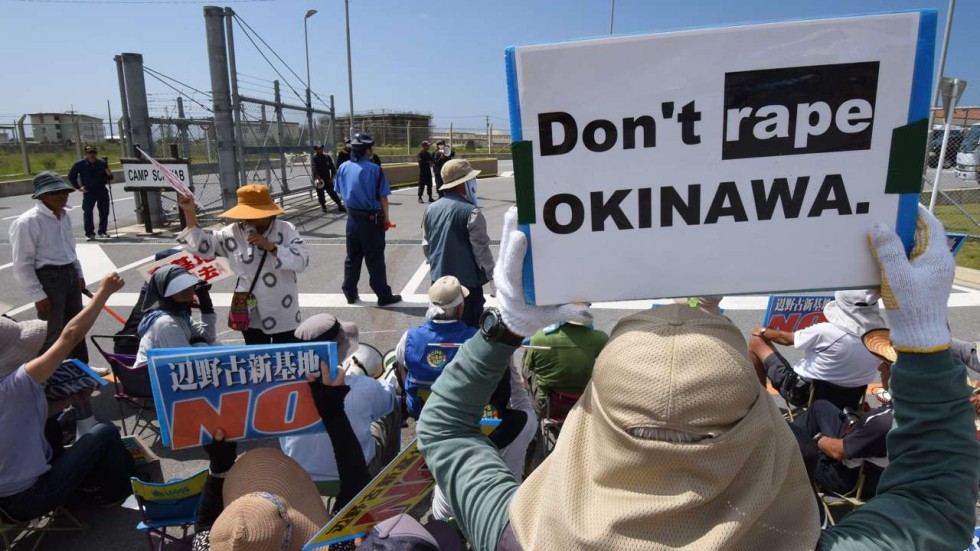 It has come to light that the Naha city prosecutor's office has charged an American Navy serviceman with battery and the attempted sexual assault of a women within Naha city limits. A crime such as this where a woman's rights have been disgraced cannot be forgiven; just thinking of the pain this has caused the victim can only induce anger and outrage. While the incident happened last October and the suspect was charged in December, no official announcement has been made.
Prefectural police and the American military worked together to identify the suspect. However, the military confined the perpetrator to base, while the police had to continue the investigation of their own accord, filing charges against the person as they were in military custody. Only from that point was the suspect handed over to Japanese authorities.
The reason that didn't happen earlier is because of the Status of Forces Agreement between Japan and the United States. According to Article 17, the U.S. has criminal and judicial jurisdiction over suspects who commit crimes while on duty, while Japan has jurisdiction when they're off duty. Since the incident happened when the suspect was off duty, Japan should have had control over the situation, but as the U.S. took them into custody first, it took charges being filed for the suspect to be surrendered. In a previous case of violence against a woman, the perpetrator, who was also confined to base, escaped back to America on a civilian aircraft. The SOFA often impedes investigations into incidents such as these.
In the 50 years since the return of Okinawa to Japan in 1972, there have been 582 malicious incidents involving U.S. military personnel, 132 of those being cases of sexual assault or rape. An agreement that allows criminals to evade justice by hiding away on military bases is unjust and only encourages further criminal activity. Extradition especially became an issue during a case in 1995, where the prefectural police's request for three suspects to be handed over was ignored as the military hid behind the agreement. This threw local Okinawans into a rage, as they could not accept how an investigation into violence against a Japanese woman on Japanese soil was being blocked.
Thereafter, the Japanese and American governments agreed to extradition of those suspected of murder or rape before indictment as a "sign of good will." This was affirmed in person as well at a joint committee between U.S. and Japanese officials, who stated, "The Japanese government will take great care to punish all criminal acts."
This time, the prefectural police didn't bother to ask for the suspect to be handed over, despite the crime being sexual in nature, as they had been denied many times in the past. While the military's discretion is a huge hurdle to get past, it's important to continue demanding extradition from it.
The government must treat this case with the seriousness it deserves. At a press conference on April 18, Chief Cabinet Secretary Hirokazu Matsuno said, "We've expressed our disappointment with the American military and have recommended a tightening of measures to make sure this doesn't happen again." A formal request is not enough, however. We must find a way to ensure the military takes real steps to prevent further incidents.
Article 17 is a shining example of just how imbalanced the SOFA is. Among the many revisions to the SOFA that people have requested, Okinawa prefecture would demand that, whenever Japanese authorities request extradition, American authorities would put it in writing that they will comply. As its own sovereign nation, Japan must make all efforts to expeditiously revise the SOFA and fulfill its duty of protecting its citizens.
About this publication
---