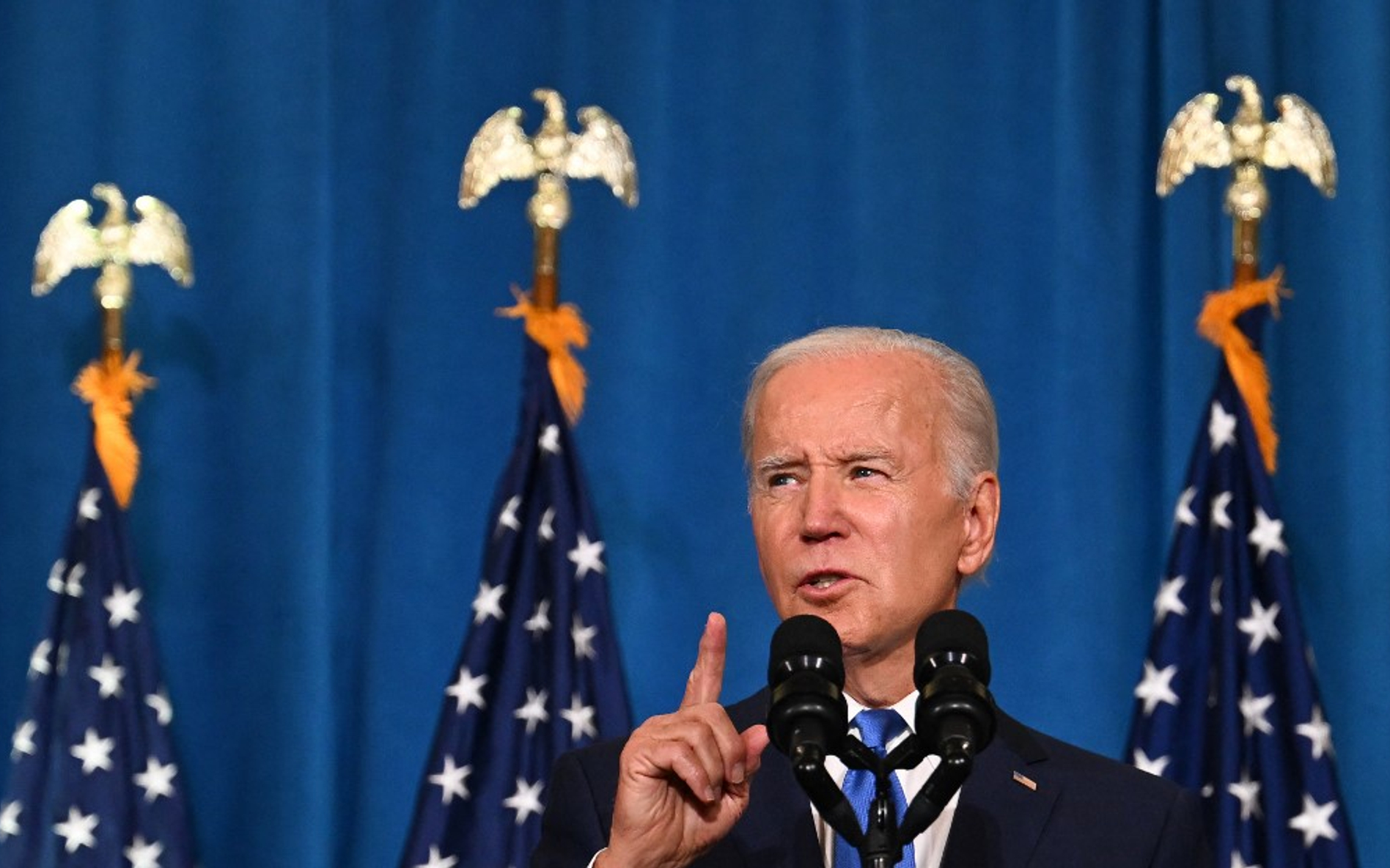 The Republican candidates who will lose Tuesday's congressional elections may not accept their defeat. Joe Biden warns of chaos.
The president delivered a dramatic address to the nation on Wednesday night (Polish time).
We are talking about "the first election since the events of Jan. 6, when the armed, angry mob stormed the U.S. Capitol. I wish, I wish I could say the assault on our democracy ended that day. But I cannot," the president said.
The New York Times has found that of the 595 Republicans running for seats in the House of Representatives, as many as 370 are in favor of the "big lie" — the claim that Donald Trump didn't lose the election two years ago but was the victim of fraud. This is because the former president turned the Republican Party into an obedient instrument of power for himself. As many as 92% of candidates running in primaries to get the party's nomination to run in the Nov. 8 race who received Trump's approval were successful. However, the billionaire set a clear condition: They had to sign on to his claim that he should be the one to lead America for one more term. Liz Cheney, Vice President Dick Cheney's daughter, learned what backlash against Trump meant when she failed to win reelection to the House of Representatives from Wyoming.
The U.S. president said in his speech on Wednesday that the threats some Republican politicians made not to recognize the results of the Nov. 8 elections to Congress if they don't win are a threat to democracy.
The bad precedent from two years ago is proving to be contagious. More and more Republican candidates are announcing that they will not recognize their possible defeat. At issue are not only seats in the Senate and House of Representatives, but also governorships. One example is Arizona, where Kari Lake, who is running for such a post, stubbornly refuses to confirm that she will recognize her rival's victory.
The president's appeal is falling on fertile ground — it is unsurprisingly becoming a major issue in this election. This is what 80% of Democratic and 70% of Republican voters believe. Other, seemingly equally emotional themes attract far less attention. Immigration is seen as important by 36% of Democratic voters and 76% of Republicans, abortion by 75% and 39% respectively, and crime by 45% and 74% — according to the Washington-based Pew Research Center.
This is leading to increased mobilization of Americans. Usually, midterm congressional elections are far less popular than presidential elections. In 2014, only 42% of eligible voters took part in it, though four years later it was 53.4%. However, now it looks like the turnout will be significantly higher.
It's just that the "big lie" mobilizes Republicans far more than the Democrats' fight for integrity. Two years ago, 43% of Republicans declared that they would take part in the election that will decide who wins the White House "with great enthusiasm." This enthusiasm has since waned slightly (to 38%). However, the slump in the Democratic camp is even greater (from 44% to 27%). Among Republican voters, as many as 65% believe that Trump's victory in 2020 was "stolen" (NBC opinion poll), while almost half of Americans think that voter fraud is "common" (in reality, it is extremely rare).
Not all Republicans have lost their sense of responsibility. The Carter Center issued an appeal that sets out five conditions of fair elections. One of them is a commitment made before the election to recognize defeat. It was signed by 124 politicians, including influential Republican Georgia Gov. Brian Kemp. This is nonetheless a small minority of the U.S. establishment.
Opinion polls indicate that the Republicans will regain the majority in the House of Representatives, where the number of seats they hold will increase from 213 to 228 (according to a CBS poll). In the Senate, where the battle will involve only one-third of the seats, the fight will be much more even. Especially in Republican states such as Arizona, Nevada or Georgia, Democratic candidates are doing well. Still, losing the majority in the lower house of Congress would make Biden's presidency more difficult.
About this publication
---