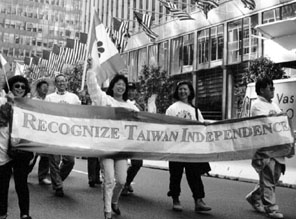 The U.S. president-elect's statements on the issue of the "one-China policy" have been particularly irritating to Beijing, with its incredulity on display in the response delivered by the Chinese Ministry of Foreign Affairs' spokesman. It's easy to understand why: Donald Trump has just thrown into question a 37-year-old American policy that has been central to Washington's foreign policy since it first came to be used as the bedrock of the U.S.-Chinese rapprochement, initiated as a result of diplomatic efforts of Henry Kissinger and Richard Nixon.
Since 1971, the year before then-President Nixon's historic visit to China, every U.S. president has defended the one-China policy. While officially articulated in 1979, as a result of the U.S. Congress' adoption of the Taiwan Relations Act, the one-China policy has been almost uniformly respected and reaffirmed through public statements made by the successive U.S. administrations.
The policy establishes that there is only one legitimate government, which represents all of China: namely, the People's Republic of China. It was at this moment [of the TRA's adoption] that formal ties were cut between the U.S. and the nationalist government in Taipei. However, while Washington does recognize the one-China policy, it still considers Taiwan's status as undefined; on the subject, U.S. policy has sought out a peaceful resolution.
While the act has meant that the U.S. is unable to maintain diplomatic relations with the island, as it recognizes no sovereign state there, it has established other forms of relations that are permissible with Taiwan. Over the past 37 years, it has effectively allowed the United States to conduct all manner of trade with the island, including the selling of military equipment and arms to Taiwan. The TRA does make one subject clear, however: It falls upon the U.S. Congress to determine what type of assistance should be rendered to Taiwan for it "to maintain a sufficient self-defense capability."
This has translated into a dubious policy; or, to use language currently being expressed within, for example, the European Union's common foreign and security policy, a policy of "pragmatism based upon principles." Others would argue that this policy is rooted in the pure and simple realism of the powers that be and of trade. No matter what the interpretation, this policy has been the point that has defined the relationship between Taipei and Washington.
At the level of formal visits by U.S. representatives to Taiwan, there have been very few to speak of. According to a survey carried out by the Congressional Research Service, a think tank that supports U.S. members of Congress in developing legislation, between 1979 and 2014, only six representatives from Washington have visited Taiwan. What's more, between 1970 and 1992, there is no record of any visit to Taipei having taken place; visits only began in 1992. Likewise, between 2000 and 2014, no U.S. political official made his or her way to the island. Of those who did go to Taiwan, none of them came from the so-called "sensitive" sectors of government — that is, foreign affairs, defense, foreign policy or homeland security. Instead, they all originated from areas specifically related to administration, including trade, transportation, small- and medium-sized businesses and the environment. In practice, then, the U.S. observance of the one-China policy has been respected down to the very last detail.
All of this isn't to say that there isn't a desire for change, however. In spite of its being a cornerstone in bilateral relations, for Beijing, something it reaffirmed this week when Chinese Foreign Minister Wang Yi said "the one-China policy is the cornerstone of a healthy China-U.S. relationship," there still exists a desire to alter the TRA's provisions. A little more than two years ago, for instance, against the backdrop of the perpetual tension existing between the legislative and executive branches in the U.S., a group of 29 members of the U.S. House of Representatives wrote to Secretary of State John Kerry to suggest a change to the policy, which has gone unrevised for more than 20 years.
Over the years, Taiwan has gone through a structural transformation with the opening of its democracy, but will this allow for a new type of relationship with the island? Not so much. Barely 21 countries maintain diplomatic relations with Taiwan; of this group, nearly all are small, developing countries in which Taipei has invested $200 million of aid into various development projects.
What is evident is that, on a substantive level, President Trump's foreign policy is still unfocused. But the nominations he has made foreshadow how all of this will be thrown into question. With respect to everything he's said on Taiwan, for example, Trump is surrounding himself with such individuals as former President George W. Bush's ambassador to the U.N., John Bolton, who continues to advocate for a new, more distant relationship with Beijing.
It would seem that Donald Trump wants to leave no stone unturned in the current international system. This came across quite clearly, over the course of his presidential campaign, when he alluded to the U.S. possibly withdrawing from Europe — in reference to NATO — an insinuation that left those countries that share a border with Russia in distress; when he announced that South Korea and Japan should both strengthen their military budgets — even making an appeal for their nuclear armament — in order for them to face down the threat posed by North Korea; and when he affirmed that, under his administration, the U.S. military presence in the South China Sea would be reinforced.
Based on these early statements of his regarding foreign policy, it's clear that uncertainty regarding the United States' position in the world will be the hallmark of his early days in office; a sort of Pandora's box with unforeseen consequences.
About this publication
---