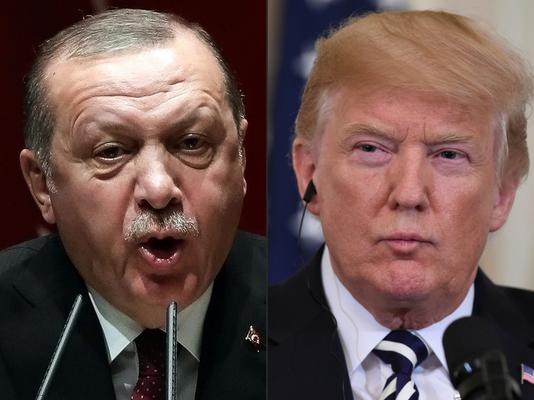 The dramatic crisis unfolding between the United States and Turkey, allies within NATO, could have serious economic and diplomatic repercussions.
With the main participants – eruptive populist Donald Trump and fastidious autocrat Recep Tayyip Erdogan – putting so much testosterone into their diplomatic policies, there is too much uncertainty to make predictions about the current scrimmage between the United States and Turkey.
In fact, a dramatic crisis has been unleashed between the two countries. It's been brewing for months. Unsuccessfully, Ankara demanded that the Americans extradite Fethullah Gulen, leader of the association to which the Turkish president attributes the birth of the attempted coup d'état in July 2016. Also unsuccessfully, Washington demanded that Ankara release an American evangelist pastor that Turkish authorities accuse, in a rather far-fetched way, of having been involved in this attempted coup. Coupled with serious differences over the war in Syria is the fact that Washington supported Kurdish Syrian forces in driving out the Islamic State while Ankara is trying to eradicate all forms of the Kurdish movement, in its own land as well as in Syria.
Within a matter of days, this abscess worsened. On Friday, Aug. 10, Trump announced that he would double the tariffs on Turkish steel and aluminum exports. These sanctions were enough to plunge the Turkish lira into a violent monetary storm and threaten to destabilize an economy already weakened by inflation and public debt. Erdogan immediately denounced the "political scheme" that Washington had incited and called for his supporters to back him in this "national battle" in the name of Allah against the dollar.
Paris and Berlin's Awkward Position
Bearing in mind that the United States and Turkey have long been allies, both being cornerstones of NATO since the era of the Cold War with Russia, and connected by a mutual defense treaty and solid military exchanges (American nuclear weapons, notably, are based in Incirlik, Turkey), this straw man argument is unprecedented. The economic repercussions could be serious, for the Turkish economy, obviously, but more so for international banks, especially those in Europe, to which Turkish companies are heavily indebted.
The possible diplomatic repercussions are just as serious. "We will start looking for new friends and allies," Erdogan proclaimed. Consumed by his dreams of restoring Ottoman grandeur, he is trying to organize the formation, around Ankara, of an "axis of resistance" to the United States.
He also seeks to obtain support from Europeans, whom he has the significant means to blackmail since he agreed to control the flow of migration from the Middle East. The lack of response from France and Germany to the Turkish president's proposition of a four-way meeting with Russia in September to discuss Syria says a lot about Paris and Berlin's awkward position.
About this publication
---