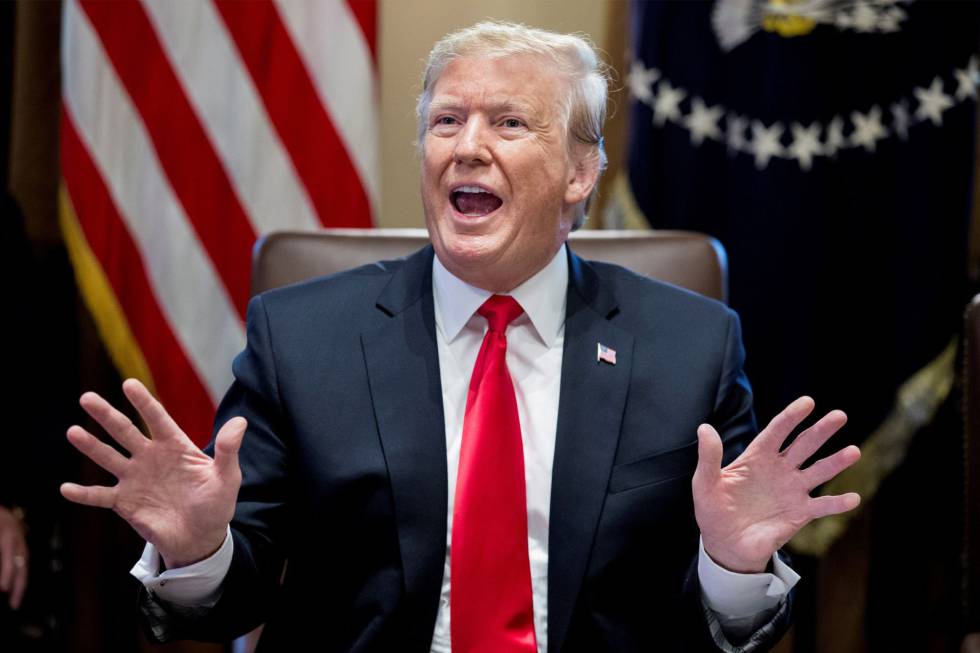 Donald Trump has had the highest rate of turnover by far of any president among his inner circle. Take Steve Bannon, who even said, "I am the director, he is the actor."
What Steve Bannon, his sinister former adviser, said of Donald Trump was, in essence, that he is "the bad father, the terrible first husband, the boyfriend that fucked you over and wasted all those years and [you] gave up your youth for, and then dumped you. And the terrible boss that grabbed you by the pussy all the time and demeaned you." These are not words that can be taken lightly coming from someone that became strategist of the successful campaign that led the New York businessman to Washington.
The quote comes from the extraordinary book by Bob Woodward, "Fear: Trump in the White House," published last fall. The title is justified in more than one sense. The businessman gained power thanks to his capacity to arouse fear and resentment in enough American voters. That is how Trump himself described it in an interview granted to the author during the run-up to the election, eight months before the presidential election: "Real power is, I don't even want to use the word: 'Fear.'" And fear is what he dedicated himself to arousing, from his discourse on hate and resentment toward Latinos, NATO, the Chinese, foreign products, everything that was not the United States.
But the title also concerns the fear that should concern us: the fact that a man with the enormous emotional imbalance and ignorance of Trump has such power over the history of our lives. In his first two years, without knowing everything, we were already very close to nuclear conflict with North Korea. If it had not been for his inner circle's resistance by ignoring his decisions on multiple occasions, hiding information, making false arguments in order to get him to postpone acting on ideas and whims, the world would have already faced a crisis of enormous consequences.
Through hundreds of interviews and a great number of documents, the celebrated journalist, remembered for his role in the revelation of the Watergate scandal, was able to reconstruct complete White House sessions led by Trump. The reconstruction of these conversations and of the president's work habits (so to speak) are alarming. A man that dedicates four or five hours a day to watching sensational political talk shows on television, who is incapable of reading even the briefest reports prepared by his team on crucial topics, who, faced with factual evidence presented by some of his advisers, simply responds, "I don't want to listen to you, I don't like it."* "A third of my job was trying to react to some of the really dangerous ideas that he had," said top economic adviser Gary Cohn, who resigned. "It felt like we were walking along the edge of the cliff perpetually," admitted Rob Porter, former White House staff secretary.
Cohn and Porter were not the only ones who worked side by side to stop what they considered Trump's most impulsive and dangerous orders. Among other things, a letter disappeared from the desk of the Oval Office that the president had asked to sign; it practically removed U.S. protection of South Korea and left it in the hands of North Korea. Luckily, Trump's personal disorganization and volatility helped him forget, at least for some time, some of the poorest decisions he made. But not all of them. Sooner or later, he stopped all those who do not agree with him by firing them. And perhaps that is the more terrifying part.
In the first two years of his administration, Trump has had the highest rate of turnover by far of any president among his inner circle. Take Steve Bannon, who even said, "I am the director, he is the actor."
The changes in high positions show that things could get worse in the next two years. Despite the fact that the men who surrounded Trump were hawkish generals, conservative businessmen and ultraright ideologues, many of them were experienced and frequently showed a reasonable sense of responsibility in contrast to the president's excesses. But the majority of them have been removed from their duties. The most recent is James Mattis, secretary of defense, who resigned after Trump's unwarranted decision to immediately remove American troops from Syria, betraying the Pentagon's commitments and leaving its allies at the mercy of Bashar Assad's government or of the Islamic State.
Today, as Trump uses a government shutdown to blackmail Congress into granting resources for his border wall, he does not seem to have any staff with enough stature to keep him sane anymore. Fear is supposed to be a strategic resource used to mobilize the voter; the problem is that now it has spread to investors on Wall Street, CEOs and the political class as a whole. Even worse, for Trump, who is self-involved with his macho obsessions, it does not seem to matter. Bad news.
*Editor's note: Although this statement was accurately translated, it could not be independently verified.
About this publication
---