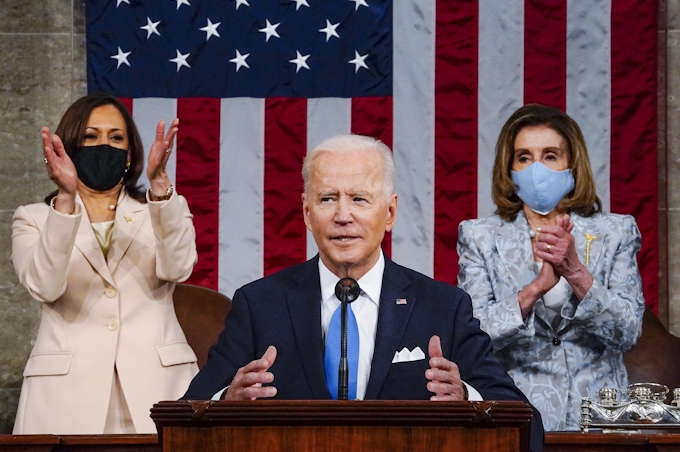 Within 100 days of his inauguration, U.S. President Joe Biden faced Congress in a speech about his administration's policies. He said that "America is on the move again," and displayed confidence that he was getting the political, economic and social turmoil of the previous administration of Donald Trump and the COVID-19 disaster under control.
But we feel not only expectation but anxiety regarding Biden's policies. While the return of an America with the guiding power to stabilize the international order and solve global problems is welcome, we cannot help but say that risk remains in his expensive growth strategy and strengthened safety net.
Biden devoted most of his speech to domestic affairs and bragged about accomplishments, such as well over 200 million vaccinations. But he put the most emphasis on bolstering growth by large-scale financial intervention and uplifting the middle class.
After the American Rescue Plan packed with COVID-19 measures, Biden described his intentions to hurriedly realize the American Jobs Plan, aimed at infrastructure maintenance and global warming prevention, and the American Families Plan to expand welfare and education. The bill for these climbs to $6 trillion.
To request the seeds of growth in digitization and greening and pass those benefits on to the lower and middle classes, it is obvious that the role of government will increase in importance. But massive expenditures will overheat the economy and induce inflation, and scrupulous care is necessary to keep the overall economy from warping as a result of excessive intervention.
Biden says he wants to pay for the plans for jobs and families by wringing more taxes out of companies and the upper class. Demanding an appropriate burden based on income and property and curbing financial deterioration is understandable, but isn't there a chance that higher taxes would cancel out the effects of the two plans?
Biden should seriously consider how to make this practical. It would be troubling if he erred in his financial policy prescriptions and endangered the economies of America and the world.
Biden also renewed his resolve to win the competition with China in economy, technology and security. We welcome his pledges to contribute to the Indo-Pacific region and bolster coordination with allies. We'd also like Japan to do what it can to contribute to regional peace and prosperity.
The hallmarks of Biden's diplomacy are probably his return to the Paris Agreement, an international framework to combat climate change, and the cancellation of America's withdrawal from the World Health Organization. He should not stop there but should actively engage in expanding free trade zones.
Domestically, partisan and racial divides run deep. We hope Biden will put more effort into reconciling the whole country and not into simply responding to the demands of the ruling Democratic Party and its support base.
About this publication
---