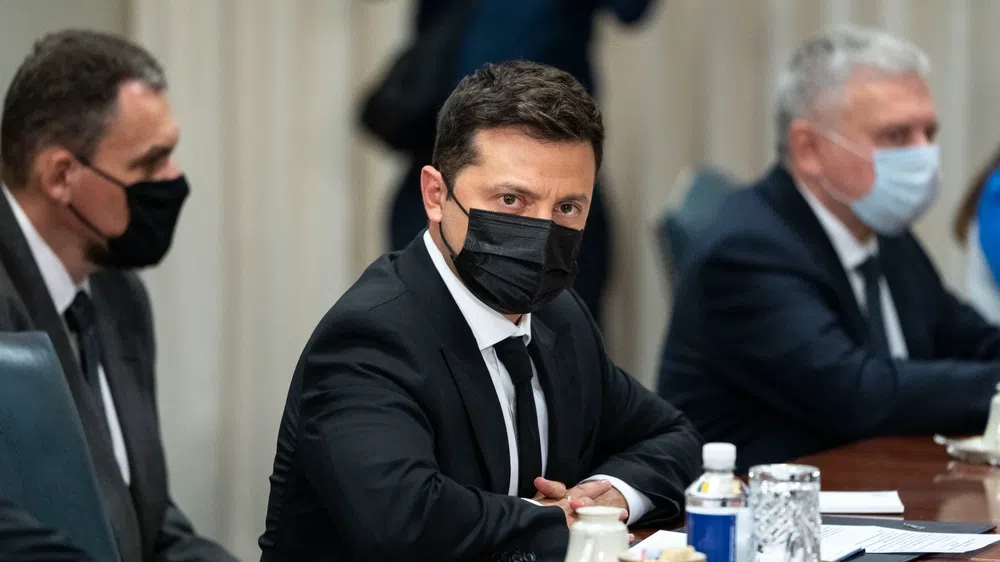 President Zelenskiy has discovered America during challenging times.
While I write this, observers in Kyiv are scrutinizing the Joint Statement on the U.S.-Ukraine Strategic Partnership.
They are practically using a microscope and a calculator to examine every part of the statement: defense and security (including the new military aid package worth $60 million); democracy, justice and human rights; energy security and climate (including opposing Nord Stream 2); and the economy. (The U.S. is planning to invest $463 million to support reforms in Ukraine.)
The statement is comprehensive, which is why critics are looking for weaknesses and pointing out how morose both Volodymyr Zelenskiy and Joe Biden looked in photographs of the event.
The response that emerged from political circles and in the media during preparation for the bilateral meeting were not quite optimistic.
"Sorry, nothing personal. It's just that right now, we have other important issues to deal with." That is how one might have interpreted the United States diplomatic explanation about why it had delayed Zelenskiy's visit twice — first, from Aug. 30 to Aug. 31, and then to Sept. 1. The U.S. had to completely revise the agenda and reschedule the meetings as Zelenskiy prepared to leave.
"After he arrives, President Zelenskiy is going to spend two days in Washington and then California," Zelenskiy's press secretary, Sergei Nikiforov, explained, asserting that nothing was going to be canceled. It was predictable that the talks would concern Crimea, the continuation of the Crimea Platform diplomatic initiative, the recently exacerbated situation in the Donbass region and the threats posed by Nord Stream 2.
Yet, all these topics, which are vital for Ukraine, were overshadowed by the news about the U.S. leaving Afghanistan and attempting to evacuate foreign citizens from the airport in Kabul. Most experts from Ukraine, including staunch critics of Zelenskiy, advised the Ukrainian side to take Biden's current priorities into consideration.
Petro Poroshenko posted a video urging Zelenskiy to at least restore relations between the U.S. and Ukraine to where they had been during Poroshenko's presidency, and to avoid confrontation and questioning over such matters as why Ukraine is still not a member of NATO.
However, Kyiv had already expressed its official position on cooperation with the U.S. in the way of action.
The Globe and Mail, one of the most authoritative news sources in Canada, reported several days ago on the Ukrainian special forces which rescued Afghans from Kabul and "were angels" to the evacuees. (This is a direct quote from one of the evacuees who worked with the Canadian Ministry of Defense.)
Within a few hours of the terrorist attack at Kabul airport, Ukrainian troops rescued Afghan interpreters and their families. The evacuated military translators said that they were shocked to see how Ukrainian soldiers risked their lives to save the evacuees, something that American and Canadian troops had chosen not to do.
Ukrainian Foreign Minister bDmytro Kuleba cautiously responded to this enthusiasm.He stated that Ukraine was always ready to help Canada, and the rescue operation in Afghanistan had demonstrated the increased capabilities, professionalism and courage of the Ukrainian forces. He noted that this operation serves as yet another argument for admitting Ukraine to NATO.
Hanging in There
In the early morning hours of Sept. 1, the Ukrainian media started reporting news from the United States. During Zelenskiy's visit, the Strategic Defense Framework was signed between the Ukrainian Ministry of Defense and the U.S. Department of Defense, in the presence of the Ukrainian president. The agreement covers all issues concerning military cooperation, including Black Sea security, intelligence and cybersecurity.
Later, Kyiv confirmed that Zelenskiy presented the plan for Ukraine's "transformation" to the U.S. media and think tanks experts.
According to Zelenskiy, in five to 10 years, Ukraine intends to be "an outpost of safety, digital expertise, infrastructure and an agrarian hub."
Even while Ukraine is currently entangled in war and its main goal is to restore sovereignty and territorial integrity, one can see that the country has already made progress in the areas that Zelenskiy mentioned.
Later the morning of the signing, Ukrainian media announced that Biden would meet with Zelenskiy in the Oval Office, at which point all hopes for a joint press briefing with the two presidents vanished, as Biden was scheduled to hold his weekly economic meeting later that day.
Both leaders of the opposition in Ukraine closely followed the events of Zelenskiy's visit. The Ukrainian opposition party, Opposition Platform for Life, which called Zelenskiy's policies "the oppressive regime" after the house arrest of its former leader, Viktor Medvedchuk, argued that Zelenskiy feared Ukraine would become a bargaining chip for the U.S. amid the crisis in Afghanistan.
Another party, European Solidarity, was not amused either. It asserted that the meeting with Biden would not achieve anything significant. Yes, Biden had agreed to meet with Zelenskiy, but that was because the U.S. president wanted to lecture his Ukrainian counterpart about supporting U.S. sanctions against Igor Kolomoisky and fighting corruption.
Other influential observers noted that Biden is not interested in what Zelenskiy has to say. They assert that there is no chemistry between them, as they compared this visit to Biden's recent meeting with Israeli Prime Minister Naftali Bennett. Biden spoke with Bennett for 50 minutes, longer than the 20 minutes originally scheduled, something which Zelenskiy could not achieve, according to critics. The entire reporting about the meetings reminds us of sports commentary.
On the night of Sept. 1, almost every TV channel in Kyiv started live broadcasting from Washington, D.C.
'Now, We Come to Them, Then They Come to Us'
As an introduction, Ukrainian media sources reported on encouraging news that, even though Congress was on recess., a group of politicians from both U.S. political parties put their vacation on hold to meet with Zelenskiy, who later tweeted regular updates on his Twitter account.
The bilateral meeting started without delay despite heavy rain. The press was only allowed into the official photo session, where Zelenskiy expressed concern that there was not enough time to address many questions. Yet, news sources in both U.S. and Ukraine reported that shortly before the meeting, Zelenskiy handed Biden a list of 450 political prisoners held in Russia, occupied Donbass and Crimea. Zelenskiy started the meeting with this particularly sensitive issue, and afterward, neither president tweeted anything for two hours.
The face-to-face meeting continued even after the Joint Statement on the U.S.-Ukraine Partnership was released and was revised as they proceeded.
After the meeting in the White House, Zelenskiy headed straight to Congress, and then to a briefing with Ukrainian journalists. Zelenskiy was composed in his comments, noting that "the summit saw a normal, productive, albeit not always sunny, atmosphere — it was a normal conversation between two men." He asserted that Biden understood all the complexities in Ukraine, noting the big steps Ukraine has made in land and judicial reforms as well as infrastructure. Zelenskiy reported that the U.S. said nothing negative about Ukraine, about him personally, or his administration. Zero, not a single criticism, not a single word. He admitted that even though the U.S. president expressed support for Ukraine's admittance to NATO, they did not discuss any schedule. Thus, even though Biden supports the idea, it is now hard to tell how long it is going to take and how hard it is going to be.
Zelenskiy also confirmed that both presidents stuck to their initial agenda while discussing Crimea, specifically, the aspects of the Crimea platform. Discussing the de-occupation of Donbass proved to be more difficult. Zelenskiy's comments were intriguing: "As for Donbass, I have proposed that a new format be implemented at the presidential level," he said. "This is a new proposal for the United States, and they will think on which format to choose."
An anonymous Telegram channel, which allegedly promotes the pro-Kremlin agenda, argued that Zelenskiy's visit to the United States was simply a showing of the bride before the upcoming elections in Ukraine. President Biden confirmed that Zelenskiy could run for the second term. Kuleba soon announced on one of the national channels that now Ukraine was going to start preparing for Biden's return visit to Ukraine.* "Our country is very important to him and is an important priority of U.S. foreign policy. Now we come to them, then they come to us," said Kuleba.
The last time Biden visited Ukraine was in the winter of 2017, back when he was vice president.
*Translator's Note: This announcement was made on the Hromadske online outlet.
About this publication
---