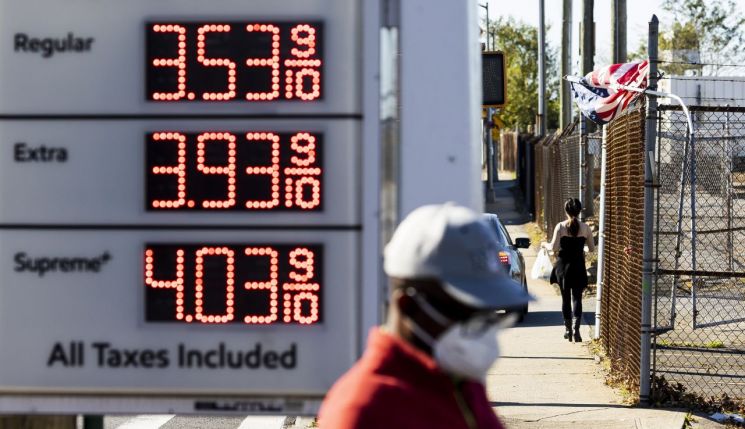 A diplomat I met a while ago said life has gotten harder these days. With food and oil prices hitting new highs at the same time, the cost of living has skyrocketed while salaries have largely remained the same. Even from the perspective of a diplomat, the current price surge was no trivial matter.
As inflation in the U.S. soared to 6.2%, the highest it has been in 30 years, many have said how anxious they are when they have to go to the grocery store or the gas station.
The increase in consumer prices has accelerated in recent months. A bag of rice that used to cost $10.90 now costs at least $13. The new price reflects the fact that store owners had to account for inflation after all bags at the old price sold out.
When I first came to the U.S., an acquaintance of mine described it as the "land of meat." The remark was meant to convey that meat is cheap here, so I could eat as much as I wanted. But the situation has changed, and the price of meat has increased sharply. While food prices rose by only 0.9% in September, beef prices rose by an overwhelming 17.6%.
I had to pay $16 for a piece of brisket, which used to cost $10. I used to frequent the meat counter to purchase skirt steak at a price that was comparably lower than in Korea; skirt steak has long since disappeared from the store. Meat was also unavailable for purchase in the spring of last year, when COVID-19 was in full swing. However, there was no accompanying increase in meat prices.
In both South Korea and the U.S., the popularity of national leaders plummets when consumer prices rise. A recent poll revealed that Americans blame inflation on President Joe Biden.
The price of gasoline is a good example of the impact inflation is having. Currently, the average price of gasoline in the U.S. is $3.40 per gallon. The price of diesel fuel used for transportation, is as high as $3.60 per gallon. The per-gallon price of gasoline a year ago was $2.10.
Since taking office, President Biden has focused only on restoring programs that respond to climate change, programs which former President Donald Trump tossed aside. Biden revoked the permit for the Keystone XL pipeline project and proposed a ban on new oil drilling on federal land. The American "Shale Revolution" of the 2010s is now a thing of the past. Having already lost their production base, shale companies are proceeding to liquidate their businesses instead of producing new oil even though oil prices have risen above production costs.
The administration's diplomatic efforts to increase oil production were also disappointing. While calling for a global response to climate change, the White House has simultaneously asked oil producers to increase production. Needless to say, no oil producer in the U.S. responded. It doesn't seem likely that Saudi Arabia, branded a human rights violator by the Biden administration, and Russia, a permanent enemy of the U.S., will increase their oil production, and neither will other oil producers who are following their lead. This certainly raises questions about President Biden's diplomatic expertise.
The market already foresees higher oil prices next year. Bank of America projected that oil prices may be as high as $120 per barrel by June 2022. It would not be unreasonable to predict that gas prices will also increase above $4.00 per gallon. In the oil price surge of 2012, American shale gas acted as a buffer to lessen the impact of the surge. Now that shale gas has lost most of its influence, it is unclear how the U.S. will induce a reduction in oil prices.
The inflation is a tragedy brought about by a ruthless, radical attempt at abandoning fossil fuels without considering the consequences. The surge in oil prices is a harbinger of a great shakeup that will destabilize Biden's entire support base. Yet, as if it were delusional, the Biden administration is again blaming COVID-19 for inflation.
Bill Clinton rose to the presidency in 1992 with his iconic slogan, "It's the economy, stupid!" If he were to run for office today, he would more likely say "It's the inflation, stupid!" And if anyone wants to know how this applies to South Korea, I would say, "It's the housing prices, stupid!"
About this publication
---