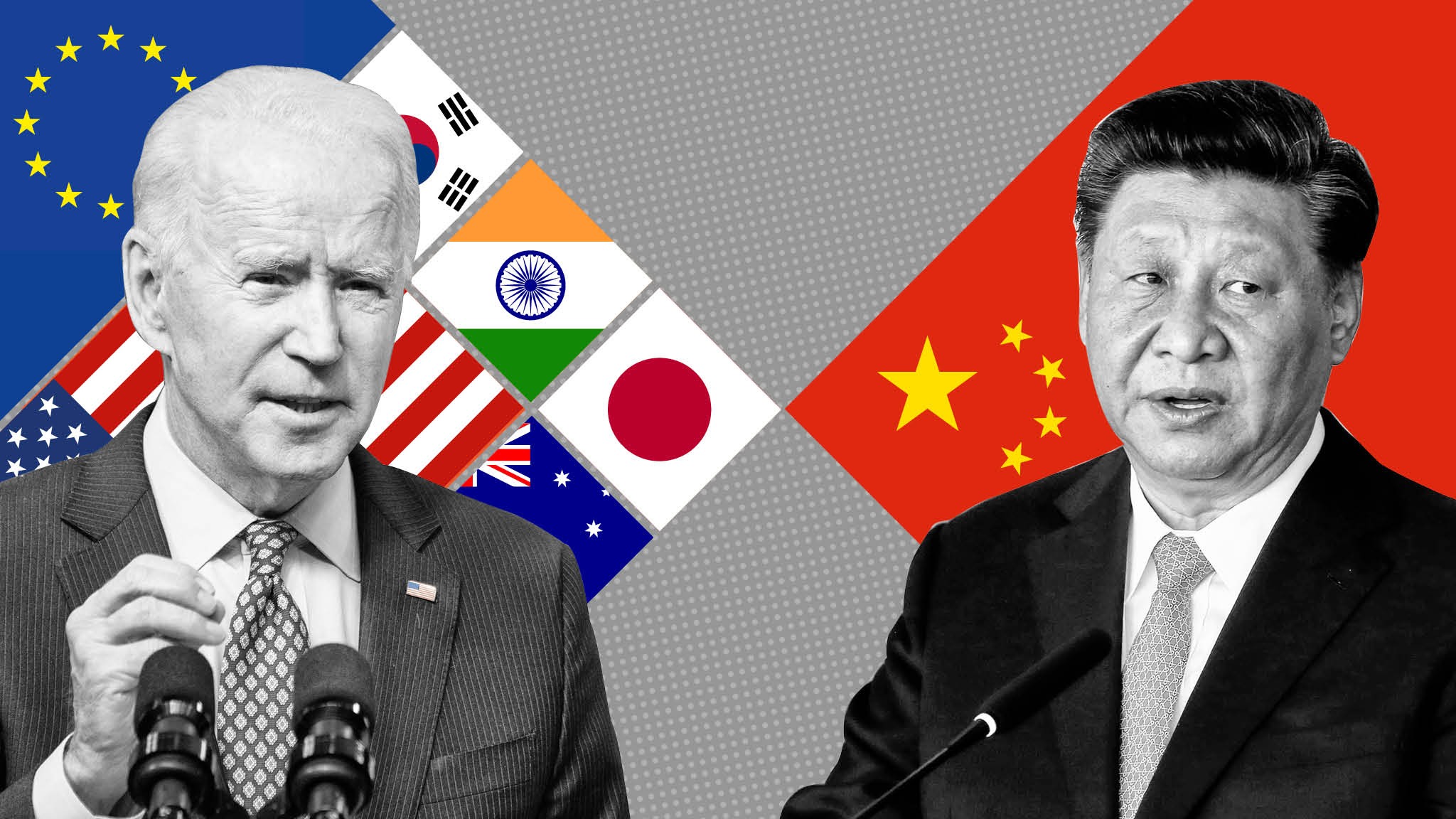 How should the U.S. confront China's pursuit of hegemony? Joe Biden's administration, which took office last January, has been charged with answering that question. Biden's administration has indicated that China is America's only rival and has strengthened cooperation with allies and friendly countries to challenge China's authoritarian methods.
Compared to Donald Trump's administration, which did not balk at disagreeing with its allies, the Biden administration's willingness to work together with its fellow democracies, which share a common value system, is praiseworthy. Fears that Biden would take a softer approach to China were not realized, which is also a great relief.
Over the course of the year, the U.S.-led containment network has been repeatedly extended around China. However, this is merely a means to an end. What is important is that China, which does not hesitate to use force and shows a blatant disdain for international law, is stopped. Further action must be taken, and this must lead to results.
China: Acting as If It Owns the Place
The Biden administration has prioritized its relationships with countries in Southeast Asia, a place where American and Chinese interests are in conflict. It has also confirmed its solidarity with the countries of Europe through its participation in the Group of Seven leading industrial nations summit.
Together with Japan, it has spearheaded the concept of a "free and open Indo-Pacific," and spread it around the world. It has also established two new security frameworks to help realize that idea, the Quad summit with Japan, Australia and India, and the AUKUS framework with Britain and Australia.
In these forums, the Biden administration has appropriately positioned Taiwan as an important subject. The joint statement released following the April 2021 U.S.-Japan summit clearly specified "the importance of peace and stability across the Taiwan Strait."
China has effectively forced Taiwan out of all international organizations and has repeatedly provoked it by sending military aircraft into the Taiwanese air defense identification zone.
The Biden administration has acknowledged that democracy is under threat from authoritarianism. An example of this is the Taiwan situation, which will demand real action. Democracy in Taiwan, which took many years to grow and flourish, must be protected.
The phrase "the importance of peace and stability across the Taiwan Strait" has been repeatedly emphasized at the G-7 and Quad summits. Allies and friendly countries must raise their voices in the numerous international frameworks and put unceasing pressure on China.
Furthermore, China has repeatedly ignored numerous American and Japanese expressions of concern over its actions in the South China Sea, including the building of military bases and land reclamation. This must end.
Rodrigo Duterte's government in the Philippines has shelved the 2016 Permanent Court of Arbitration ruling, which rejected Chinese claims to sovereignty in the sea.
Utilizing new frameworks like the Quad and AUKUS, and through cooperation between Japan, the Association of Southeast Asian Nations, America, the Philippines and other friendly countries, China must be pressed to accept the court's decision. The Chinese must be made to understand that behaving as if they own the South China Sea is in and of itself absurd.
Rethink a Return to the TPP
It is unfortunate that collaboration with other countries in the realm of commerce is still insufficient. Particularly, we cannot help but be disappointed by the Biden administration's cautious stance toward rejoining the Trans-Pacific Partnership, from which the Trump administration withdrew.
The TPP is an effective mechanism for opposing China's drive for hegemony in both the economic and military spheres. Unfortunately, the U.S. has decided to close its eyes to the strategic value of the TPP, instead choosing to focus on the protection of its domestic industries. This is unchanged from the Trump era.
What is concerning is that, while America continues to dither, China has worked swiftly to improve cooperation with other countries. In September, it applied for admission to the TPP. If this were to be approved, the nature of the TPP would change. This January, the Regional Comprehensive Economic Partnership, which includes Japan, China, Korea and many other countries, will take effect. China is devoted to expanding its influence and has tried to participate in the regions' multilateral agreements, including those on digital affairs.
Can America oppose these moves by China? Presumably Biden's idea for a new economic cooperation framework in the Indo-Pacific region, which he announced at the end of October, is intended to serve that purpose. At this point, however, it is not clear how he intends to realize that plan. It is necessary to recognize that any delay will result in falling behind the Chinese.
It is also concerning that, to counter America's attempts to increase cooperation with its allies and friendly countries, China has brazenly moved to strengthen ties with Russia. Indeed, both China and Russia have increased their military provocation of Japan. Biden has been criticized for fostering division between democracies and authoritarian countries, but this assessment misses the mark. No matter who is responsible, China, Russia, or otherwise, the world cannot turn a blind eye to military invasion and grave human rights abuses.
Prime Minister Fumio Kishida visited America early in his term in an effort to strengthen solidarity between the two countries, and plans need to be made to implement this goal. Increasing the effectiveness of the anti-Chinese containment network will require action, not mere words.
About this publication
---