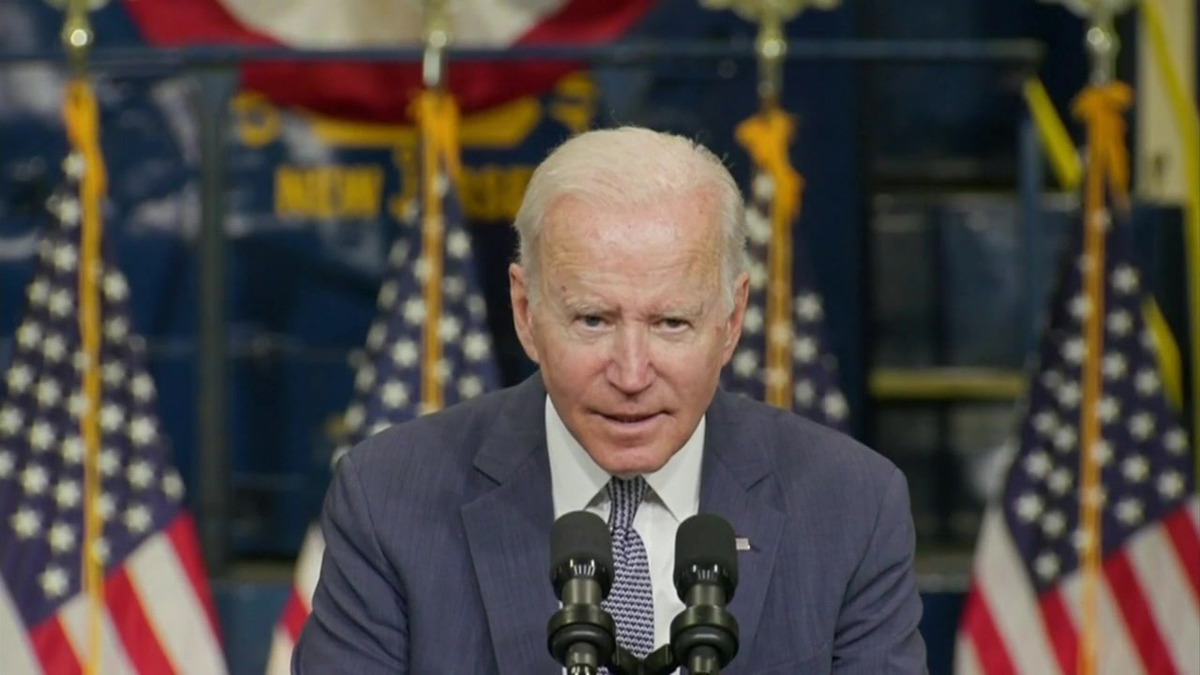 On Tuesday, March 1, the American president denounced Putin's offensive against Ukraine in his annual State of the Union speech to Congress. Biden is also seeking a new boost on the domestic front, eight months from midterm elections that promise to be difficult.
A few minutes of national unity around a Ukraine martyred by Russia 5,000 miles from Washington. "In the battle between democracy and autocracy, democracies are rising to the moment, and the world is clearly choosing the side of peace and security," Joe Biden underscored Tuesday evening, before a Congress gathered for the annual State of the Union address, "with an unwavering resolve that freedom will always triumph over tyranny."
Some members of Congress were dressed in the colors of Ukraine — yellow and bright blue — and the elected representatives of both parties applauded the Ukrainian people, represented by Ukraine's ambassador to the United States, Oksana Markarova. "When the history of this era is written, [Vladimir] Putin's war on Ukraine will have left Russia weaker and the rest of the world stronger," Biden promised.
Not To Inflame
To denounce, to participate but not to inflame: Since the Russian troop offensive in Ukraine last week, Biden has taken care not to move to the forefront to announce sanctions. This is a way of not providing grounds for Russian accusations of retaliation masterminded by the United States.
"Putin's latest attack on Ukraine was premeditated and unprovoked. He rejected repeated, repeated, efforts at diplomacy. He thought the West and NATO wouldn't respond. He thought he could divide us at home, in this chamber and in this nation. Putin was wrong. We were ready," Biden underscored, after having been the first to alert Europeans and their NATO allies about Russian intentions. He announced in passing the closing of American air space to Russian aircraft.
The White House also took care not to feed escalation, following Putin's comments on placing his nuclear forces on alert: "Neither the United States nor NATO has any desire or intention for conflict with Russia. And we think provocative rhetoric like this regarding nuclear weapons is dangerous, adds to the risk of miscalculation, [and] should be avoided," Jen Psaki, the White House press secretary, explained Monday.
State of Affairs of American Society
The bulk of Biden's speech, nevertheless, was devoted to domestic policy, eight months from midterm elections that even now promise to be difficult. In an already divided political landscape, Biden sought points of consensus by taking on some strong stances on themes dear to Republicans. "Our kids need to be in school," he said first, noting in passing a new stage of the pandemic. COVID-19 "need no longer control our lives," Biden opined before a gathering for the first time without a mask, calling on Americans to return to downtowns and offices.
Faced with surging violence in the country, "the answer is not to defund the police," he also said in reference to the progressive "Defund the Police" movement, a passage that received a standing ovation from Republicans. "The answer is to fund the police with the resources and training they need to protect our communities," as Biden framed it. "If we are to advance liberty and justice, we need to secure our border and fix the immigration system," he lastly argued, on an issue where he is accused of laxity by Republicans.
At bottom, Biden did not, however, abandon the program that he set himself at the beginning of his term, from lowering the cost of medications to improving child care, as well as increasing the minimum wage or the control of firearms, projects which have served to remind one that the Democratic majority is still too narrow and the political divisions too strong to hope for their adoption.
Boosting the Morale of Democrats
Without proposing a new approach, the objective was above all to speak directly to Americans and to boost the morale of Democratic troops depressed by poor polls (40% favorable, according to RealClear Politics). The list of Democratic projects, by contrast, has left Republicans unmoved; the latter have made galloping inflation (+7.5% year-over-year) their key argument in order to criticize Democratic action.
In order to reduce price increases unprecedented in 40 years, Biden said he has a "plan": "Lower your costs, not your wages," denouncing the concentration of stakeholders in several markets, notably maritime transport, whose profits have soared. This plan may also involve making "more cars and semiconductors in America," the president said under the watchful eye of Intel CEO Pat Gelsinger, a rare guest to the event with the whistleblower Frances Haugen. It is, however, uncertain that such a policy will bring down prices.
About this publication
---