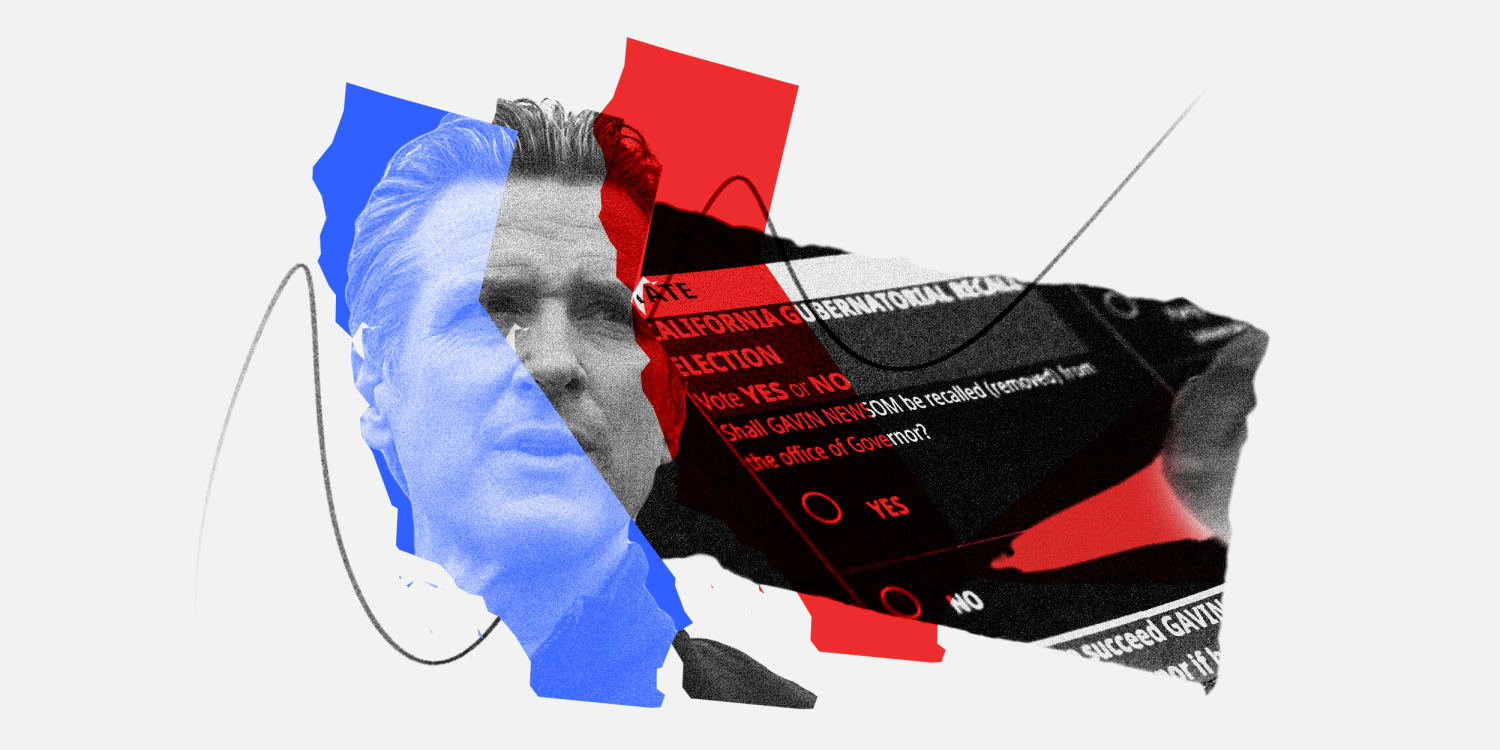 Things have changed a great deal since the days when American voters worried only about what was happening in their community. But the strategy used to save Gavin Newsom might well backfire on his party next year.
A very special election took place on Sept. 14. A recall election, the second such election in California history, was held and threatened to remove Democratic Gov. Gavin Newsom before the end of his term in January 2023. Voters in the state faced the following question on the ballot: "Should Gavin Newsom be recalled from office?" To this question, which could not be more clear, the voters of California responded just as clearly: They voted to keep Newsom in office by a majority of nearly 60%. They voted no.
It's possible that the results, which were predicted by the polls, will be met with a collective shrug. After all, if a $300 million campaign reached nearly the same result for Newsom as his first election in 2018 when he won 61% of the vote, then there is nothing very special to see here.
Actually, that's not the case.
Politics Is Always National
House Speaker Thomas "Tip" O'Neill, who served from 1977 to 1987 was well known for saying all politics is local. Put differently, the popularity of the American president and the importance of events on the national scene matters little; a candidate is always elected (or defeated) because of the issues that concern people in their district, in their community.
O'Neill knew something about that. In 1984, the year Republican President Ronald Reagan was reelected after winning 49 out of 50 states, O'Neill, a Democrat, was comfortably returned to office in the House of Representatives, among 254 elected Democrats as opposed to 181 Republicans. The Democratic majority in the House was so imposing that such a feat has only been achieved one other time in the 21st century in 2008, following Barack Obama's election to his first term.
How things have changed.
Today, O'Neill's slogan seems to have been somewhat reversed: politics is (almost) always national. Thus, even campaigns that at their root should be marked by local questions often come to be dominated by national issues.
That is precisely what the Newsom team correctly saw. In the middle of the summer, while he was being criticized mainly for his management of COVID-19, the governor faced voter who were divided almost exactly 50-50 on the recall.
The Newsom team then called for reinforcement from Sens. Bernie Sanders and Elizabeth Warren, Rep. Alexandria Ocasio-Cortez, former President Obama and, finally, on the eve of the election, President Joe Biden. The effort focused on the principal Republican candidate seeking to replace Newsom, and portrayed him as a him as a Donald Trump clone, calling the election the "Republican recall."
In other words, Newsom's team made the race a national matter, and the race became a duel with national implications for Democrats and Republicans. And, in a state where the electorate is comprised of approximately 20% more Democrats than Republicans, that strategy was a winning bet.
And yet, the strategy which served Newsom well could also negatively impact Democratic candidates in the 2022 midterm elections. The approval ratings for Biden, who is a Democrat, have remained stuck at around 45% since the catastrophic withdrawal from Afghanistan in August.
And Afghanistan is not the only concern for the Democrats: For the very first time since Biden took office, a plurality of Americans are expressing disapproval of his management of the pandemic, according to the most recent Quinnipiac poll.
If the president does not improve his image between now and November 2022, Republicans will take pleasure in "nationalizing" both the congressional and local races themselves . And most of these elections will not take place in states that have 20% more Democratic than Republican voters.
Demography Is Not Destiny
Another saying that has long been repeated in political circles in the United States is that demography is destiny. The idea is simple: Ethnic minorities — particularly Latinos who exert an increasing amount of influence among the American population and who are loyal to the Democratic Party, have been called upon to build increasingly dominant electoral majorities over the years. This chorus undoubtedly reached a crescendo in 2012 after Obama was reelected, driven by massive minority support.
And yet, the reality is clearly more nuanced. The polls that were just held in California agree wholeheartedly with this.
A trend that was already becoming visible while Trump was president seems to be gaining significance. The Republican Party is taking a hit among white voters, while it becomes more popular among ethnic minorities. That may appear counterintuitive for many. After all, how can a party led by a white leader with racist and xenophobic tendencies bring about such a change?
And yet, this leader and his party are not seen simply as racists or xenophobes. Trump and the Republican Party of recent years have been viewed as populists. The anti-elite discourse, the nationalist positions on trade and immigration, as well as the defense of the "forgotten Americans" have drawn a good number of people belonging to ethnic minorities who don't necessarily define themselves by their race … but by their social class.
In turn, this position has displeased more highly educated white voters. Last Sept. 14, the group who was most likely to reject the effort to recall the Democratic governor of California was made up of white voters with a university degree.
These demographic shifts, always fascinating, thus continue to shape American politics And the divisions themselves appear destined to continue to define it.
About this publication
---